We've always loved Target but recently they are the store to browse for home decor and accent furniture. We didn't even truly notice how many of our home pieces are from Target until our mom was visiting. She kept asking "where is that from" and our answer literally every time was TARGET. And for good reason. Their home items are always on trend and reasonably priced. To try and manage our TArget shopping addiction we put together this wishlist to quiet our need to buy home decor.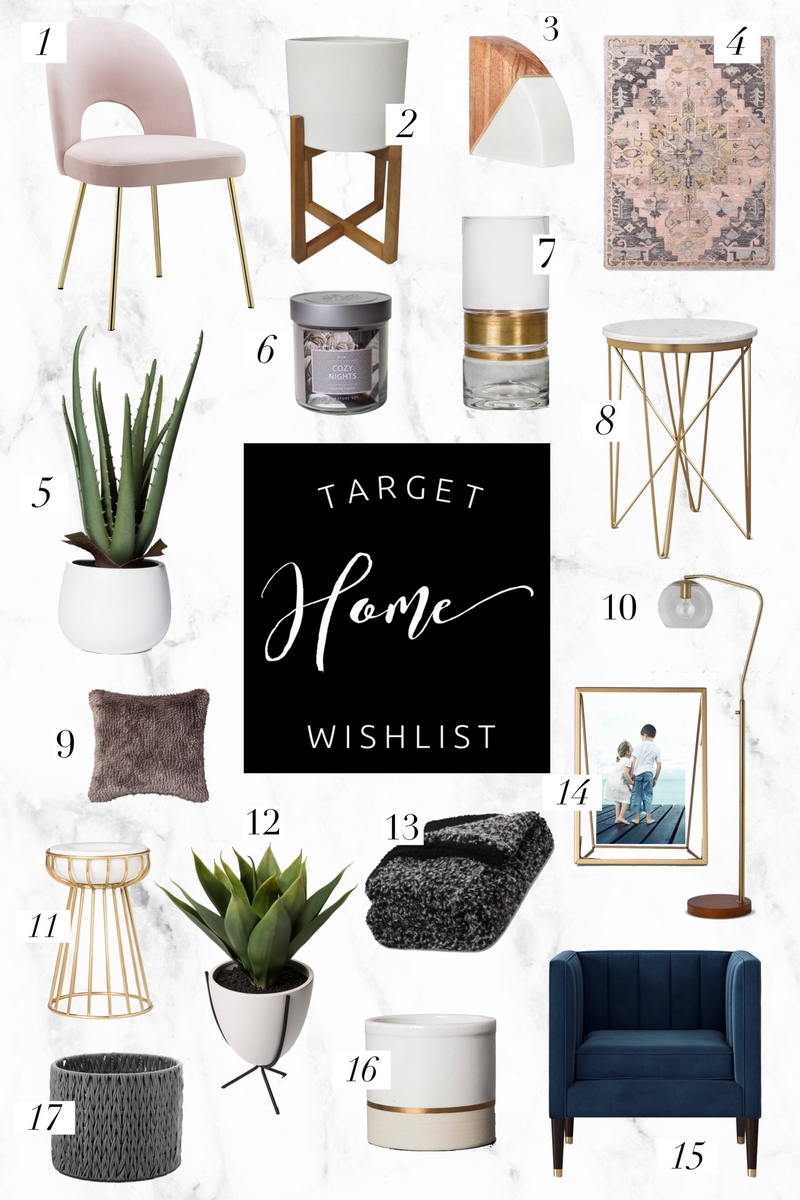 1 |  Pink Velour Accent Chair– We've seen this chair all over Instagram! It seems to sell out as soon as it hits shelves. Honestly, we have very little pink in our home but it's too pretty. We would find a place for it!
2 | White Wood & Stoneware Planter– This looks very similar to the planters from West Elm but for less than half the price!
3 | Marble & Wood Bookend– I want this bookend to help break up the books on my bookshelf. It's hard to style a bookshelf with actual book, yes?
4 | Pink & Gray Vintage Wool Rug– Again, not a whole lot of pink in our home but this rug is GORGEOUS. It looks so vintage and it's incredibly adorable!
5 | Faux Plant in White Pot– We have since purchased this. It fits perfectly on a small shelf to add some "greenery."
6 | Cozy Nights Candle– We're always down to try a new (soy) candle. This one gets rave reviews and sounds like the perfect fragrance for winter.
7 | Glass Vase with Brass Wrap– The whole Hearth & Hand Collection is beautiful but it doesn't exactly fit with our decor style. However, this vase would look amazing in any home.
8 | Marble Top Round Table– This has been on our wishlist for a while. We're suckers for anything with marble and/or hairpin legs.
9 | Textured Faux Fur Throw Pillow– You can never go wrong with faux fur but we love the added texture this pillow has. It looks way more expensive than it is!
10 | Glass Globe Floor Lamp– This shouldn't even need an explanation. Brass and glass perfection.
11 | Gold & Marble Pillar Candle Holder (shorter version HERE)- We actually saw this in store and had it in our cart, but we couldn't find any pillar candles to fit properly. If you have this let us know which candles you use!
12 | Faux Plant in Stand– We love adding pops of greenery into a room to make it look fresh and complete. But it's hard to keep plants alive so this is a nice alternative.
13 | Faux Fur Throw Blanket– Not sure why this is described as faux fur but it looks incredibly soft.
14 | Easel Frame– This type of frame is very trendy right now and this one specifically looks really well made. I love that the frame itself is subtle and showcases the photo.
15 | Navy Velvet Tufted Chair– Most beautiful chair in the world. We live for anything that's navy velvet and this is absolutely stunning.
16 | Ceramic Candle– Another adorable Hearth & Hand find.
17 | Round Woven Basket– We currently have a blanket basket from Target that has concaved a bit and is about ready to collapse. This basket is structured so it's perfect for spare pillows or blankets.
Do you have any of the items on our wishlist?!
xx, Britta