I'm going to preface this post by saying that these are not the best nude liquid lipsticks, but the ones we feel are the most suitable for everyday wear. So you'll see some mauves in here and maybe some warm toned shades as well! Because for us nude lipsticks aren't always the best to reach for on an everyday basis. If we're doing a full-on smokey eye look we'll often pair it with a toned down nude. But there are many occasions where we'll keep our eye makeup light and go in with a bolder lip if you will. Sometimes they're bold as in bright pink, while other times that just means a vampy brown.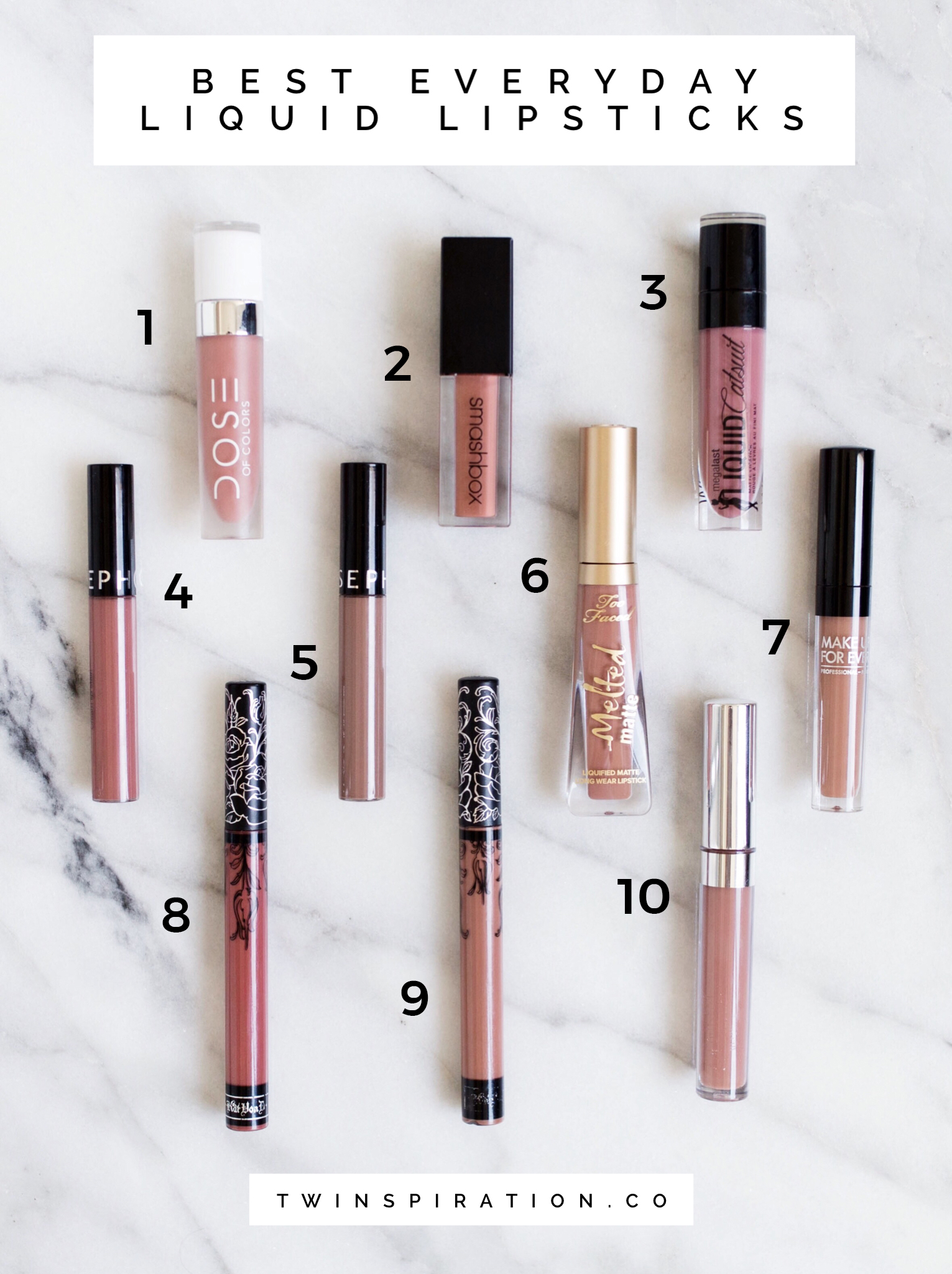 We wanted to give you some options to play around with- liquid lipsticks that you can reach for to pair with ANY eye look. Of course, we had to include our go-to nude, Bow N Arrow. But we also have a deep obsession with Copper Blush and wear it often even though it's not considered a nude!
We also think that these shades are (mostly) suitable for any skin tone. Nudes are rarely universal and we wanted to cater to everyone with this post! And as some of you know, we prefer deep cool-toned nudes to a light pinky nudes anyways!
While most of these are matte liquid lipsticks we did include our two favorite products from Colourpop, 'Strut' Ultra Satin Lip & 'Point Zero' Ultra Satin Lip. Fun fact: We both have backups of these shades because we wear them THAT often!
1 | Dose of Colors Liquid Lipstick in 'Truffle'
2 | Smashbox Always On Liquid Lipstick in 'Stepping Out'
3 | Wet N Wild Liquid Catsuit in 'Rebel Rose'
4 | Sephora Cream Lip Stain in 'Copper Blush'
5 | Sephora Cream Lip Stain in 'Pretty Beige'
6 | Too Faced Melted Matte in 'Cool Girl'
7 | Makeup Forever Artist Liquid Matte in #107
8 | Kat Von D Everlasting Liquid Lipstick in 'Lolita'
9 | Kat Von D Everlasting Liquid Lipstick in 'Bow N Arrow'
10 | Colourpop Ultra Satin Lip in 'Strut'
We're curious, what's your favorite everyday liquid lipstick?!
xx, Britta