We've been in our house since October and haven't made significant progress on decorating it fully. You know how it goes, you move in, work on each room individually, and then you get tired and run out of money and neglect the rest of the space (no? just us? ok). When we moved in with both focused a lot on our bedrooms. We got new beds, storage, side tables, home decor, etc. We really ignored the living room because we had just re-decorated our apartment before we moved out, so we had a lot of pieces we still wanted to use. And for some unknown reason, we've worked on our office the most. We've reorganized it time and time again and it's finally coming together. But the space we've completely neglected is our back patio. It's currently holding old patio furniture, dead plants, and random things we have no other room for.  Now that it's warm outside we've been utilizing the patio more often and we really want to make it an oasis. We think these Brass Collar String Lights would make for the best ambiance.
We've actually decided to do a whole patio makeover, and show you before and after photos in a blog post. Our patio is small but we have an amazing view of Hollywood and it's actually quite peaceful. We've also included some items in this wishlist for our front yard. We have a small paved space out front that we don't use at all. Our pups love being outside but we can't leave them unsupervised (they're sassy af), so when we sit out there we just sit on the ground which is both uncomfortable and silly. We think this Wicker Patio Set would be perfect!
Let us know if you have any of the items on our wishlist, and please leave your recommendations below! We tend to shop for home items at Target and World Market. HomeGoods is always a good option but since all their locations stock different things it's always a toss-up.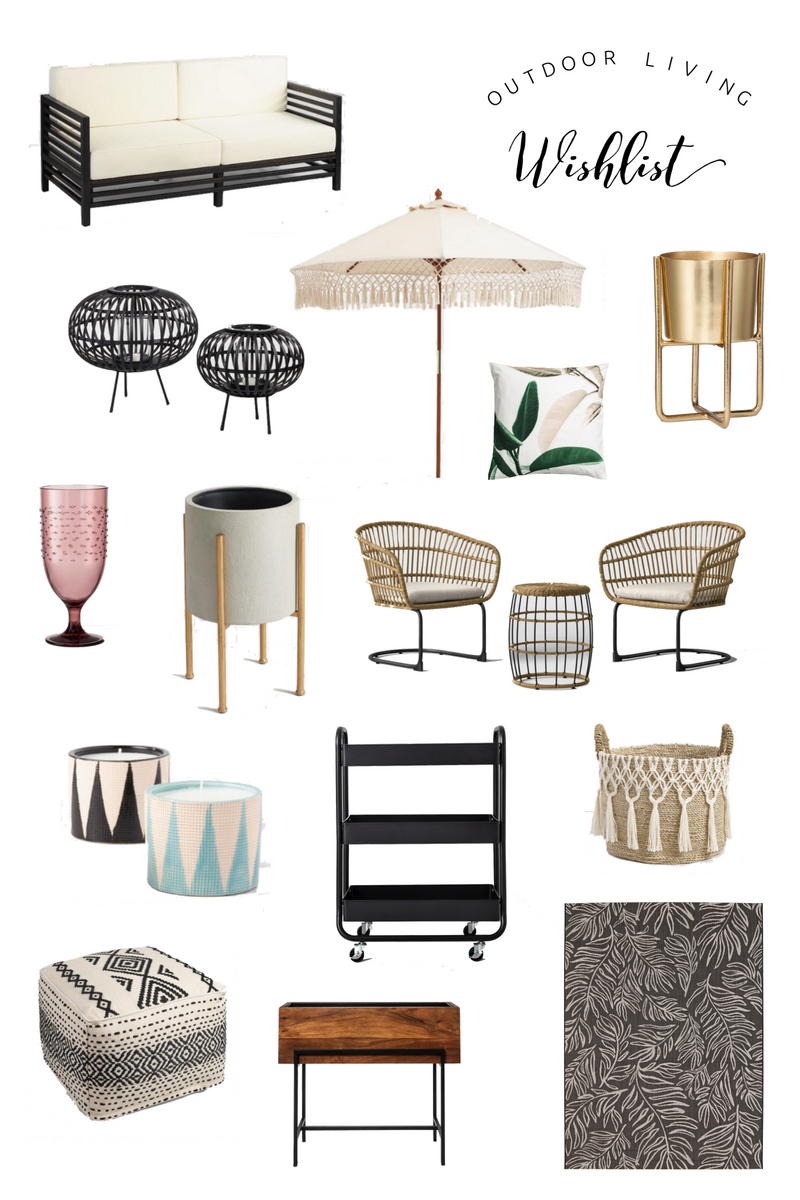 Black Occasional Bench | Round Black Bamboo Planters | Natural Outdoor Umbrella | Palm Print Cushion Covers | Elevated Gold Planter | Plastic Goblets | Gray Planter with Brass Stand  | Wicker Patio Set | Geometric Citronella Candles | Black Metal Cart | Large Seagrass Basket | Black & White Pouf | Wood & Metal Planter | Black Leaves Outdoor Rug
Some outdoor spaces we love: