Just like Britta and her BF Tommy, my boyfriend James and I like to take a trip every year to celebrate our anniversary. Our anniversary is on December 1st which sometimes falls around Thanksgiving, making traveling SUPER expensive. We went to NYC last year and even though we spent a fortune on plane tickets, it was an amazing trip. This year, we didn't feel like traveling far but knew we wanted to go somewhere special to celebrate our four great years together.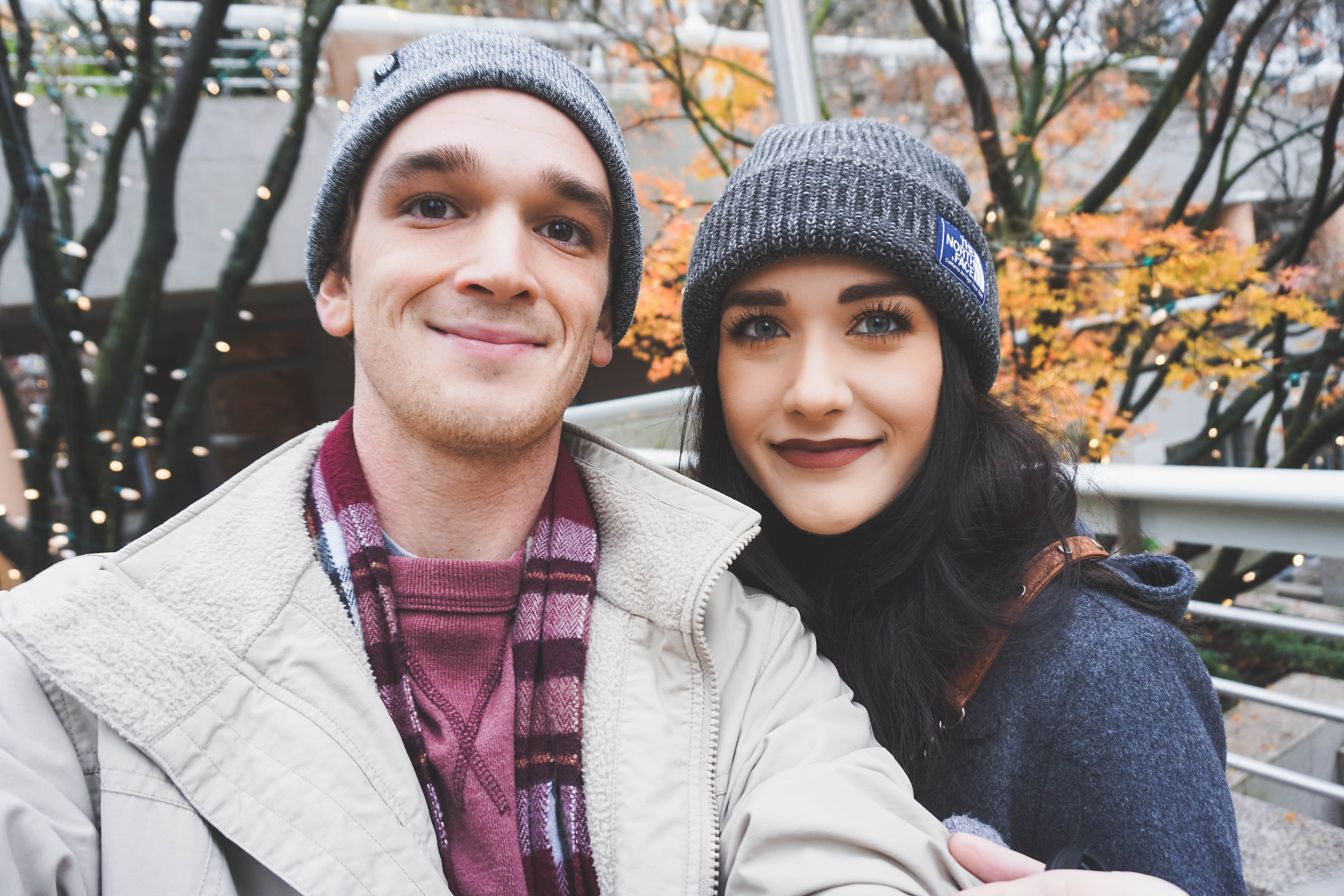 After much discussion, we decided on Seattle. Toronto is on both of our lists but Seattle is close and in the U.S. so you don't have to deal with customs. It was a no-brainer! I've been super busy at work so didn't have as much time to plan out our trip like we usually like to do. We both ended up loving just winging it and not worrying too hard about a "to-do" list. I did have certain places in mind I wanted to see, but for the most part, we just used Yelp to determine places we ate at & touristy things we did!
Come along on our trip with us!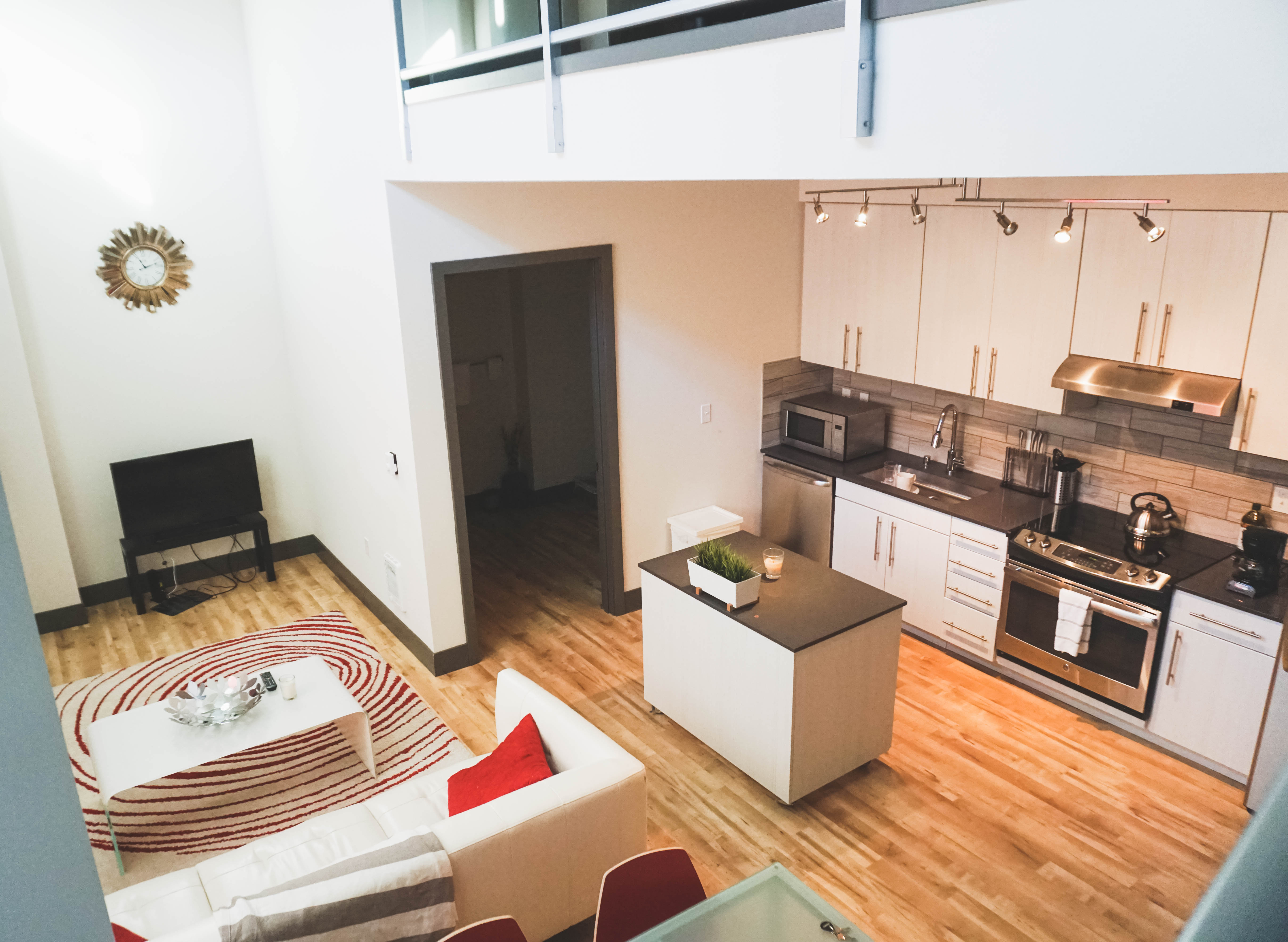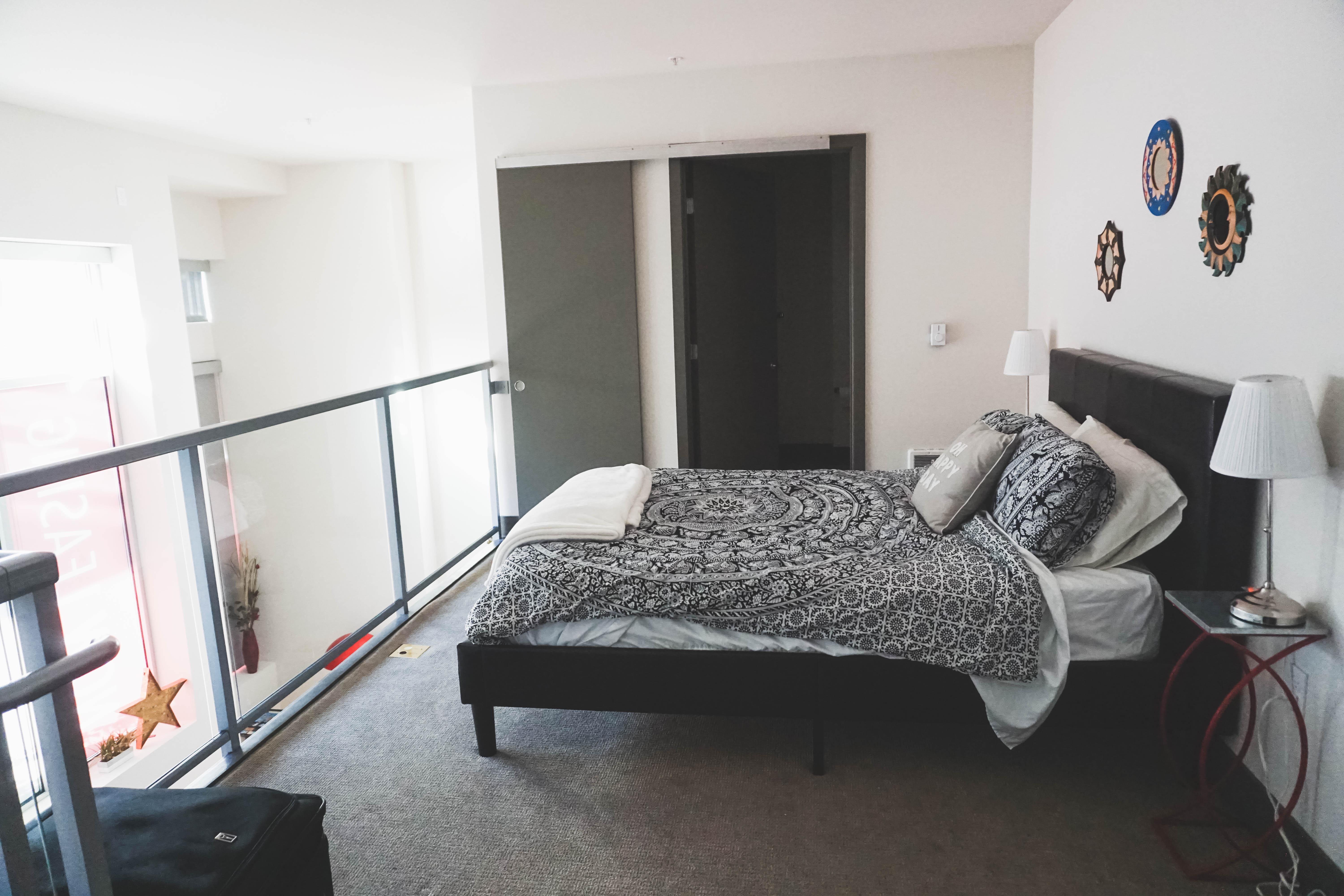 This was the first trip we've ever done an Airbnb and I will never go back to hotels! Our place was a new loft in Belltown, which we found to be very centrally located. We were able to walk to almost every place we went, we didn't even need our rental car! I think the best thing about our place was the distance to the water. We were only a block away from this cute little pier that we walked out on every morning & night.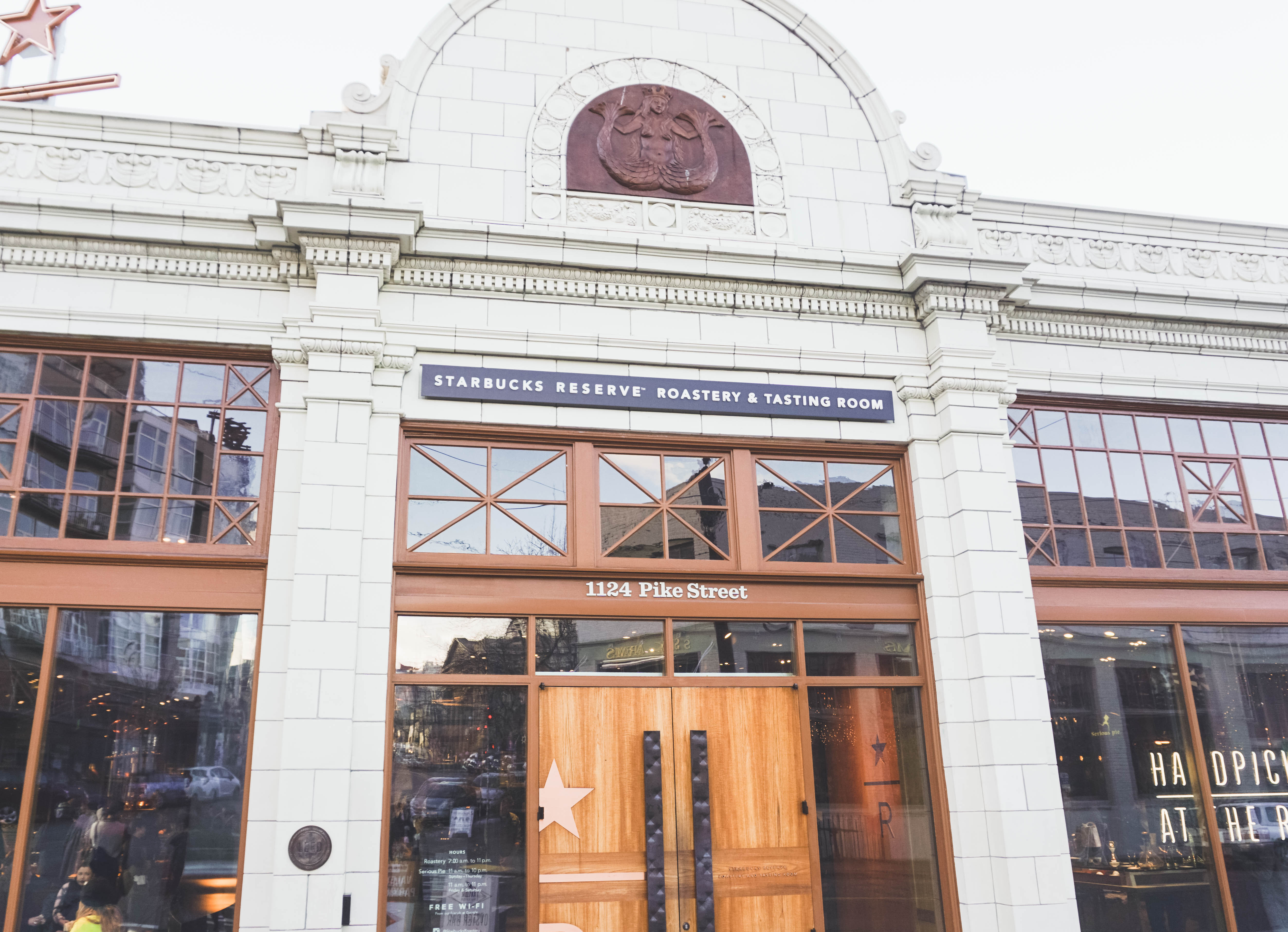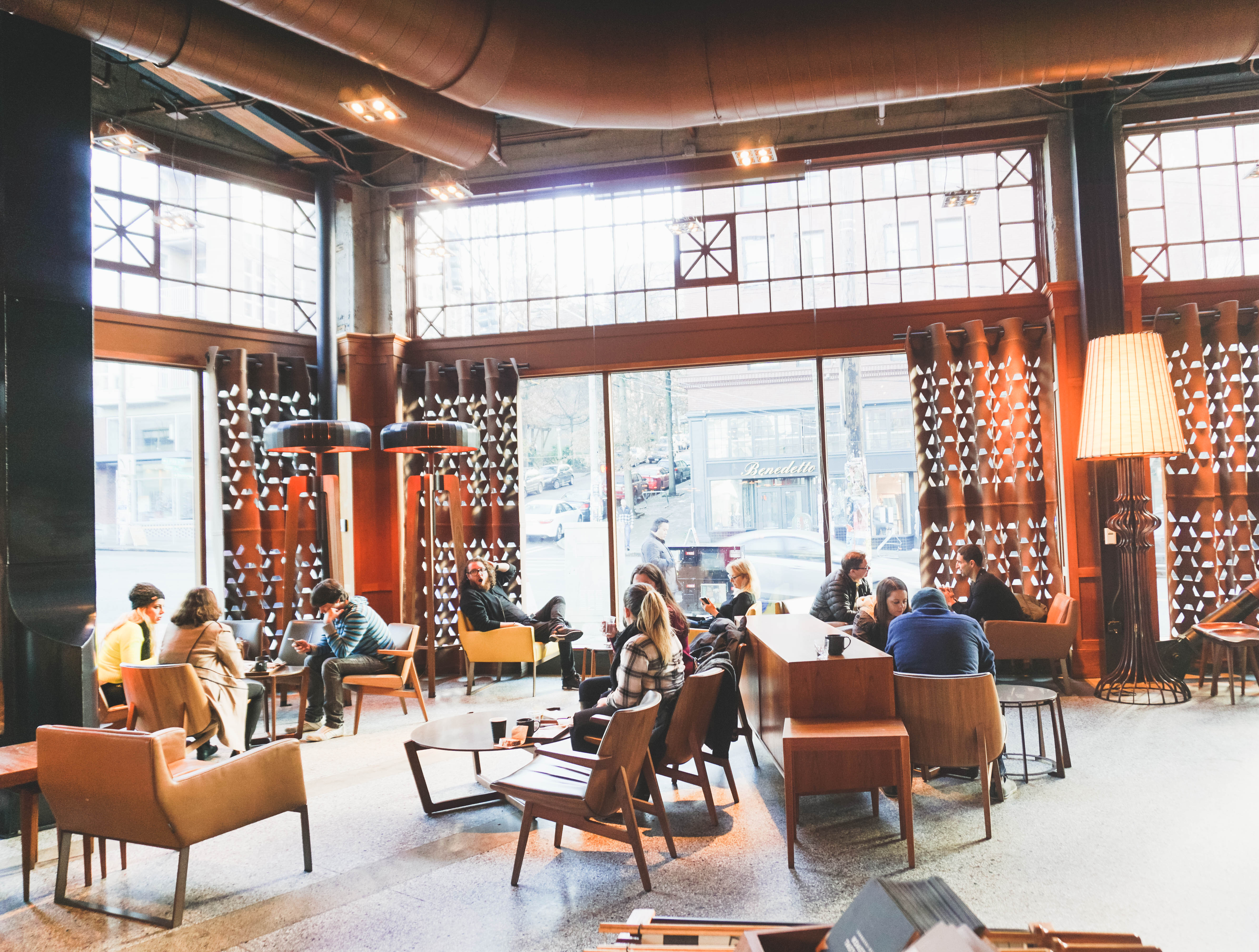 At the top of my Seattle to-do list was the original Starbucks. I've been a Starbucks fanatic since I first started drinking coffee, so of course, I wanted to step inside the first ever location. However, when James and I were on our way to Pike Place Market, we saw the line to get in the original Starbucks was SO long. I'm not above waiting in line on vacation, but to save time we decided to skip the line.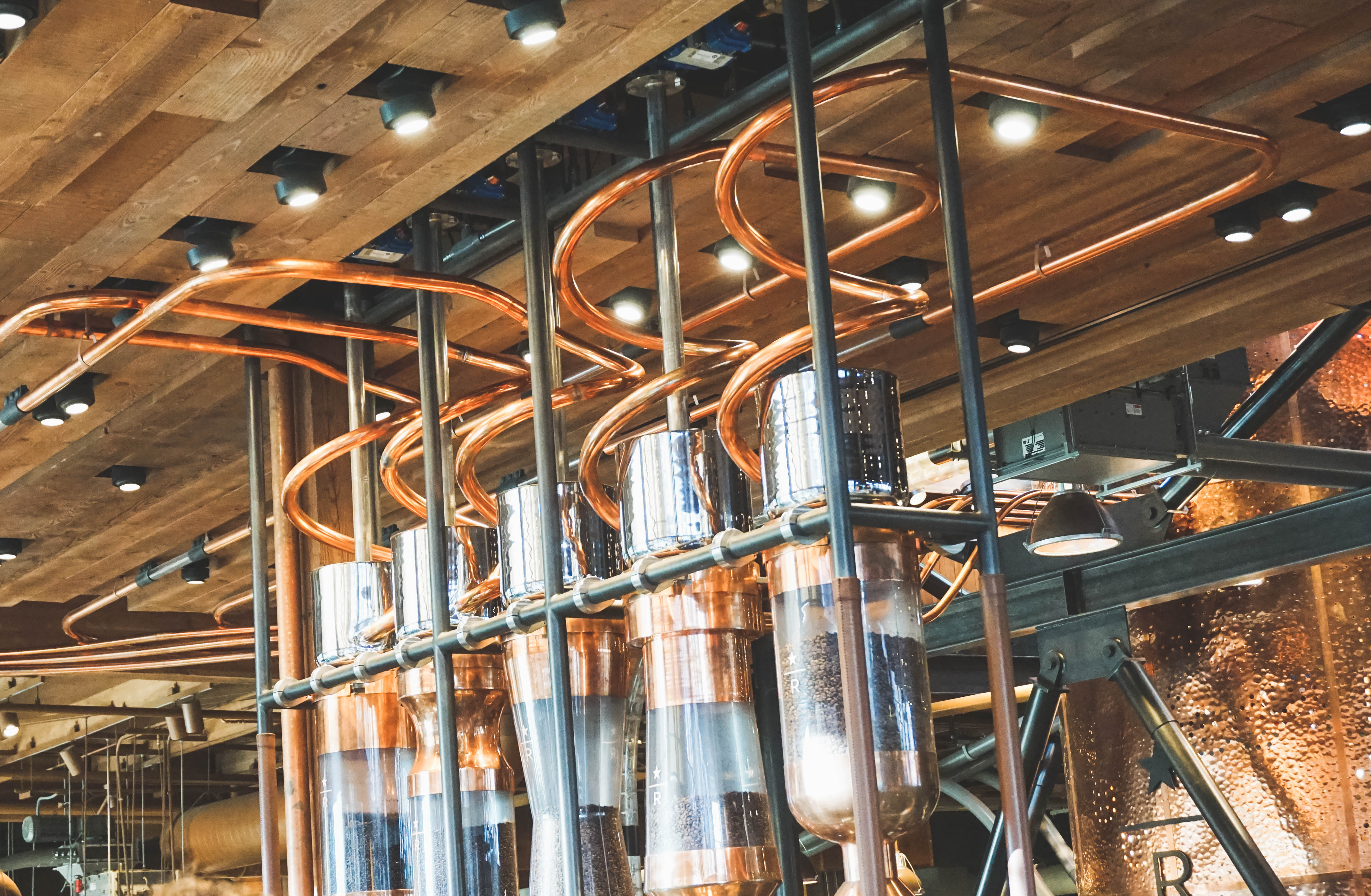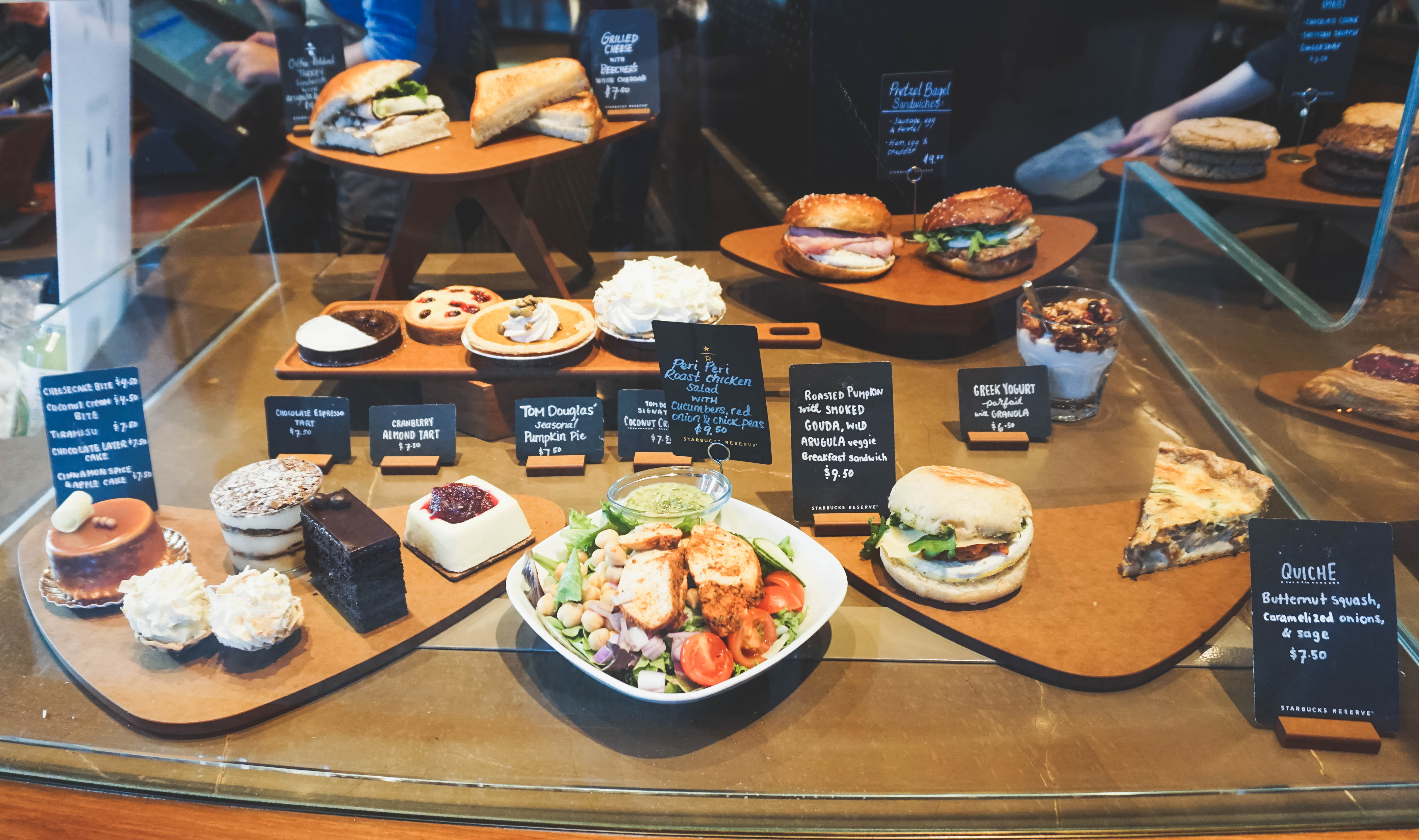 While on our trip, I found the Starbucks Reserve Roastery & Tasting Room on Yelp. After deciding not to go to the OG Starbucks, James and I thought it would be fun to go to the tasting room & I'm so glad we did! This place is absolutely beautiful! It's basically one giant Starbucks with huge roasting machines & an entire merch section. All of the Starbucks merch items, as well as the food & beverages, are exclusive to the roastery. I had a cardamom latte & a pumpkin breakfast sandwich. Both were amazing!
I also bought a mug since it isn't sold anywhere else and I wanted a keepsake from our trip. We did drive here and parking was a bit difficult since only street parking was available. We went on a Sunday and it wasn't as busy as I had imagined, we got our drinks and food in about 10 minutes. I would highly recommend this place to any coffee lover.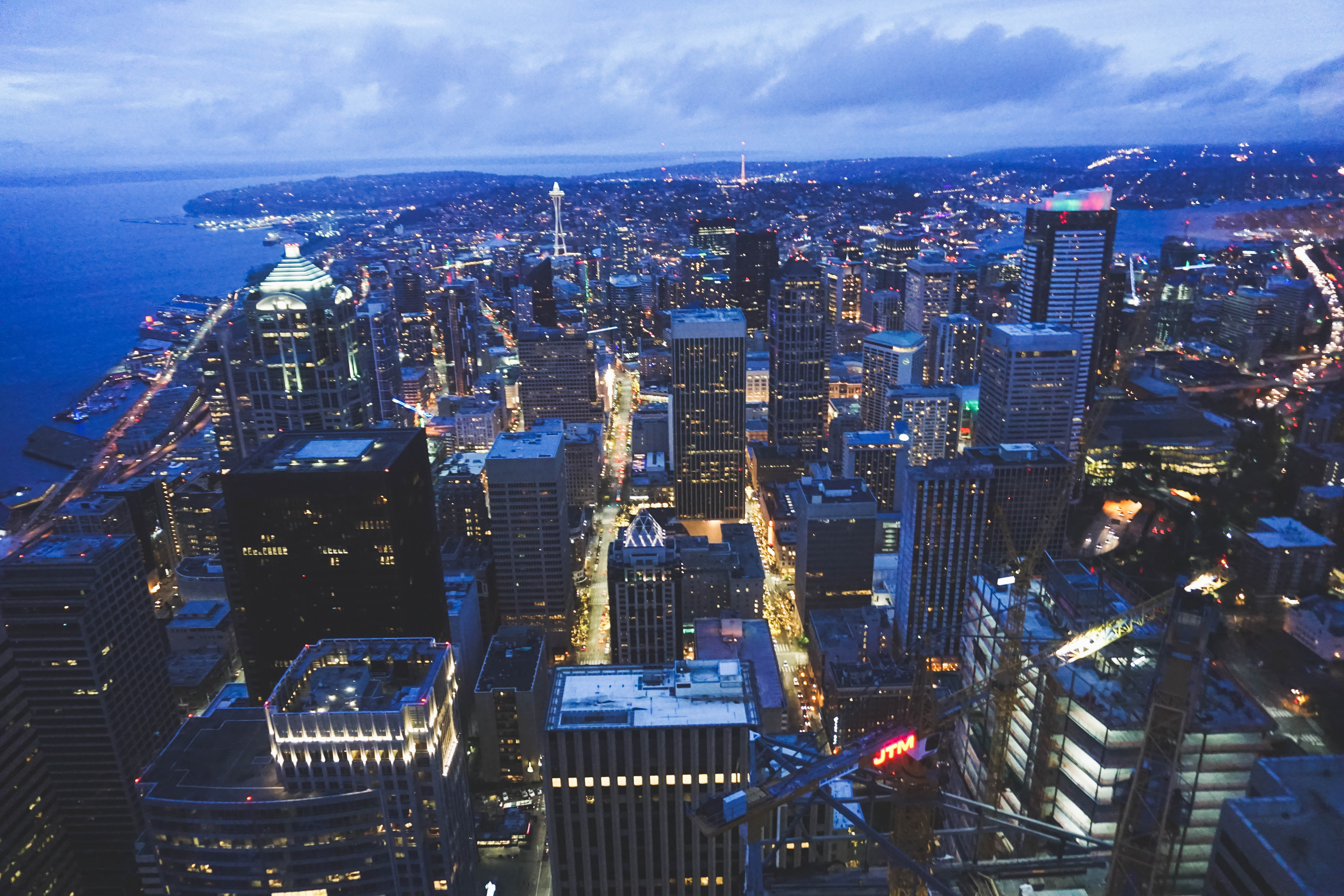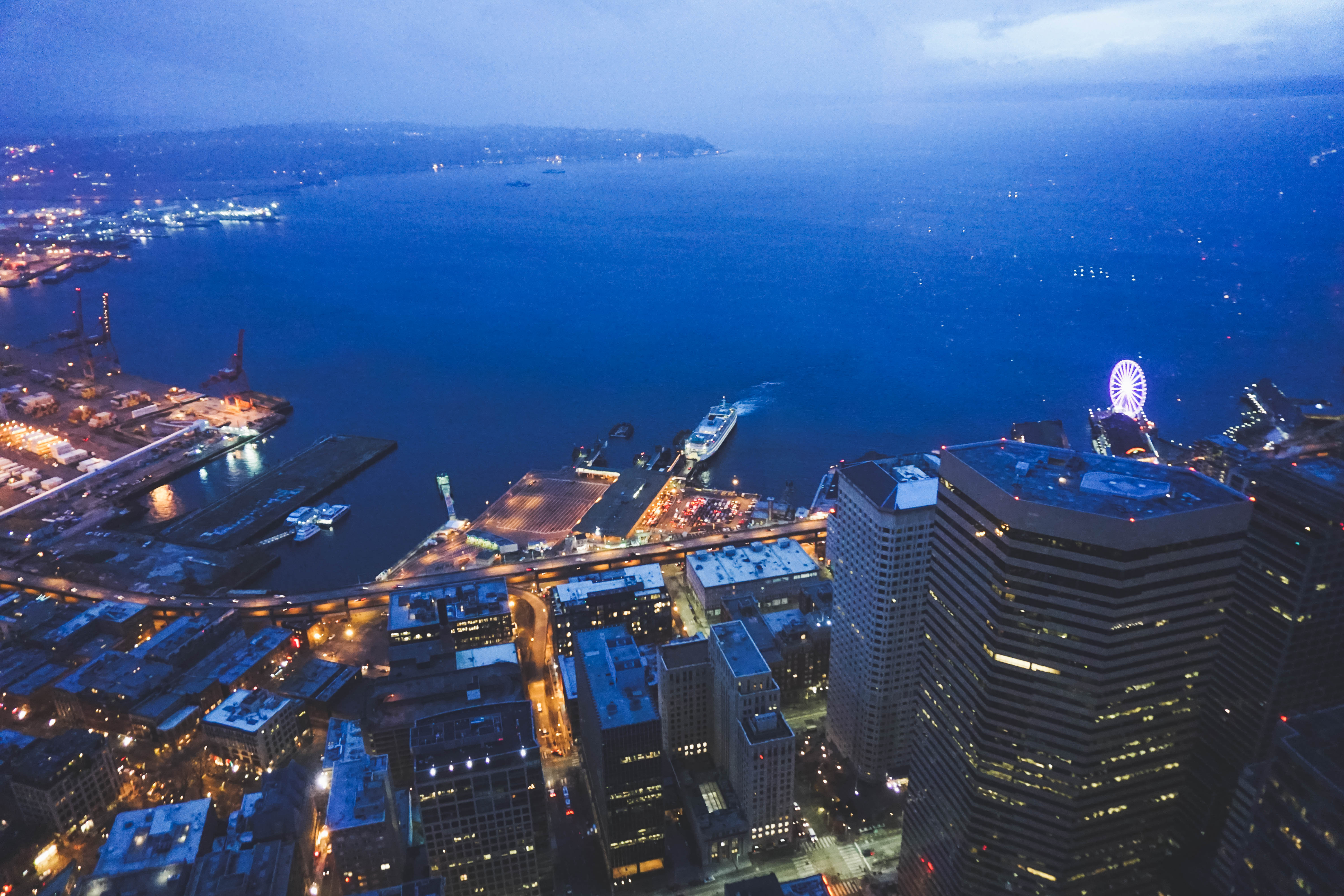 So we might be the only people to ever go to Seattle & NOT visit the Space Needle. I know, I know, that's crazy! It was $22 to go up and with the freezing temps outside in mind, I decided to look for other options. I found the Sky View Observatory on Yelp which is only $15 to go to the 74th-floor deck that has a 360-degree view of the city! This was my favorite thing we did the entire trip. The views were so stunning and I liked that it was inside so we didn't have to rush off due to the cold temps. We just sat there and looked out for what seemed like a long while. They also sell a few snacks, wine, beer and coffee on the deck so you can hang out and enjoy the views!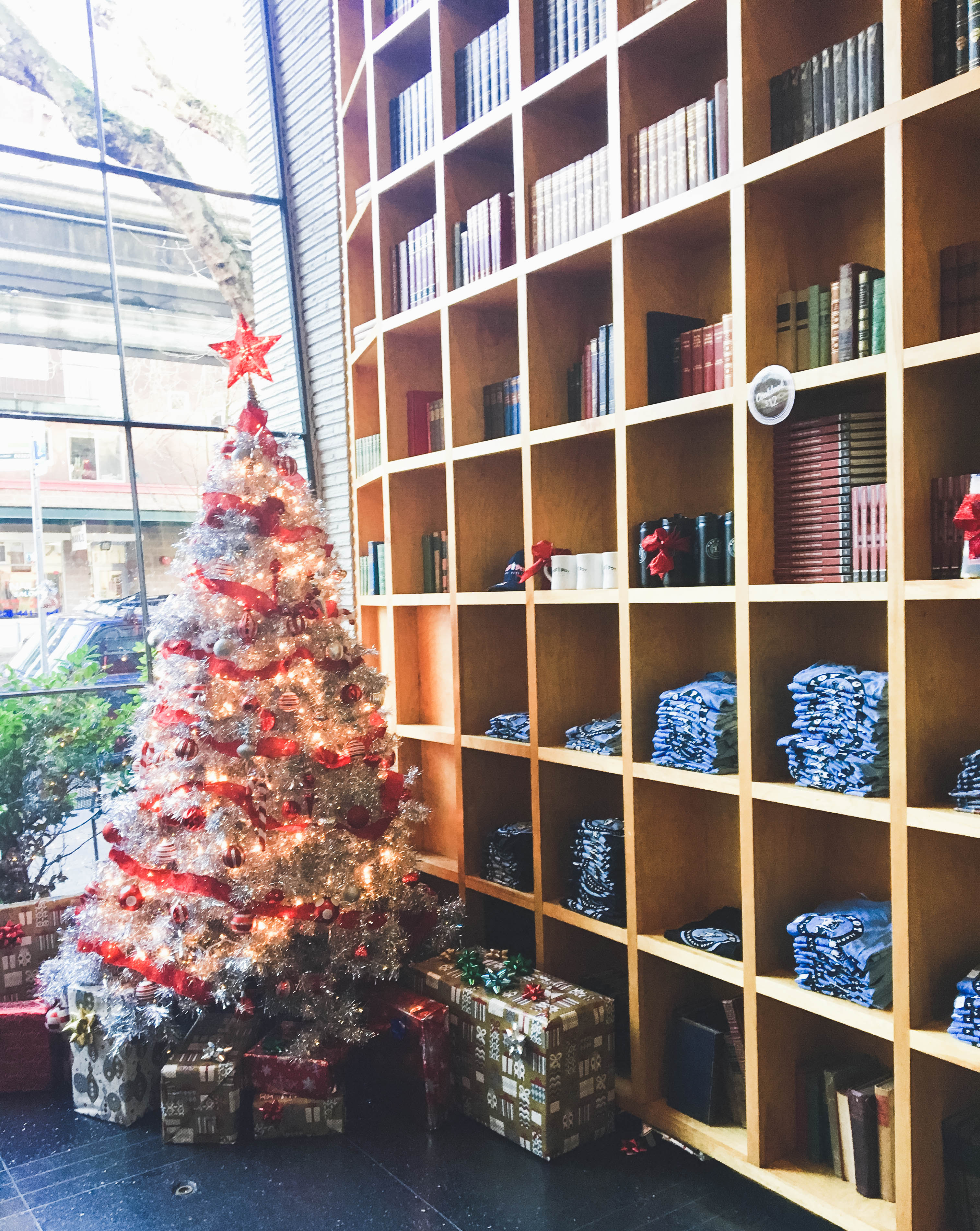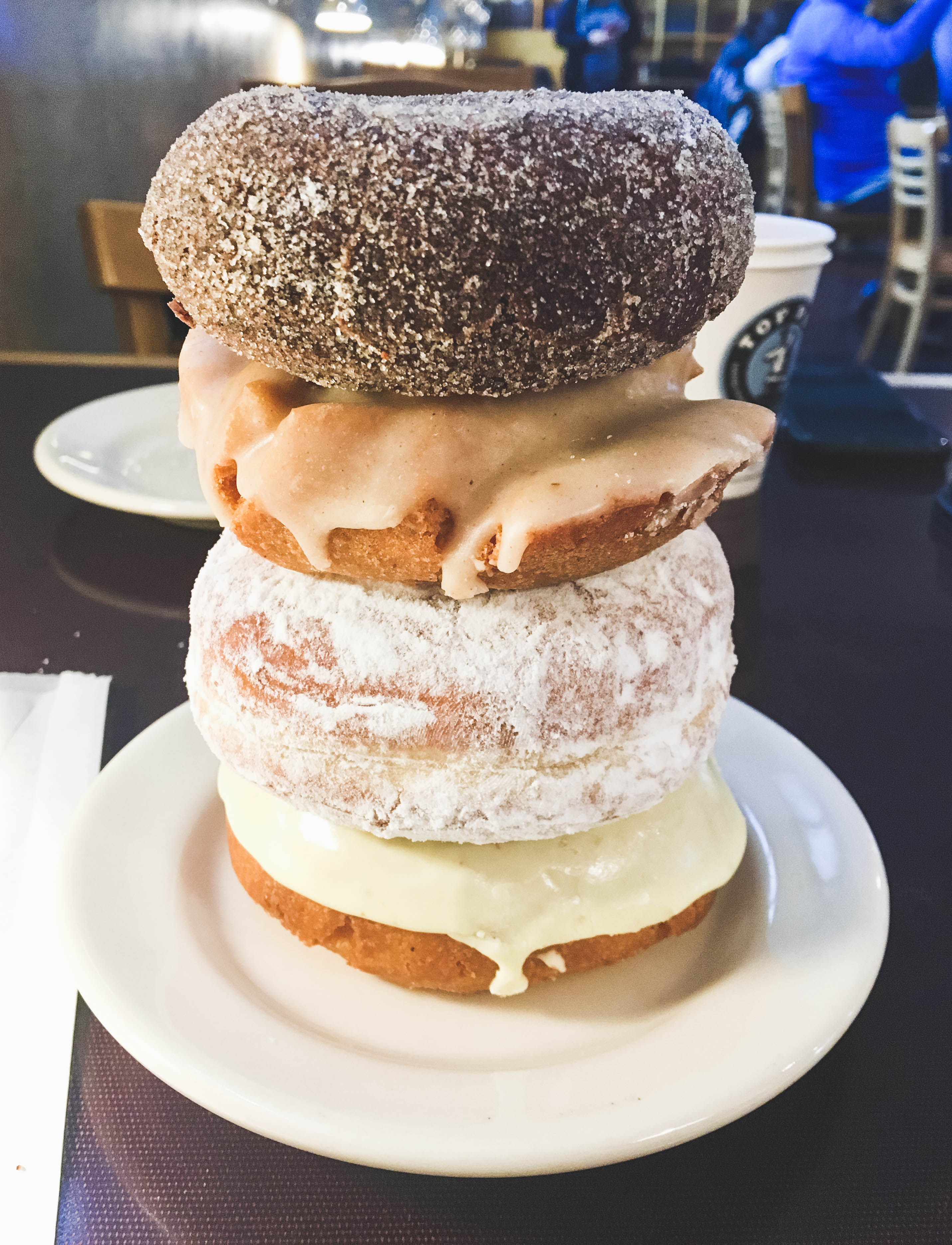 I had heard so many great things about Top Pot & it did not disappoint. I'm used to always getting donuts to go in Los Angeles since most donut places aren't very welcoming & parking is always an issue. Top Pot was the exact opposite! When you first walk in you get a warm and cozy feeling from the built-in bookshelf and tons of seating options. They even had a little Christmas tree up for the holidays, too cute!
I decided to get an eggnog cake donut topped with eggnog icing & a glazed pumpkin old fashion. James got the Sandcastle which is a chocolate cake donut dusted with cinnamon & sugar. He also got a raspberry filled donut dusted with powdered sugar.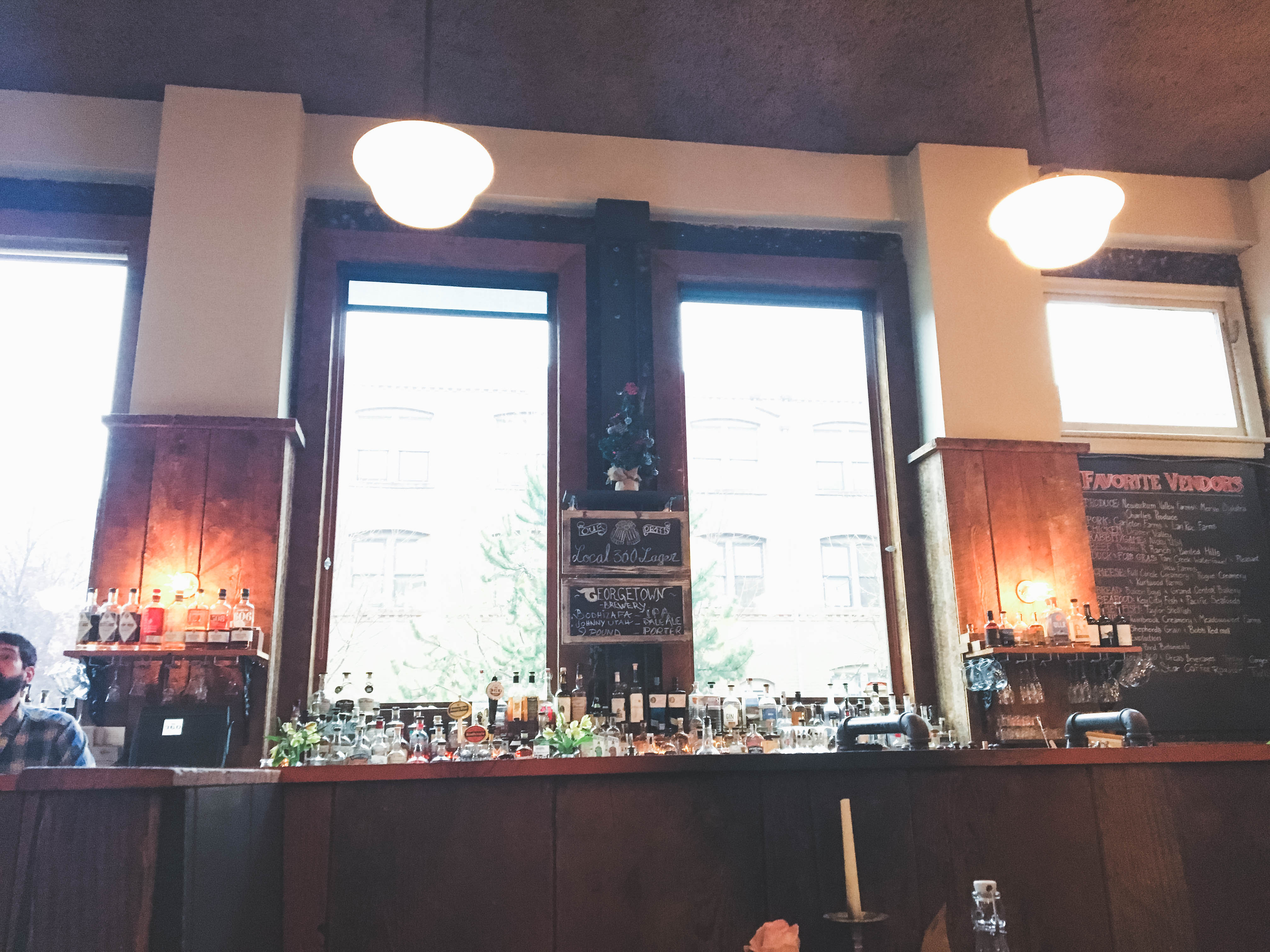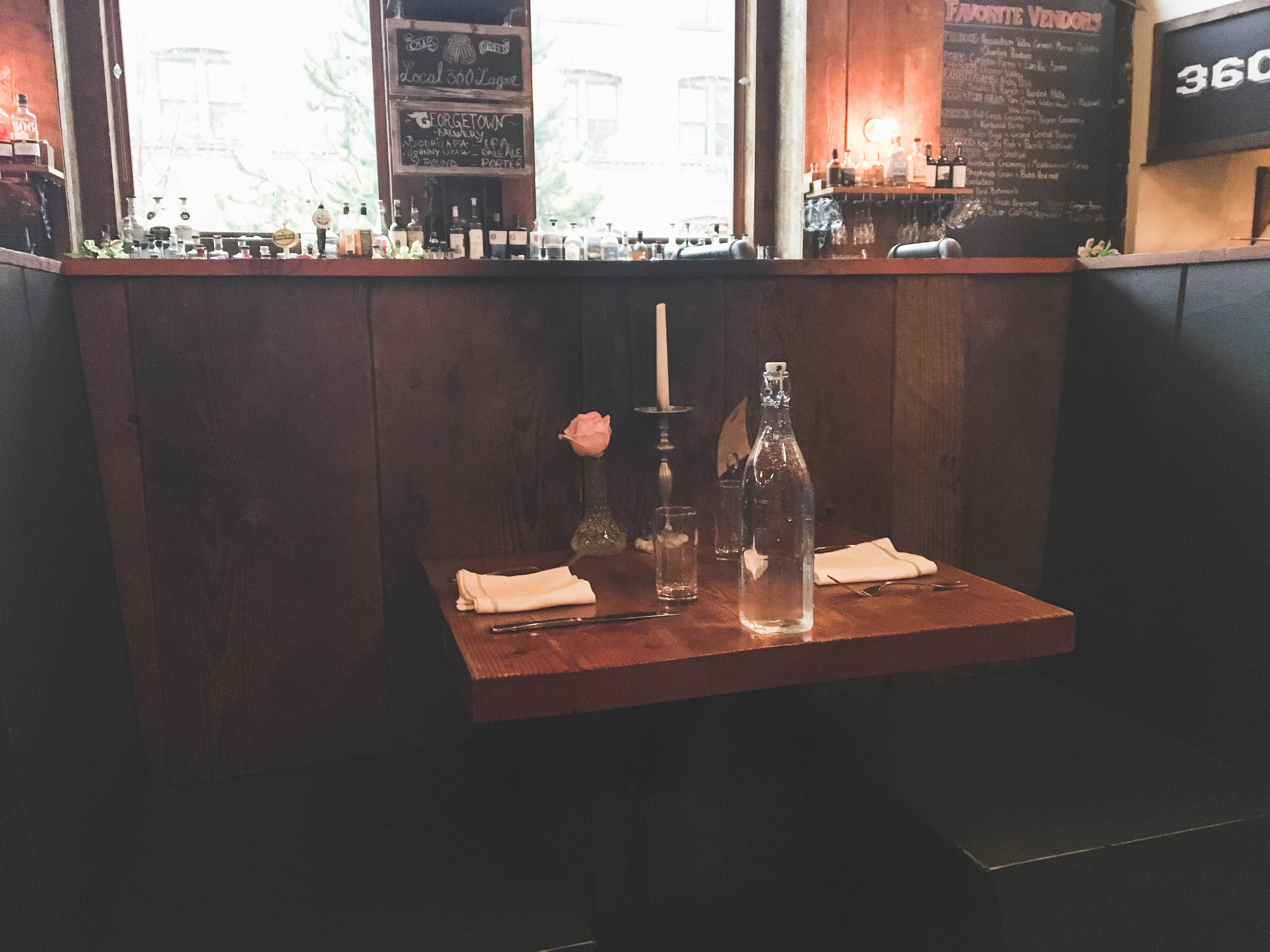 We found this place within a few blocks from our Airbnb and actually came back another time during our trip. It's so unlike us to eat at the same place twice during a trip but Local 360 is so amazing, we had to.
First of all, it looks like a chic log cabin when you walk in. When we ate lunch here, we sat in this adorable 2-seater wooden booth. I had the Double Cheddar Mac (it's vegan!), the Triple Potato Home Fries (on the brunch menu) & the Chicken Soup with Mushroom Dumplings. The potatoes were cooked perfectly and had great spices, definitely my favorite thing I ordered. Our server was the absolute best, he sent over a free plate of PB & J Bon Bons (basically FRIED PB & J) for us. James got the Fried Chicken Sandwich and was very happy with it.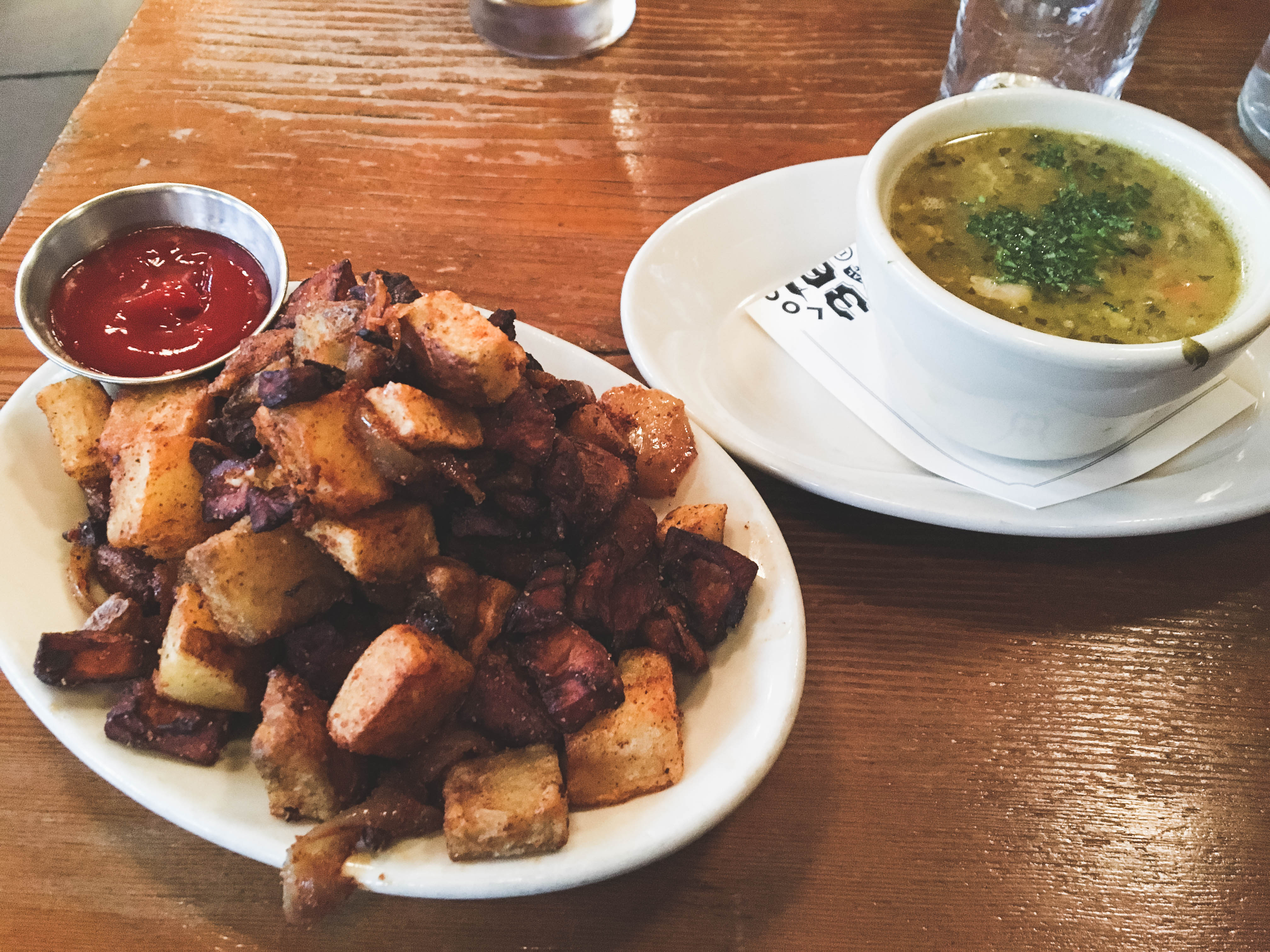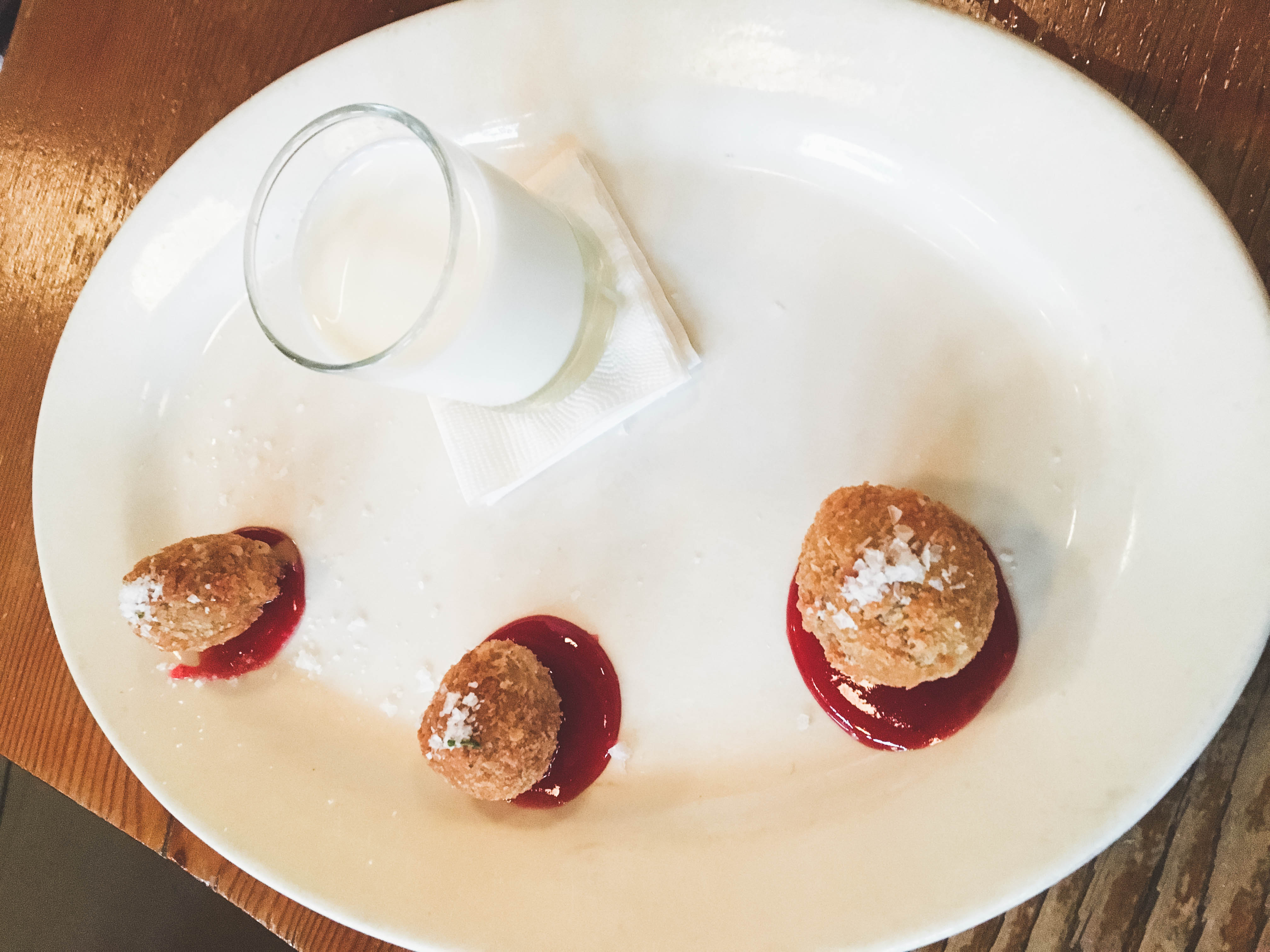 The next night we went back for dinner and went kind of crazy. We ordered the Mac & Cheese again, the house salad, french fries, the Hazelnut Carrot Cake, more PB & J Bon Bons and of course wine & beer. We finished everything off with some warm lattes. Everything was amazing, I highly recommend this place if you're staying in Belltown.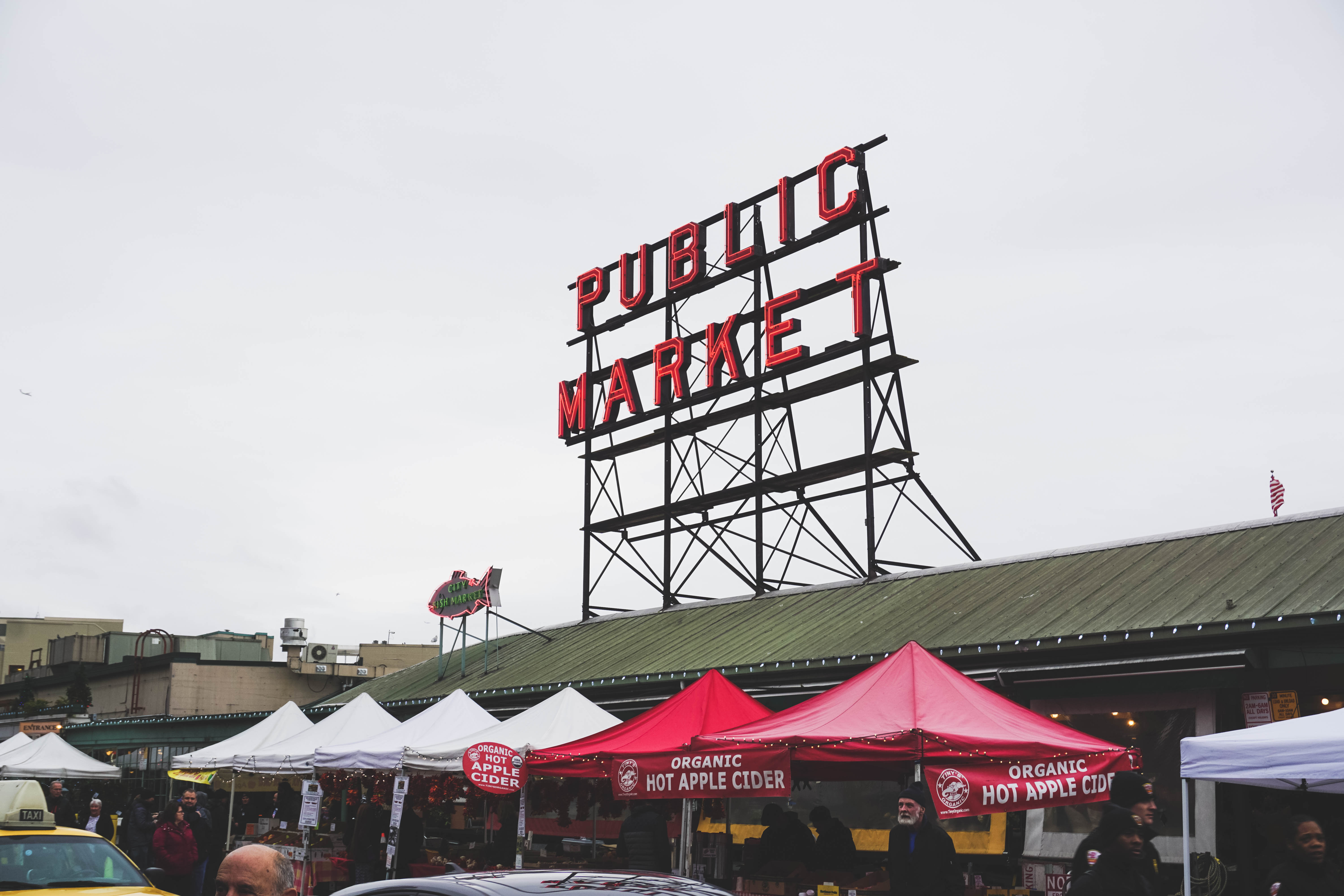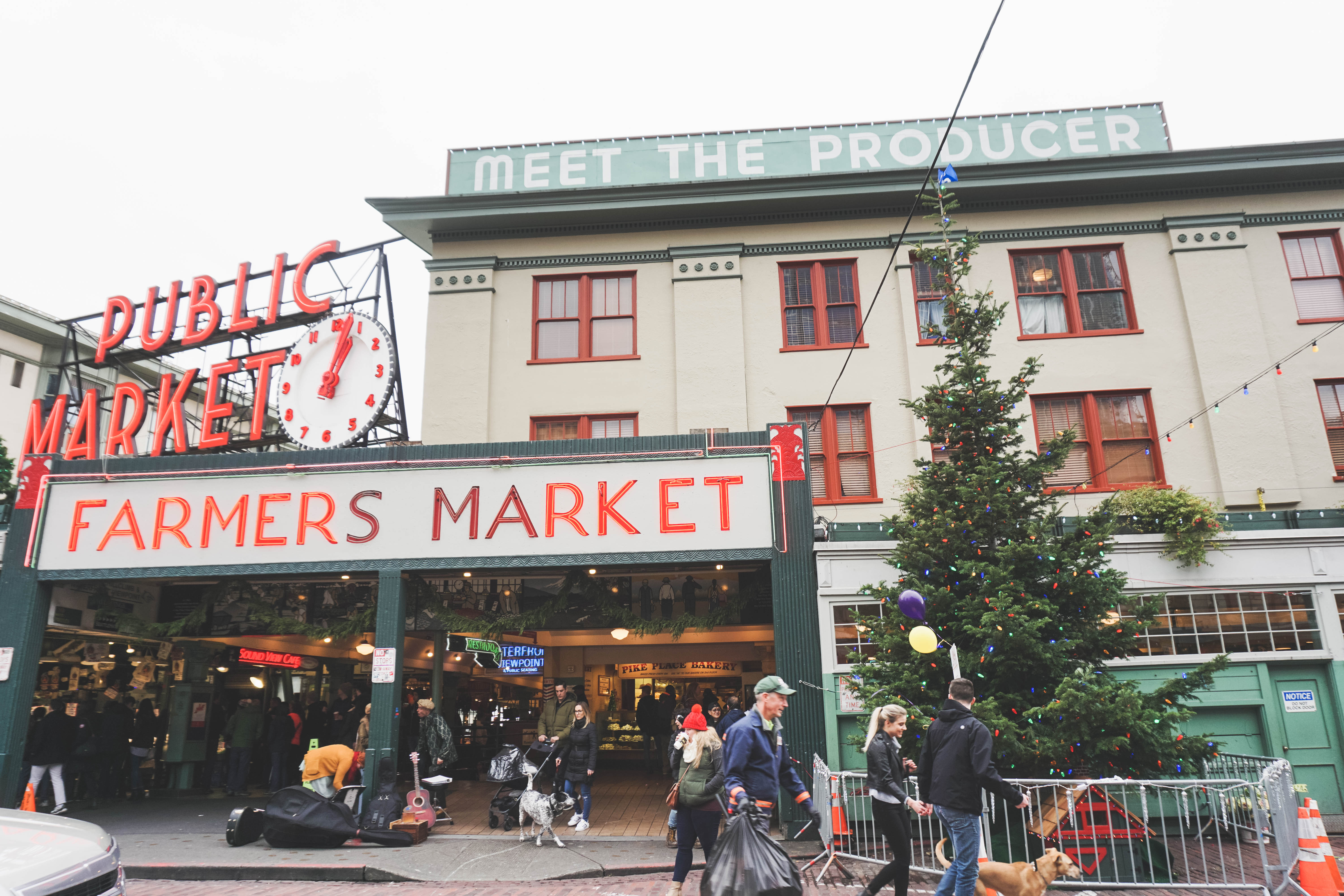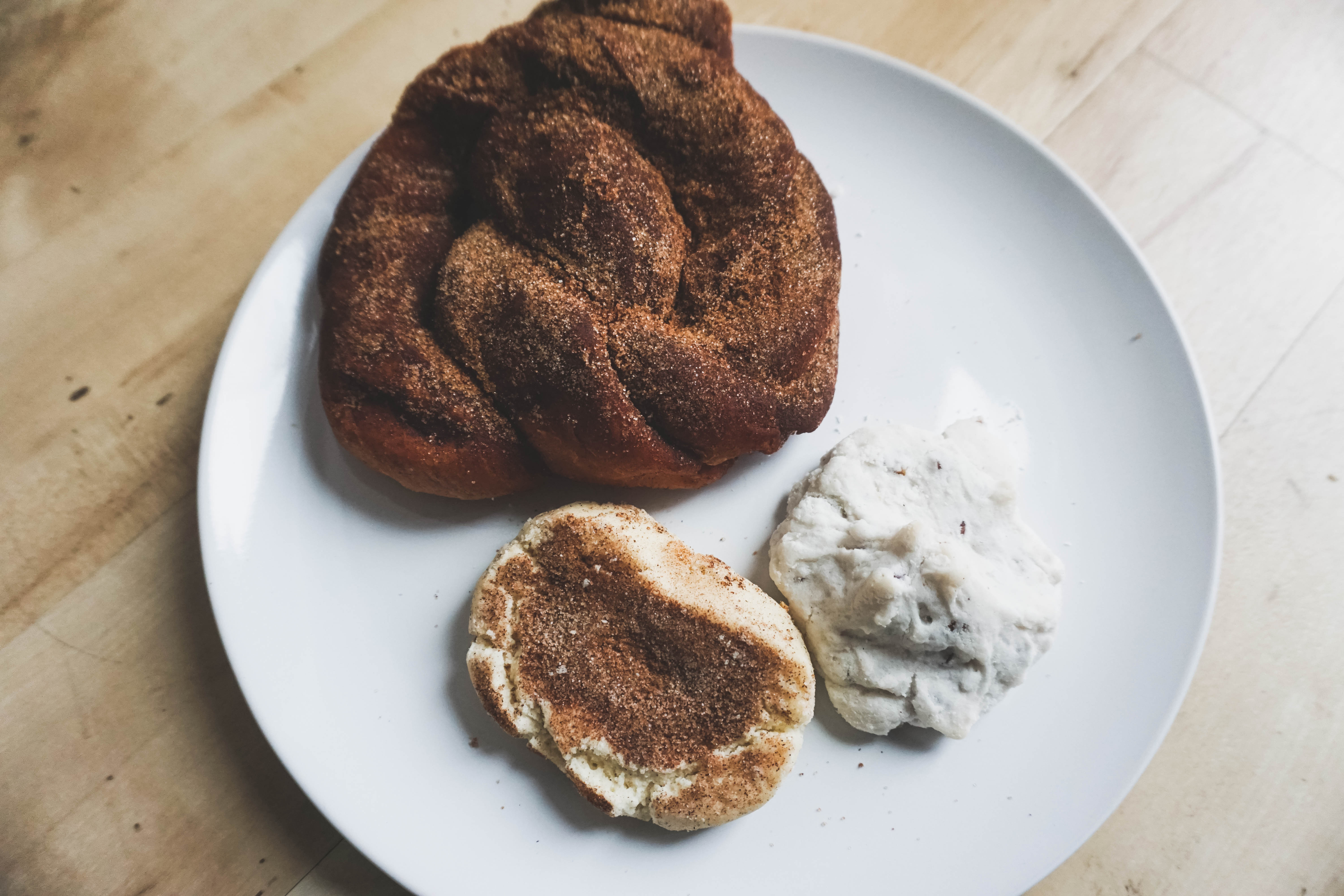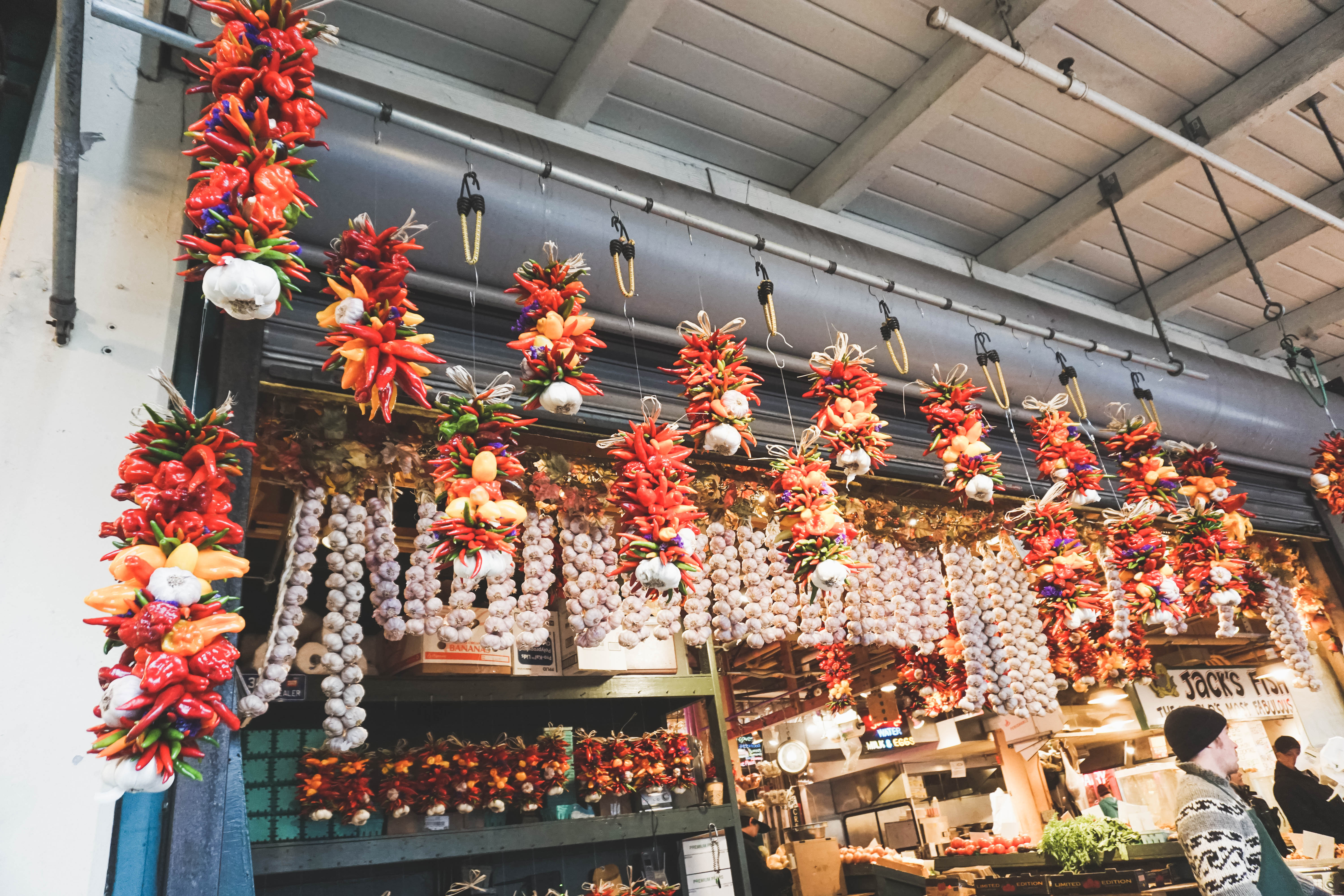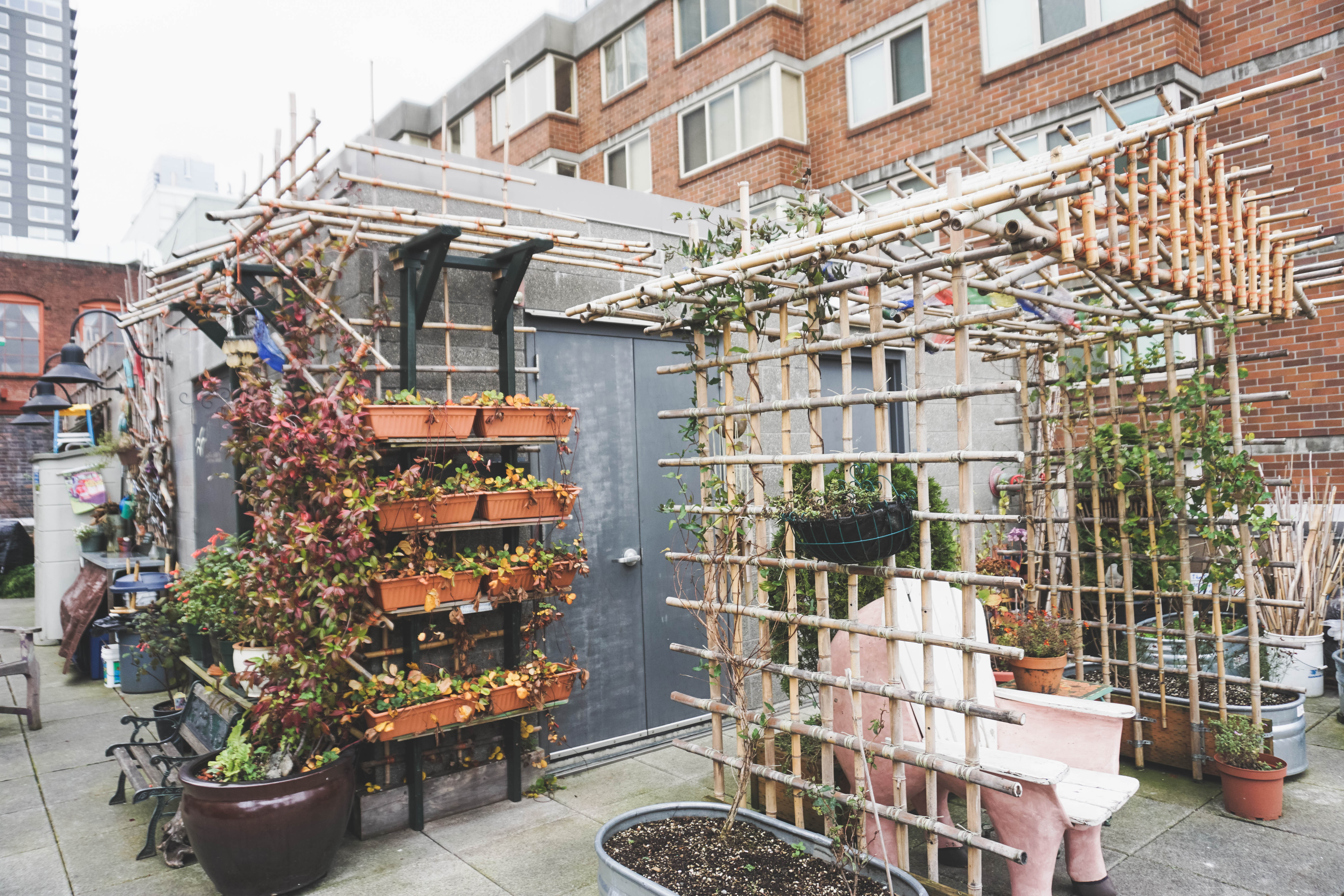 The one thing we had to see in Seattle was Pike Place Market. I really wasn't feeling too well the day we went, so unfortunately, I didn't have much of an appetite. But you know I can NOT pass up sweets, so we picked up a cinnamon pretzel donut (yes, you heard that right), a snickerdoodle cookie and a snowball cookie for the Market's bakery. I honestly didn't LOVE either of the cookies but the pretzel was awesome. We walked into a few more places at the market but didn't purchase anything else. I was getting a little overwhelmed with all the people so we decided to step outside and stumbled upon this adorable roof-top garden! It ended up being my favorite part of the market even though we couldn't stay outside long due to the cold temp!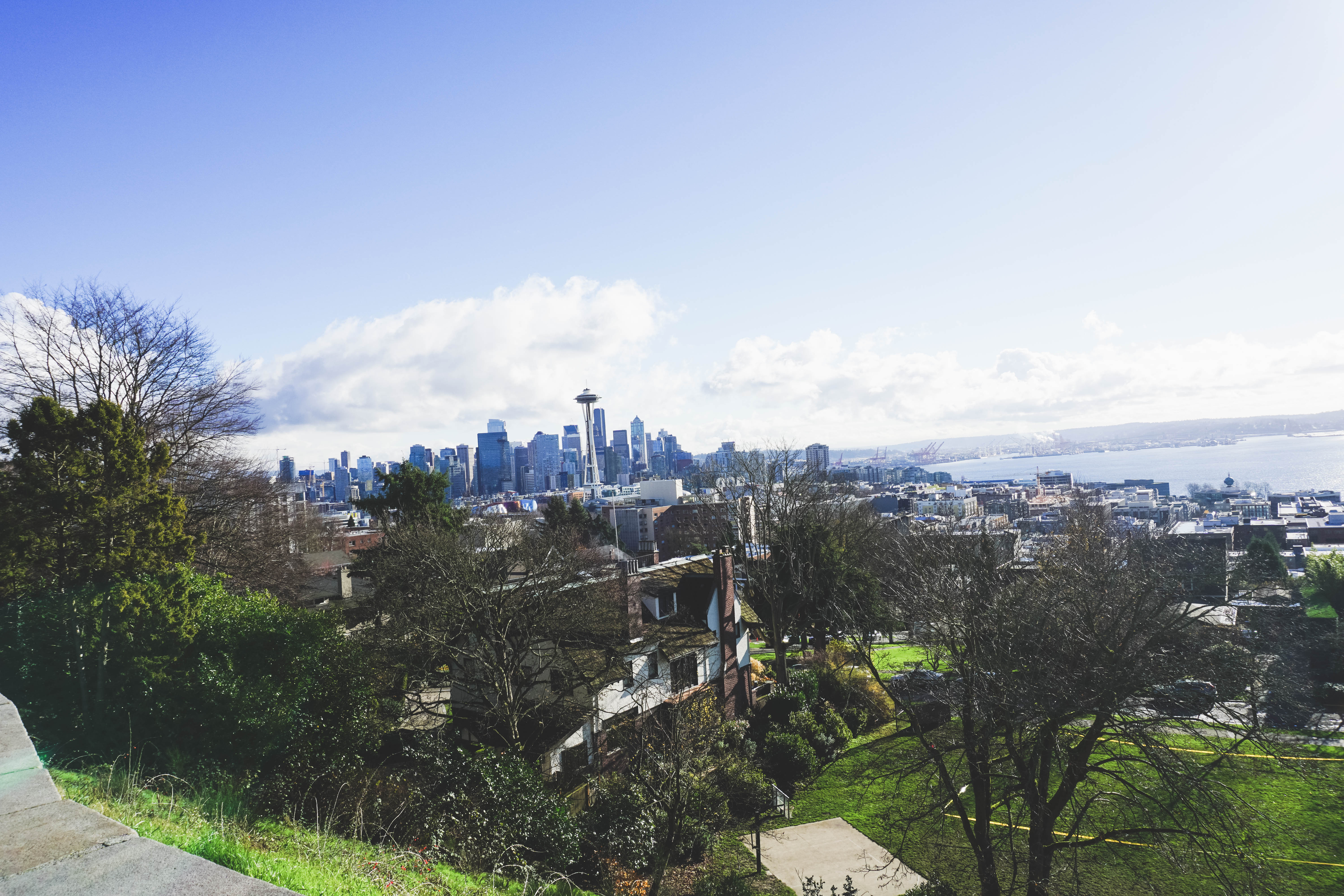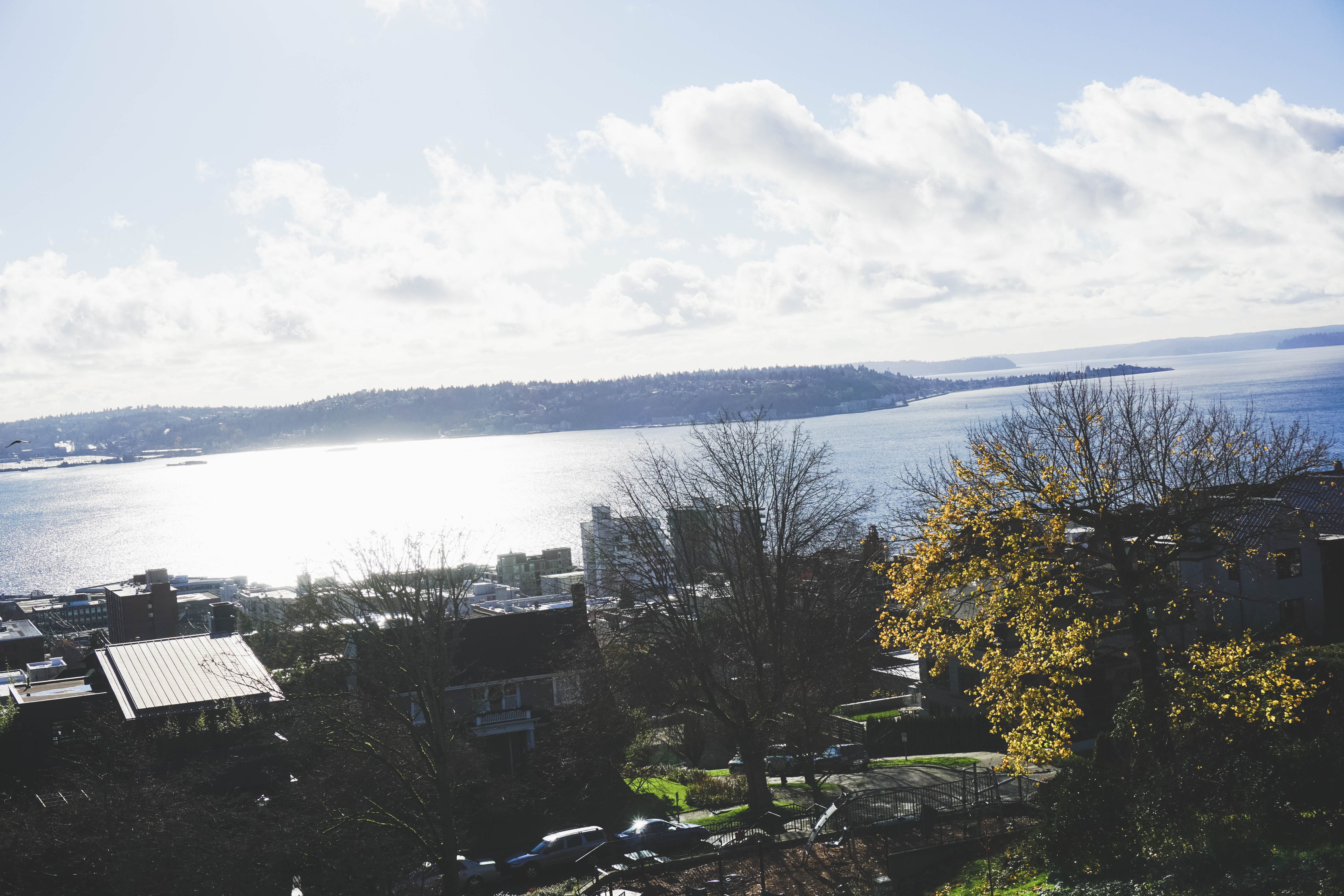 One of my good friends was in Seattle just a couple days before us and recommended this place to me. She went at night and took some beautiful pictures, but because we had already seen the city at night from the Sky View, we opted to go during the day. The park is nestled in a nice neighborhood in Seattle filled with beautiful old homes. Side note: we loved the architecture in Seattle since it seems like a perfect mix of old and new. Anyways, this park has a perfect view of the city and it wasn't too far of a drive for us. Definitely, check it out!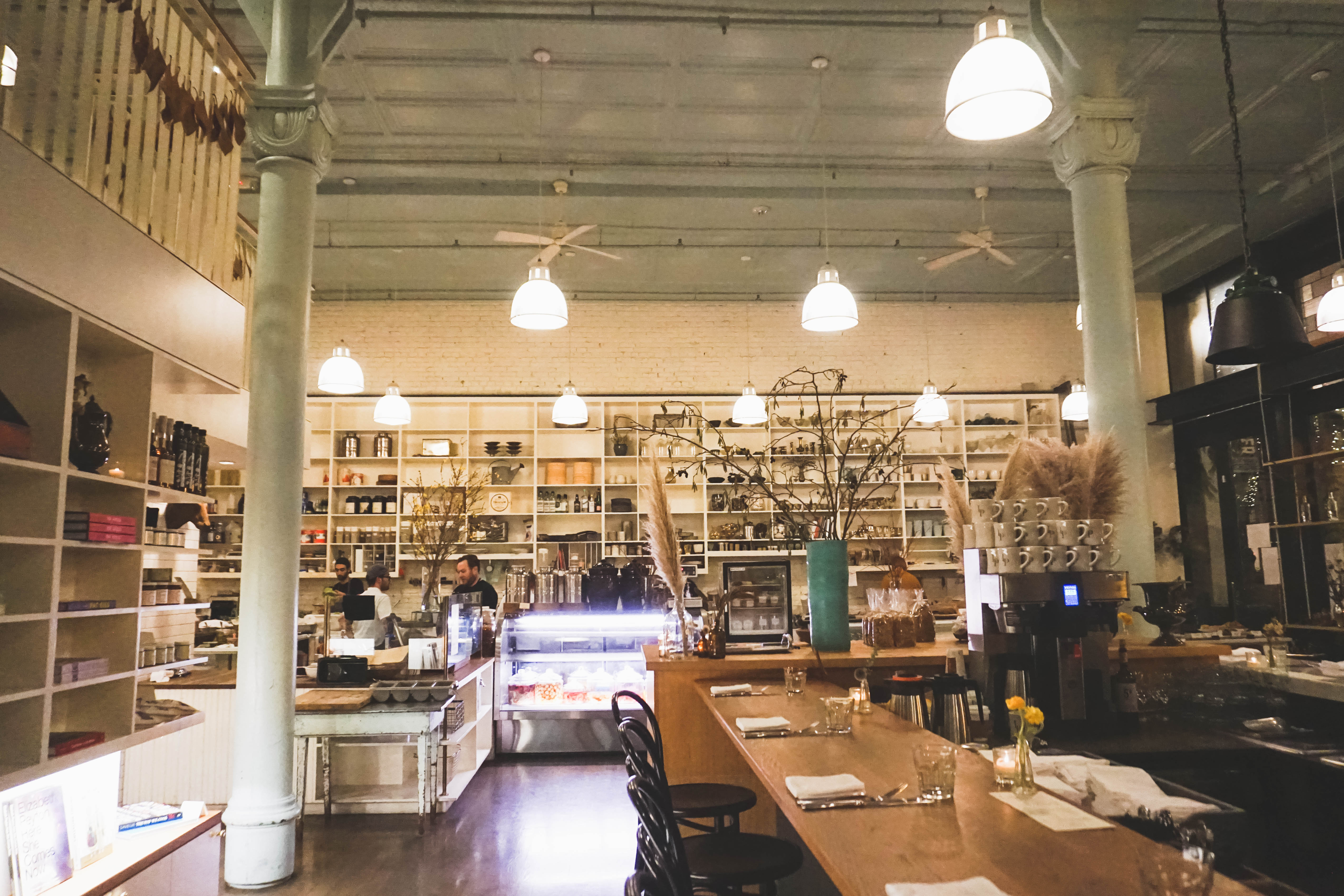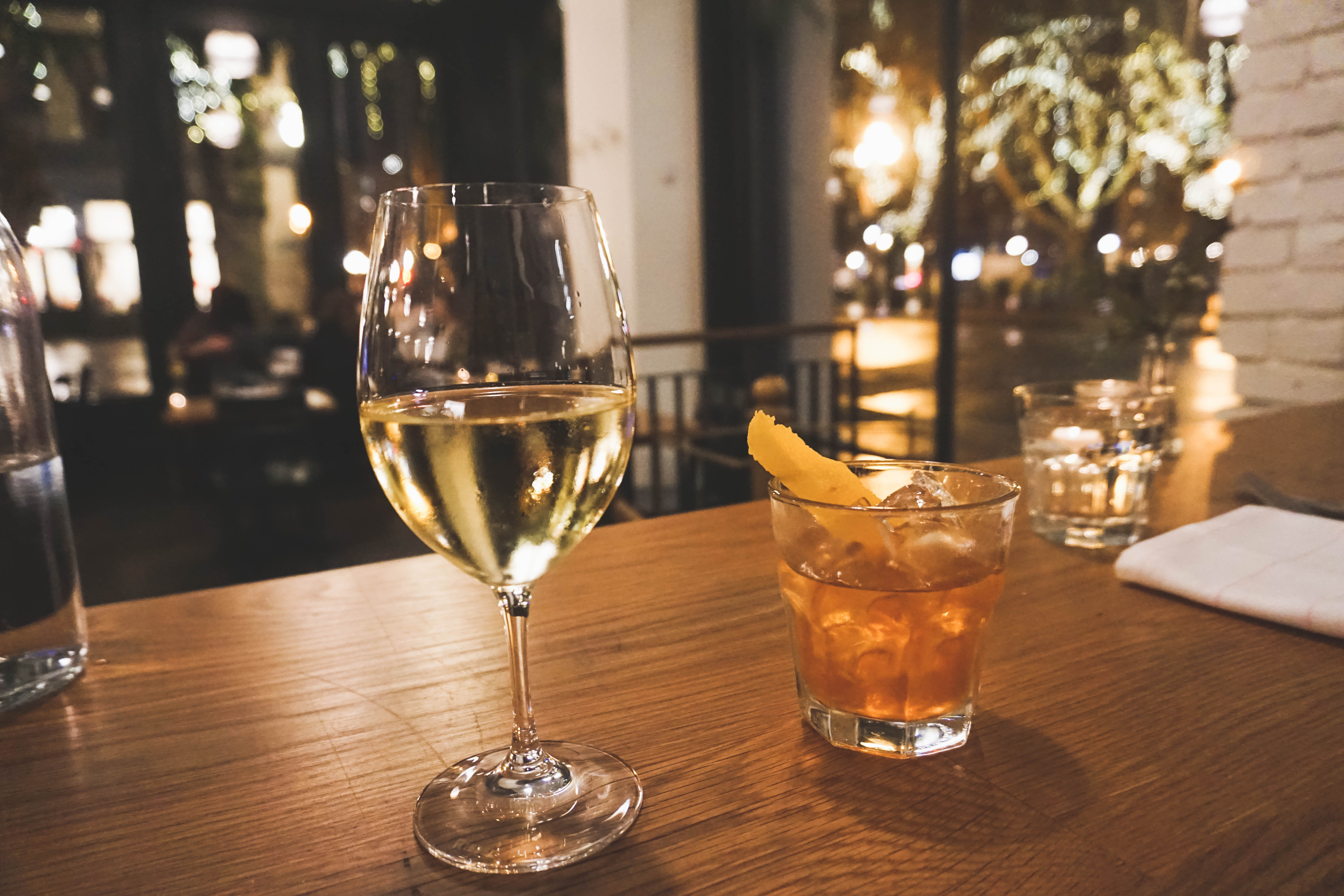 We stopped in this place briefly for one drink, but looks-wise, it was my favorite place in Seattle. When you walk in there's a little market area to pick up food or buy fresh cut flowers. If you're looking for a great Instagram shot, stop in here! If I ever owned my own restaurant, I would want it to look nearly identical to this. The area this place is in is called Pioneer Square. It's the cutest little part of town with lots of stores, bars and restaurants. Another plus is that this area isn't busy at all, at least when we were over there.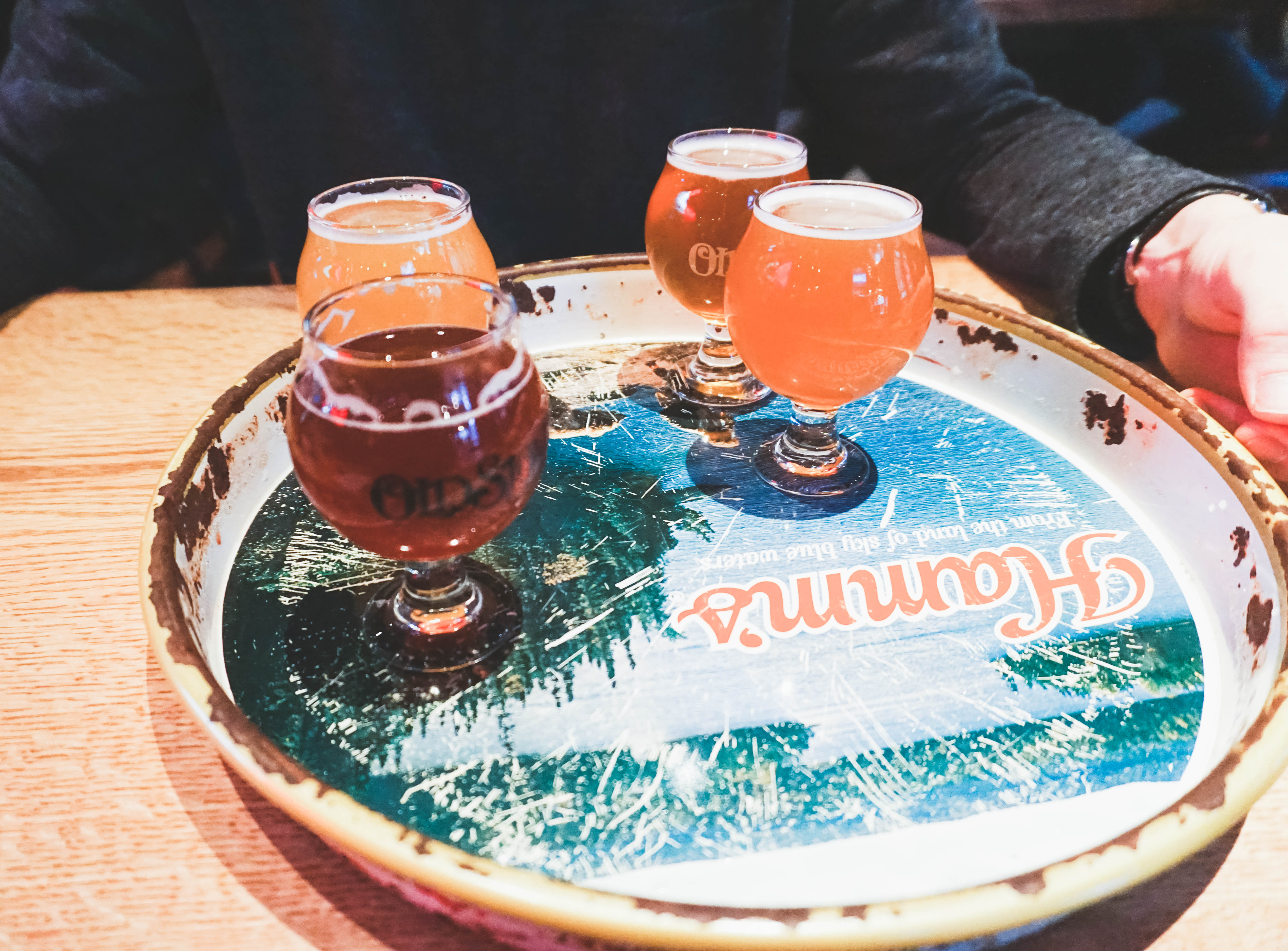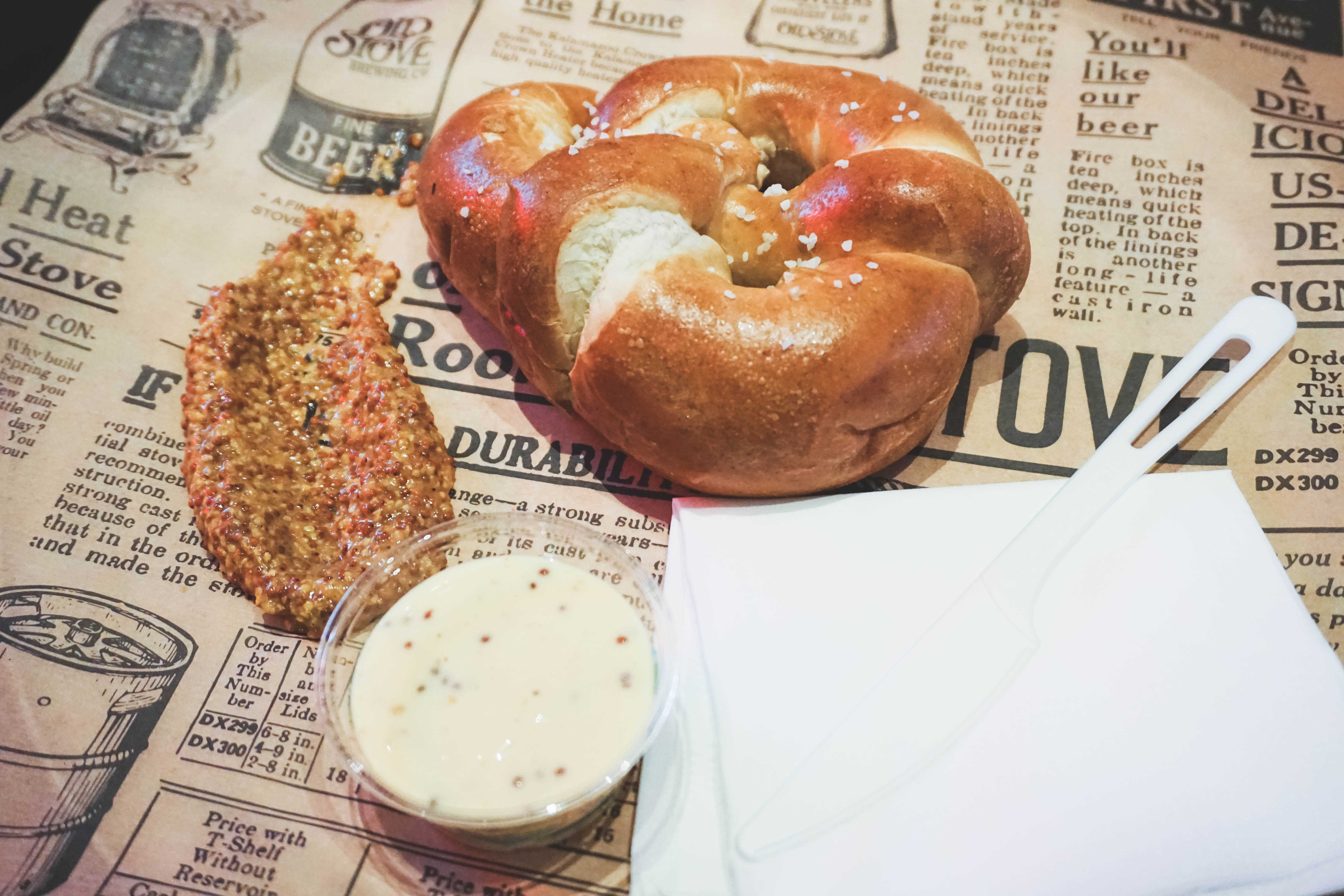 We decided to stop into Old Stove Brewing Co. after going to Pike Place Market. Most people probably eat at the market but we wanted to eat inside somewhere to warm up. I ordered their mushroom grilled cheese which came with a side of tomato soup and a quinoa salad. I honestly didn't like any of it and I'm not a picky eater. However, James' pretzel was awesome and he really enjoyed all the beers he tasted. It was a bit of a miss for me but a huge hit with him.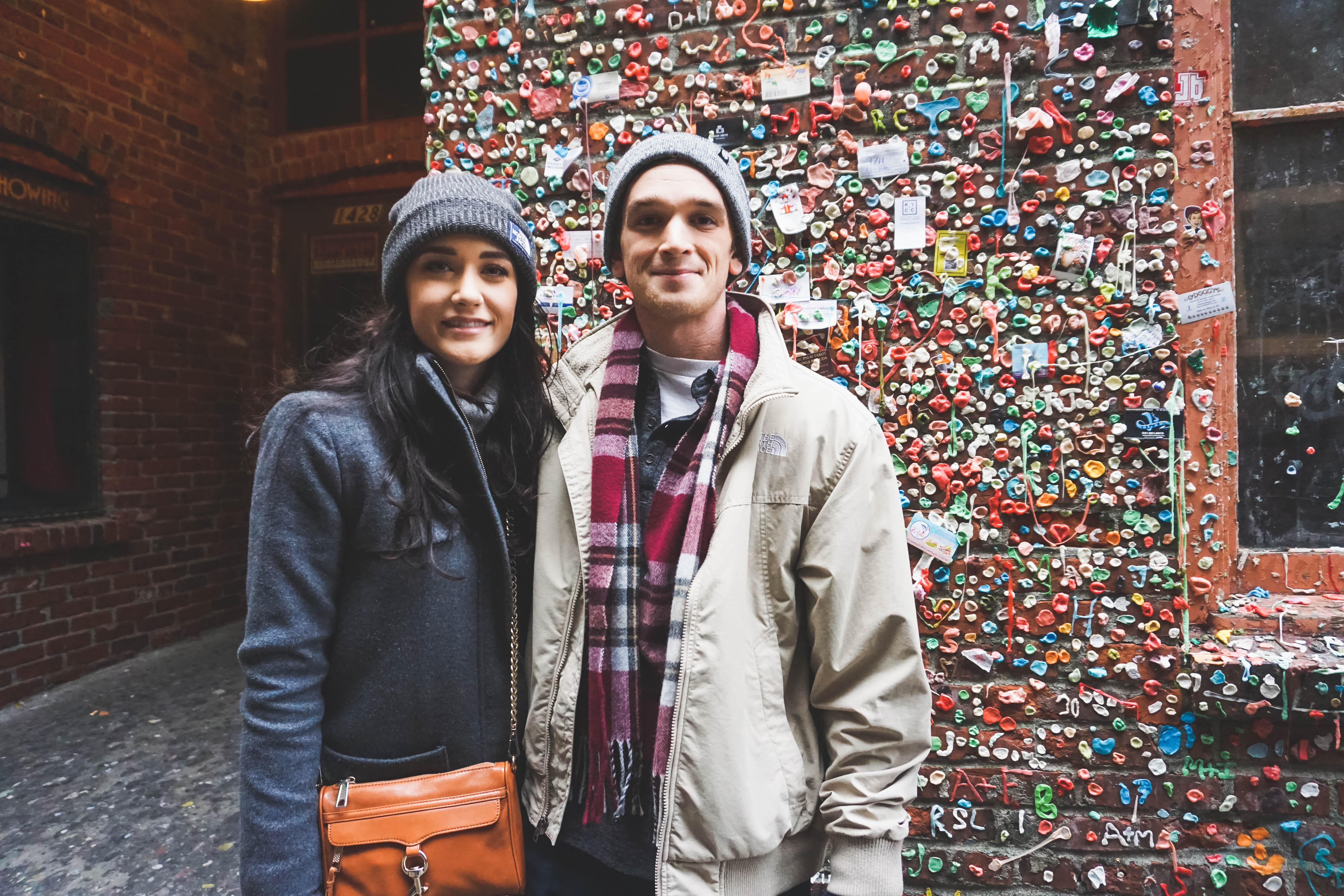 Ah the gum wall, kind of gross, kind of fascinating. This was another thing on our to-do list and I'm glad we saw it.  I've always really loved alleyways, and this one was no exception (even with the used gum stuck on the walls). It was kind of hard to get a good picture with so many people around but overall, I recommend stopping here for a photo op. We forgot to bring gum to stick on the wall!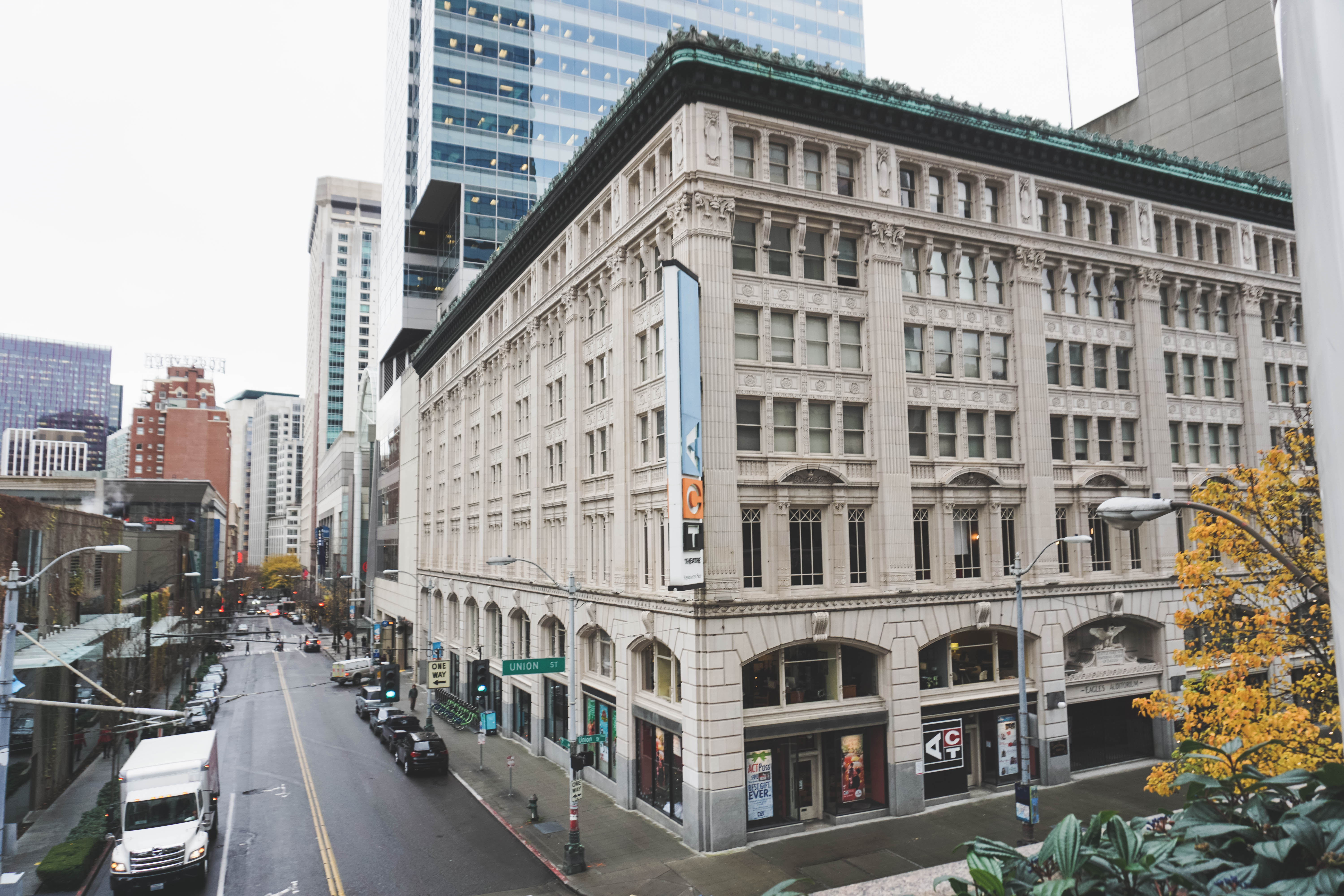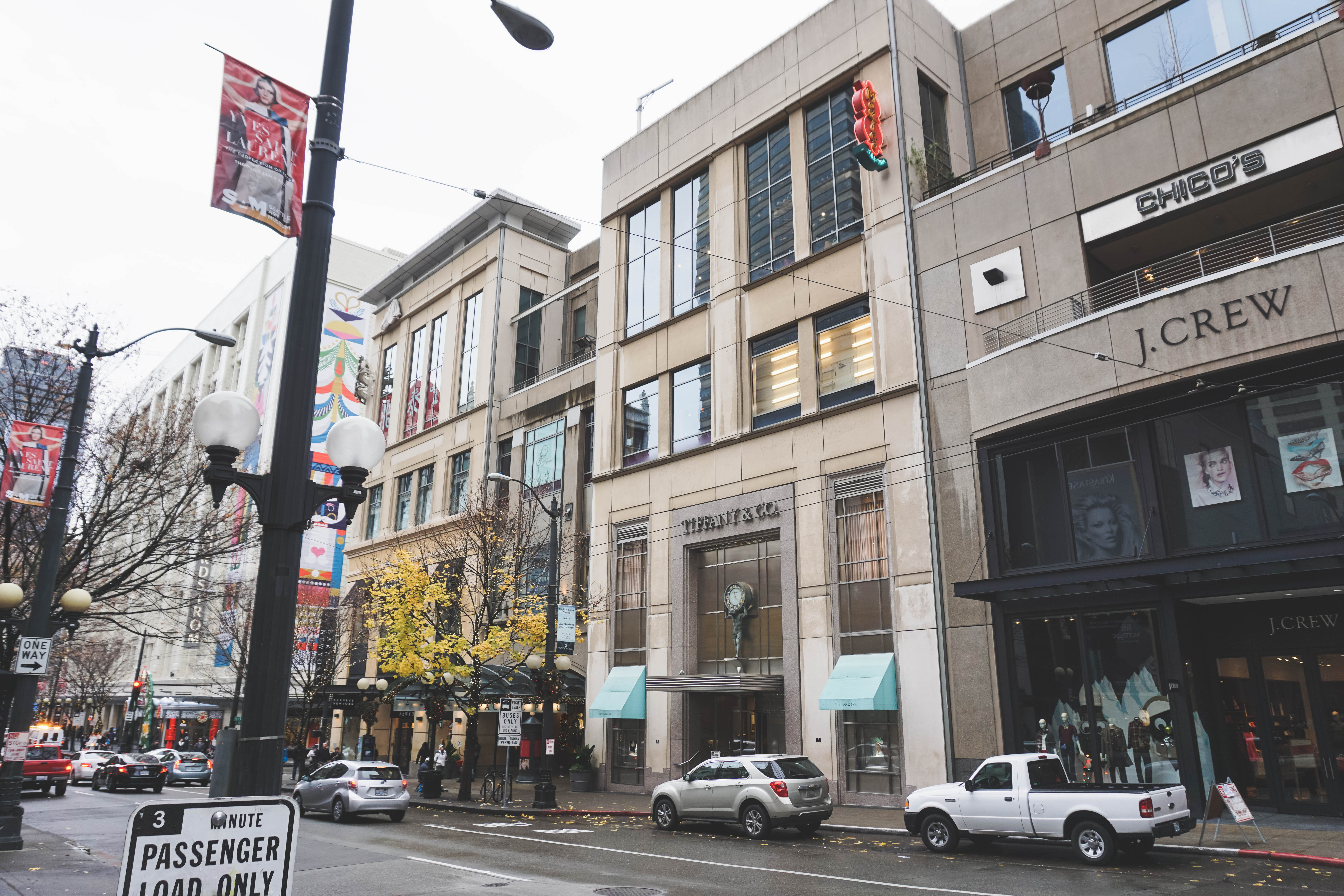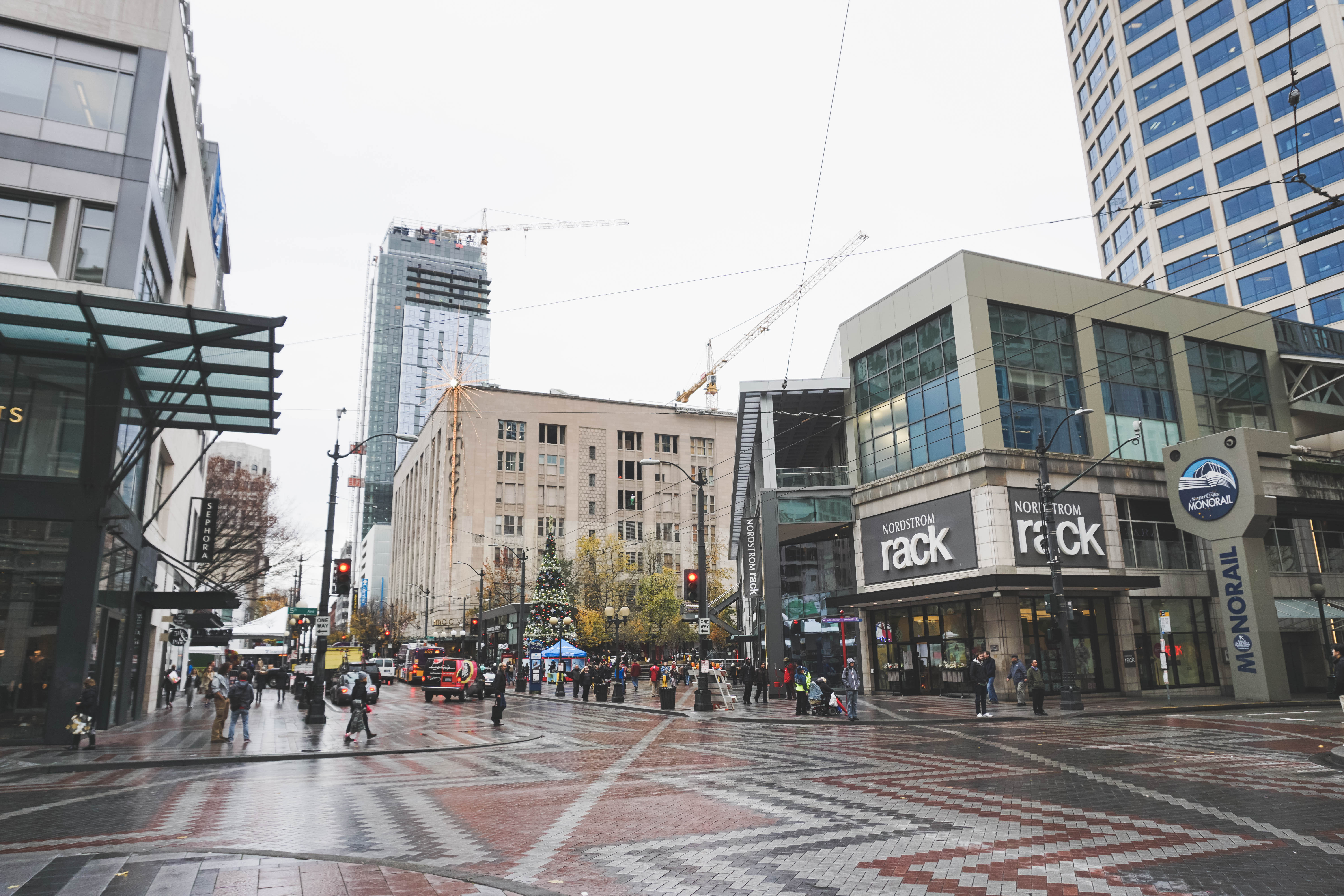 We stayed at the downtown Hilton our first night since we got into Seattle so late. This worked out great so we could keep our luggage in the hotel room while we roamed around downtown before heading to our Airbnb. May I just say that this was the nicest Downtown area I have ever seen? All the rain Seattle gets must just clean up all the dirt and grime so everything looks so nice and clean! I noticed a lot of the buildings looked new and it seemed like there was a lot of construction going on. It was such a fun area to walk around, they even had a little Christmas market set up with different vendors selling their goodies. Overall, this area is one of my favorite parts of Seattle.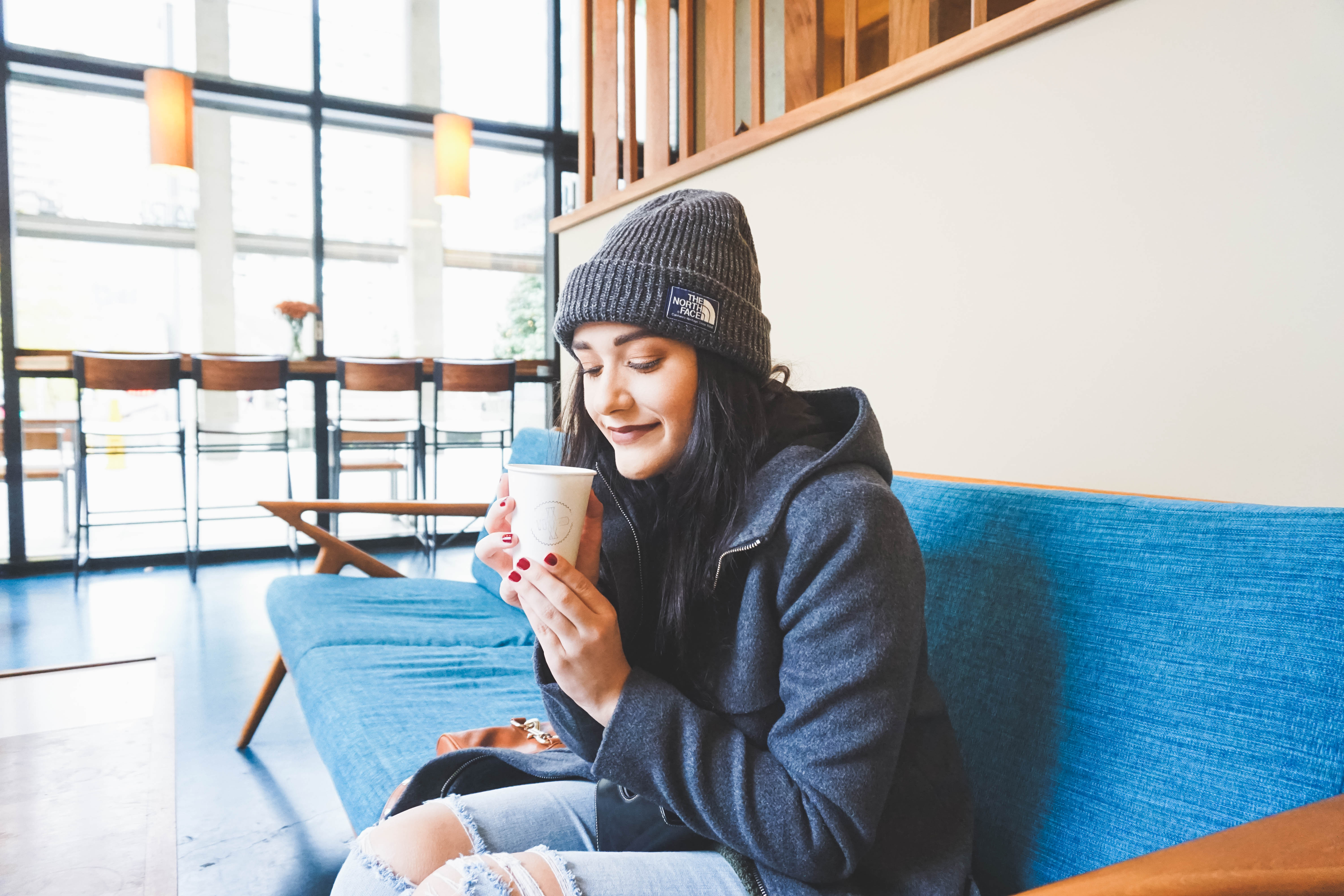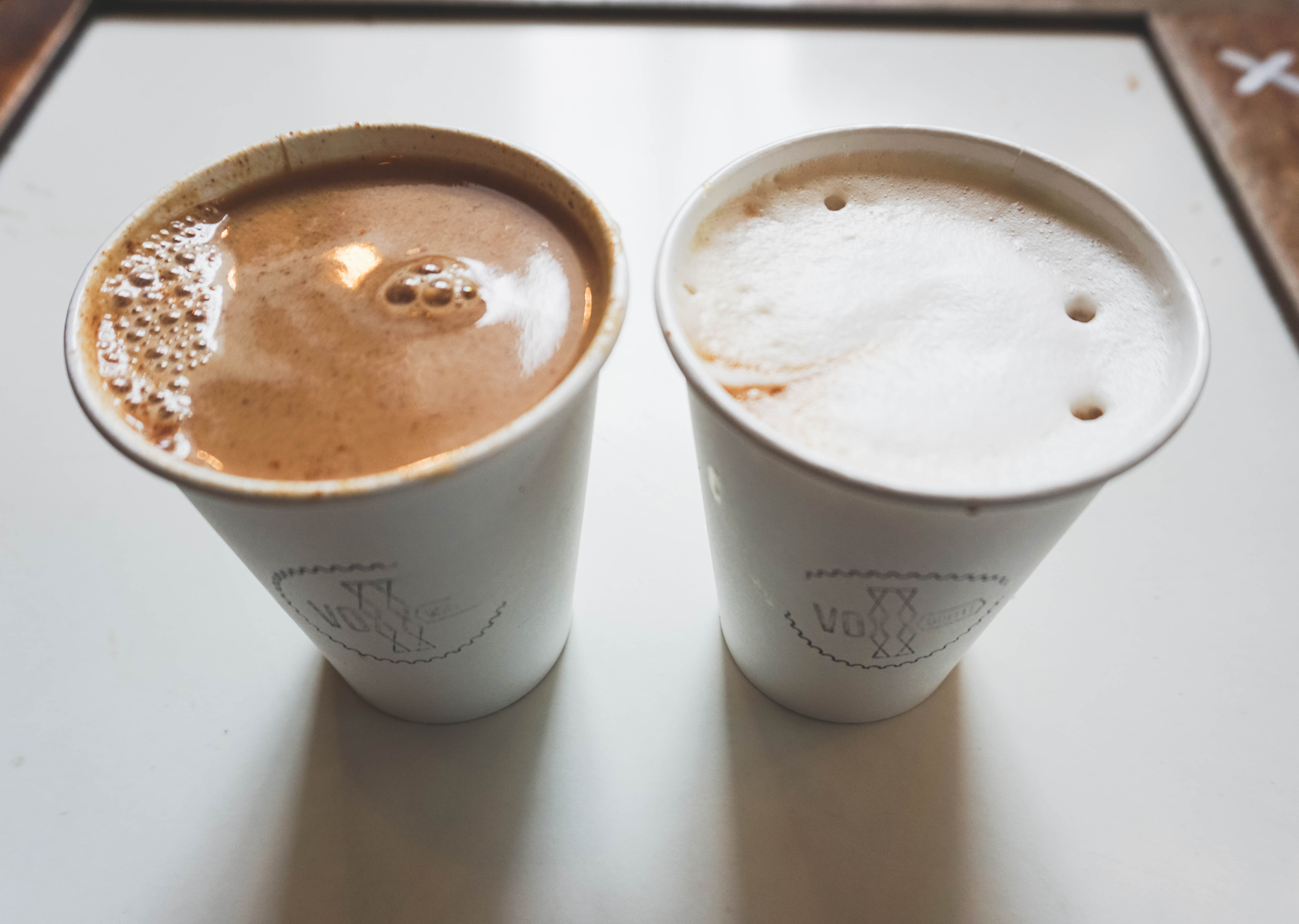 Voxx was right across the street from the hotel we stayed at the first night. I didn't even Yelp it before going, but it looked so cute, I had to stop in for a cup of joe! The placed was decked out in jewel-toned Mid-century modern pieces which I really enjoyed! I was about to order a black coffee when the seasonal menu caught my eye. Once I saw they had something called a Cinnamon Honey Orange Zest Latte, I knew I needed to try it. I wish the cinnamon and honey flavors stood out more, but overall, it was a great latte. James opted for their  Steamed Apple Cider with Caramel which was even better than my latte!
We had such an amazing trip, I didn't want to leave! If you've been to Seattle, I'd love to hear some of your favorite places!
xo Carli