We are days away from fall and we cannot be more excited. Like we've said time and time again, fall is our favorite season. We love the pumpkin-palooza happening in the grocery store aisles, the colder temps and everything else fall has to offer. Once September hits, we usually try to plan our fall baking schedule. Our first bake of the season is usually our Grandma's pumpkin bread recipe – but we wanted to switch it up this year.
Instead of sticking to what we know, we wanted to venture into the sometimes complicated land of baking cookies from scratch. It was one of our personal goals this year to make homemade chocolate chip cookies and we thought fall was the perfect time to check this off our list. I had the idea to make pumpkin chocolate chip cookies because 'tis the season – and we went on a search to find a simple recipe we could follow. We found this recipe from Cooking Classy, changed a few things and our cookies were made! Our boyfriends loved them and they both aren't big pumpkin fans so we thought that was a big win! I also brought them to work and my co-workers adored them as well.
Obviously, Britta and I devoured them and will definitely be making them again this fall! They are so easy to make, even a novice baker can whip these up quick.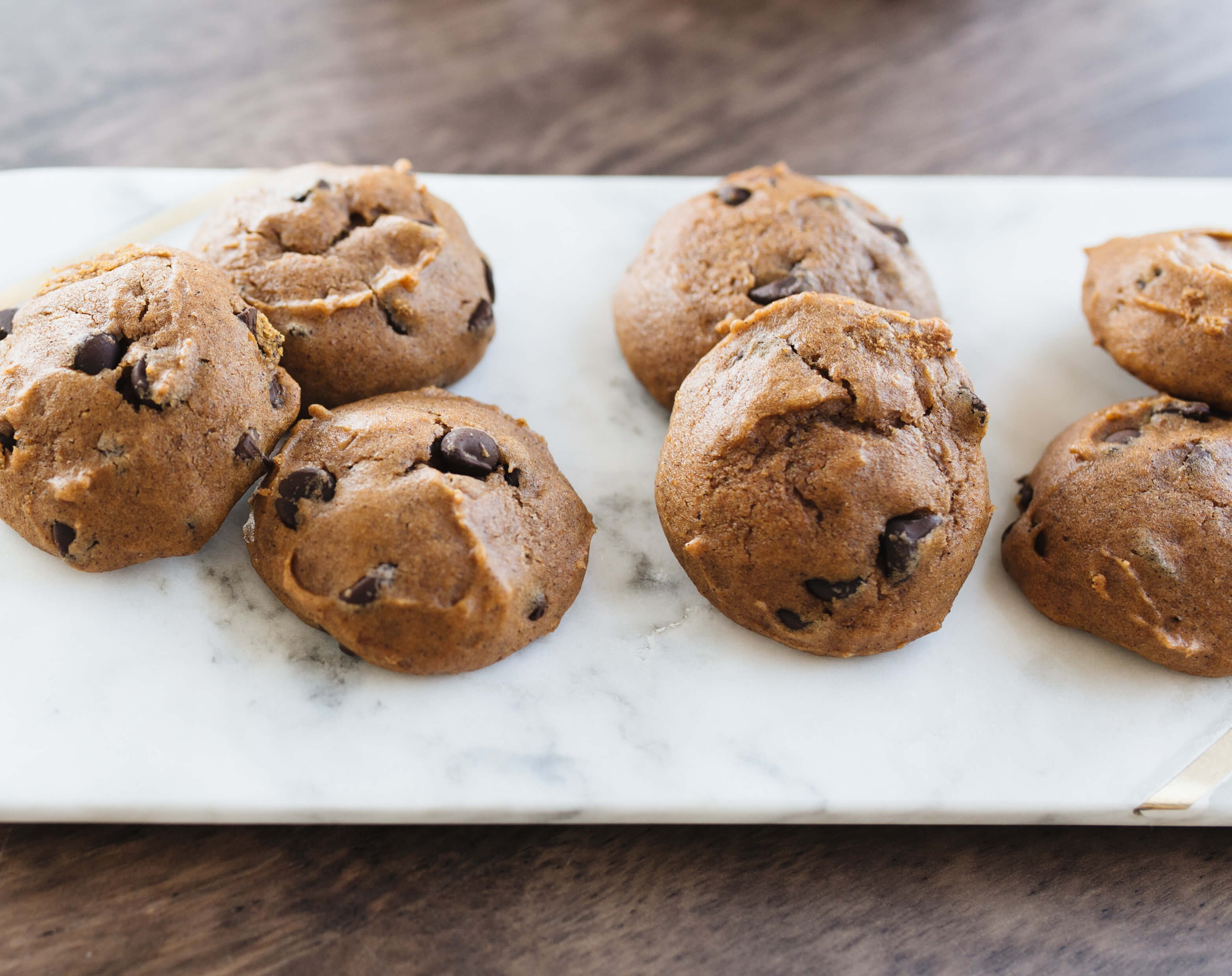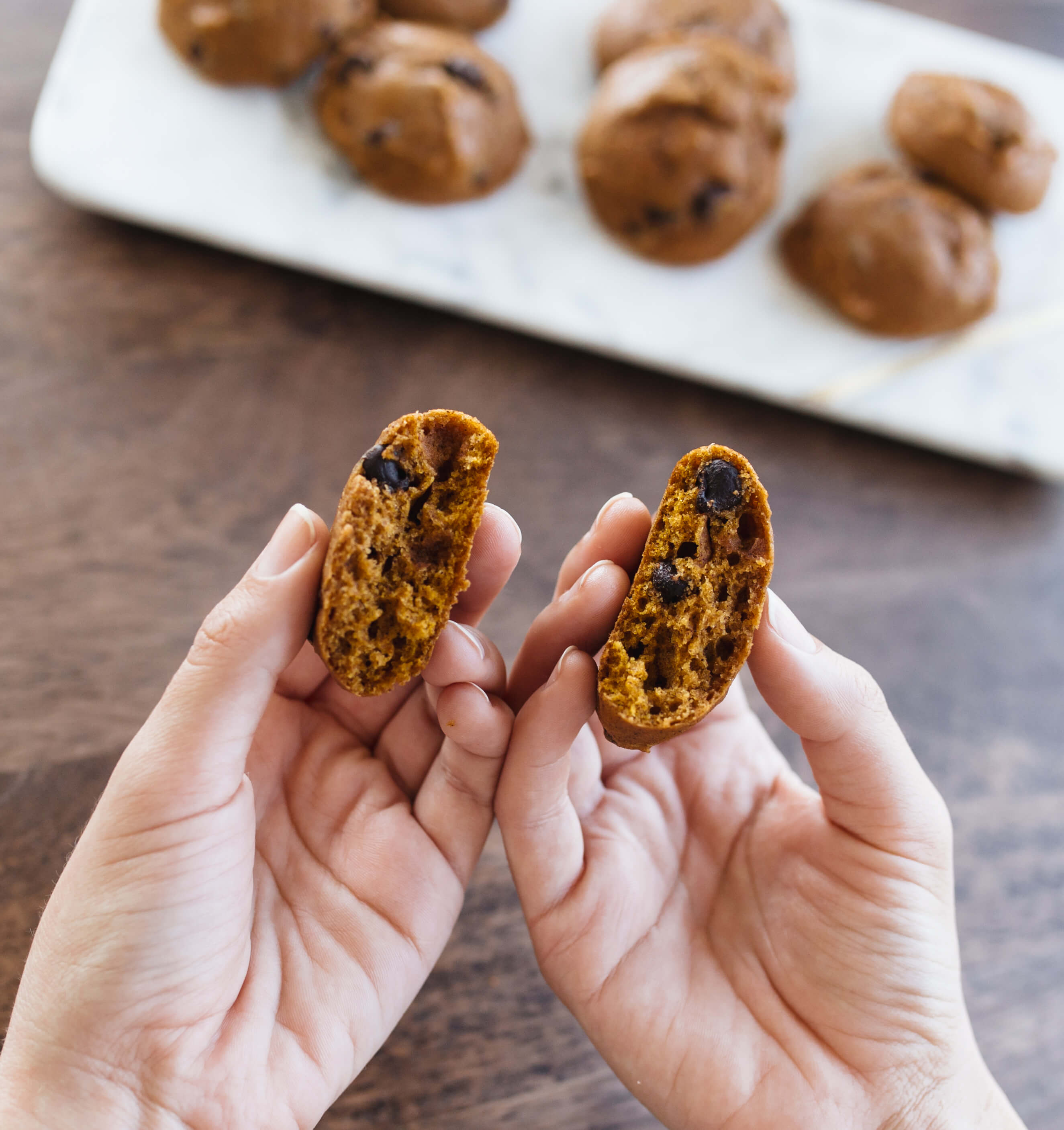 Okay, now onto the recipe…
Dry Ingredients:
2 cups flour
2 tsp baking powder
3/4 tsp baking soda
1 1/2 tsp ground cinnamon
1 tsp pumpkin pie spice
1/2 tsp salt
Wet Ingredients:
1/2 cup sugar
1/2 cup light brown sugar, packed
1/2 cup vegetable oil
1 large egg
1 tsp vanilla extract
1 cup canned pumpkin
1 1/2 cup semi-sweet chocolate chips
1 | Preheat oven to 350 degrees. In a mixing bowl, whisk together flour, baking powder, baking soda, cinnamon, pumpkin pie spice, and salt. Set aside.
2 | In the bowl of an electric stand mixer fitted with the paddle attachment, blend together granulated sugar, brown sugar, and vegetable oil until combined. Mix in egg and vanilla then blend in pumpkin puree.
3 | With the mixer on low speed, slowly add in flour mixture and mix just until nearly combined, scraping down the sides of the bowl as needed. With a rubber spatula, fold in chocolate chips while folding batter to evenly combined.
4 | Line two baking sheets with parchment paper. Using a medium cookie dough scoop, drop dough on your lined baking sheets, spacing cookies two inches apart. Bake in preheated oven for 12 minutes.
5 | Cool the cookies on the baking sheets for five minutes before transferring to wire racks. When the cookies are completely cooled store them in a sealed baking dish. If you can store them in a single layer that will allow them not to stick together.
Note: We had some leftover cookie dough that we stored in the fridge and then made the next day. Chilling the dough didn't change the texture or taste of the cookies but it did make it a lot easier to scoop with the cookie scoop – so that's a bonus!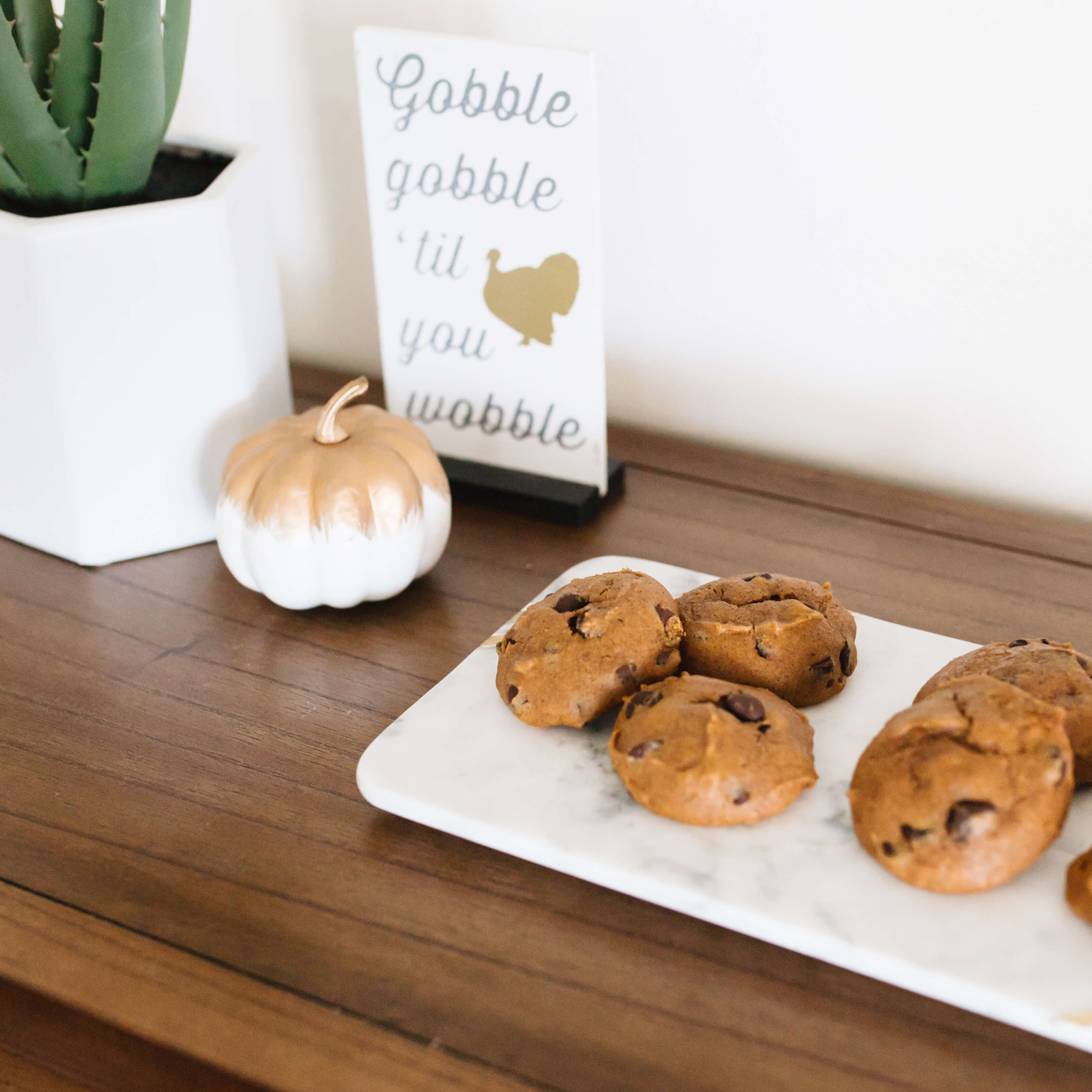 Hope you enjoy! 
x0 Carli