This is our favorite series on the blog and we have been seriously neglecting it. Thankfully, we've been buying a lot of the same pieces so there will be more 'One Piece, Two Ways' posts in 2018!
This installment featured the cutest black bodysuit in existence. When we saw this bodysuit on Nordstrom we knew we had to have it. For $20 it was a no-brainer! We didn't really pay attention to the details of the item so we were expecting it to be made of cotton but it's actually a really thick blend of Viscose and elastane, so it's super stretchy and flattering!
For reference, we ordered a size 6 (fits like a 2-4) and it fit perfectly! We love how '90s' this bodysuit looks. We can totally picture Rachel Green in it!
Britta's Outfit: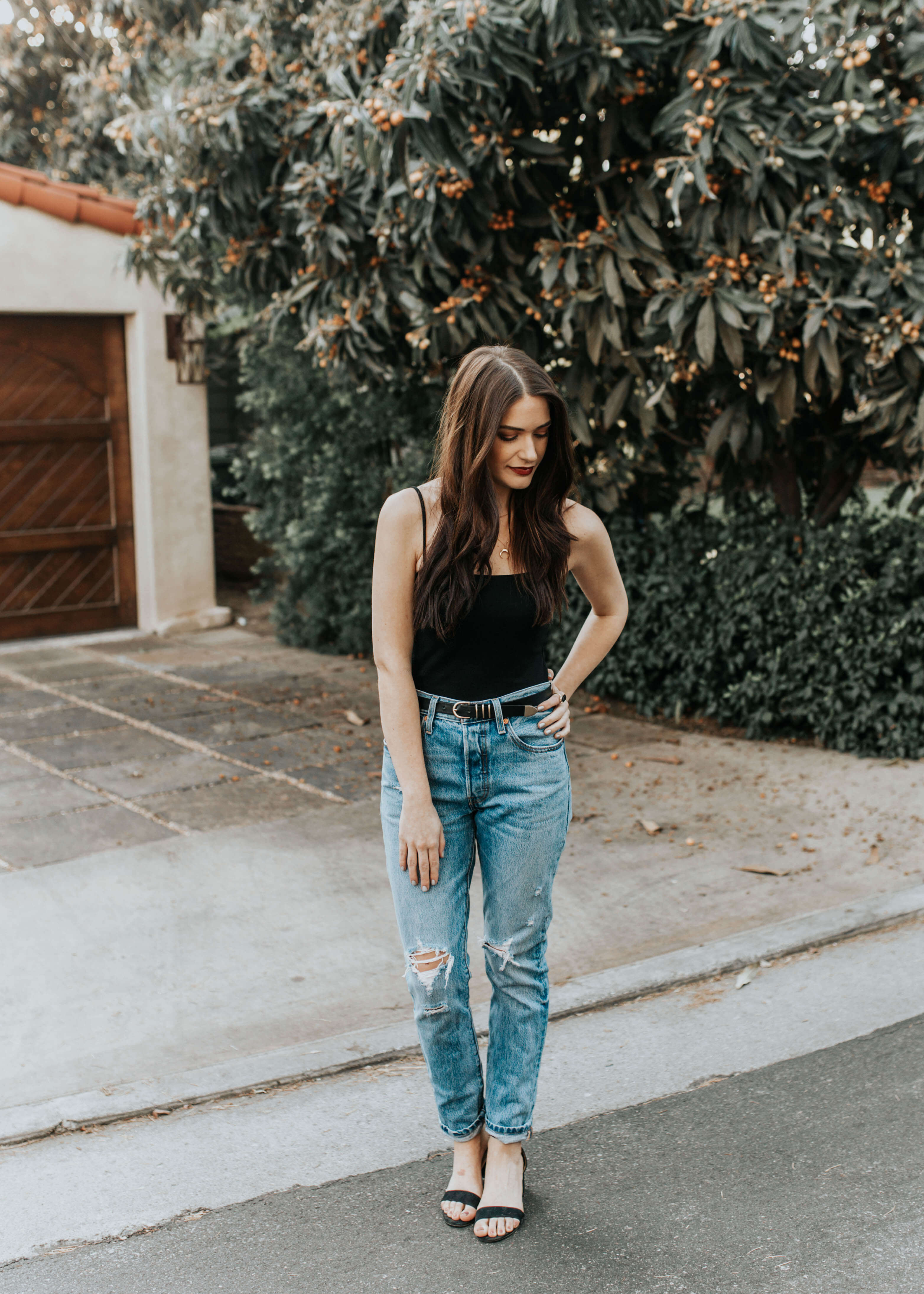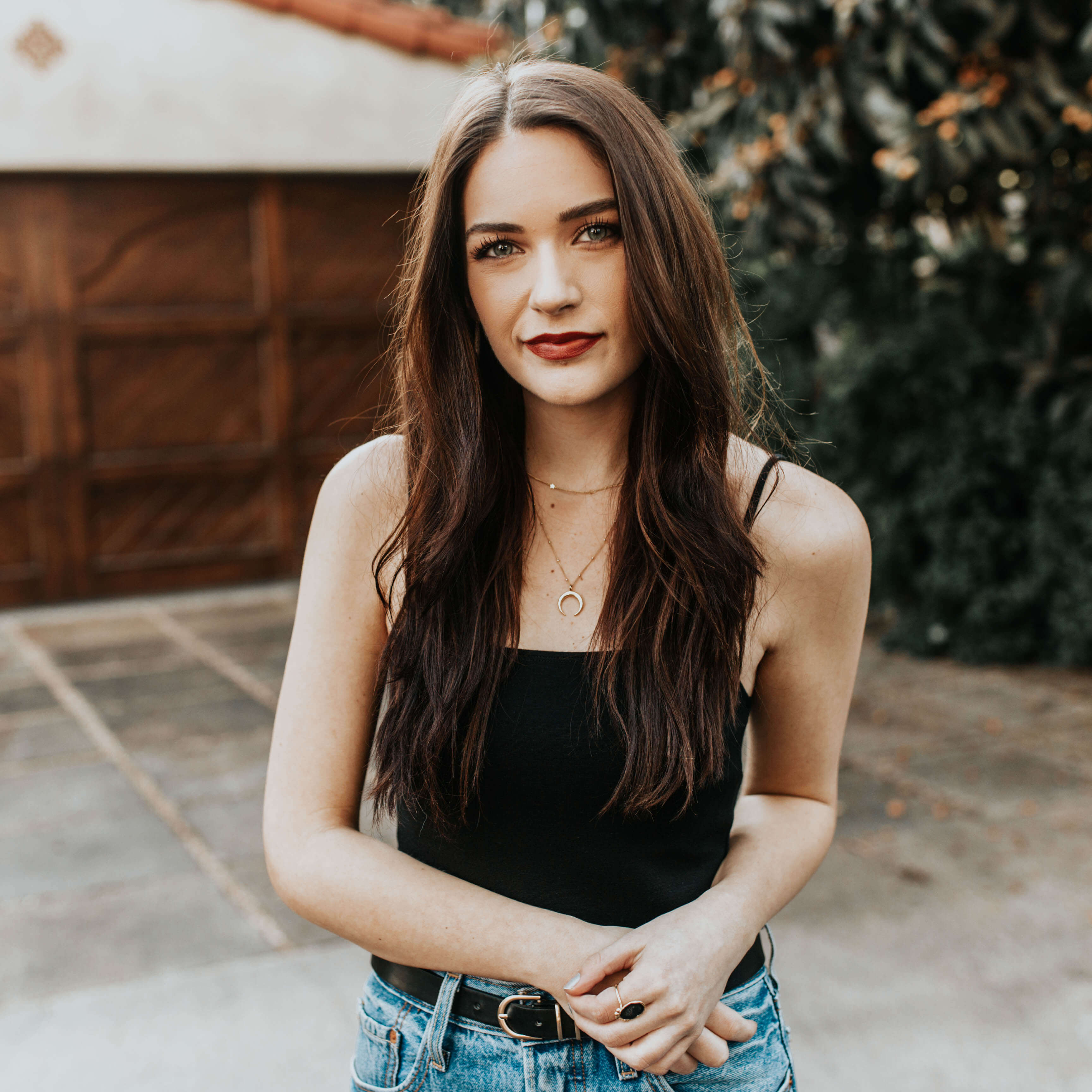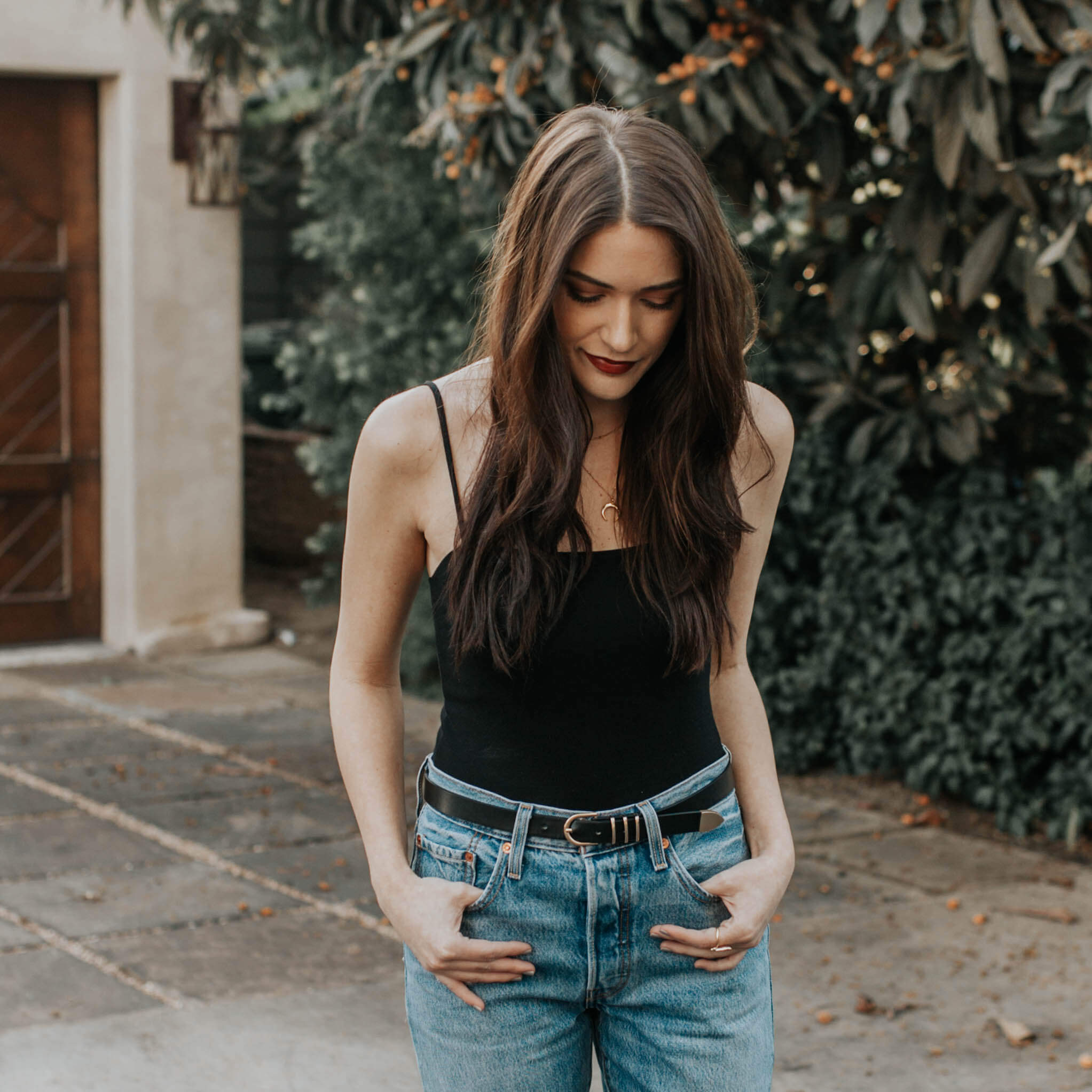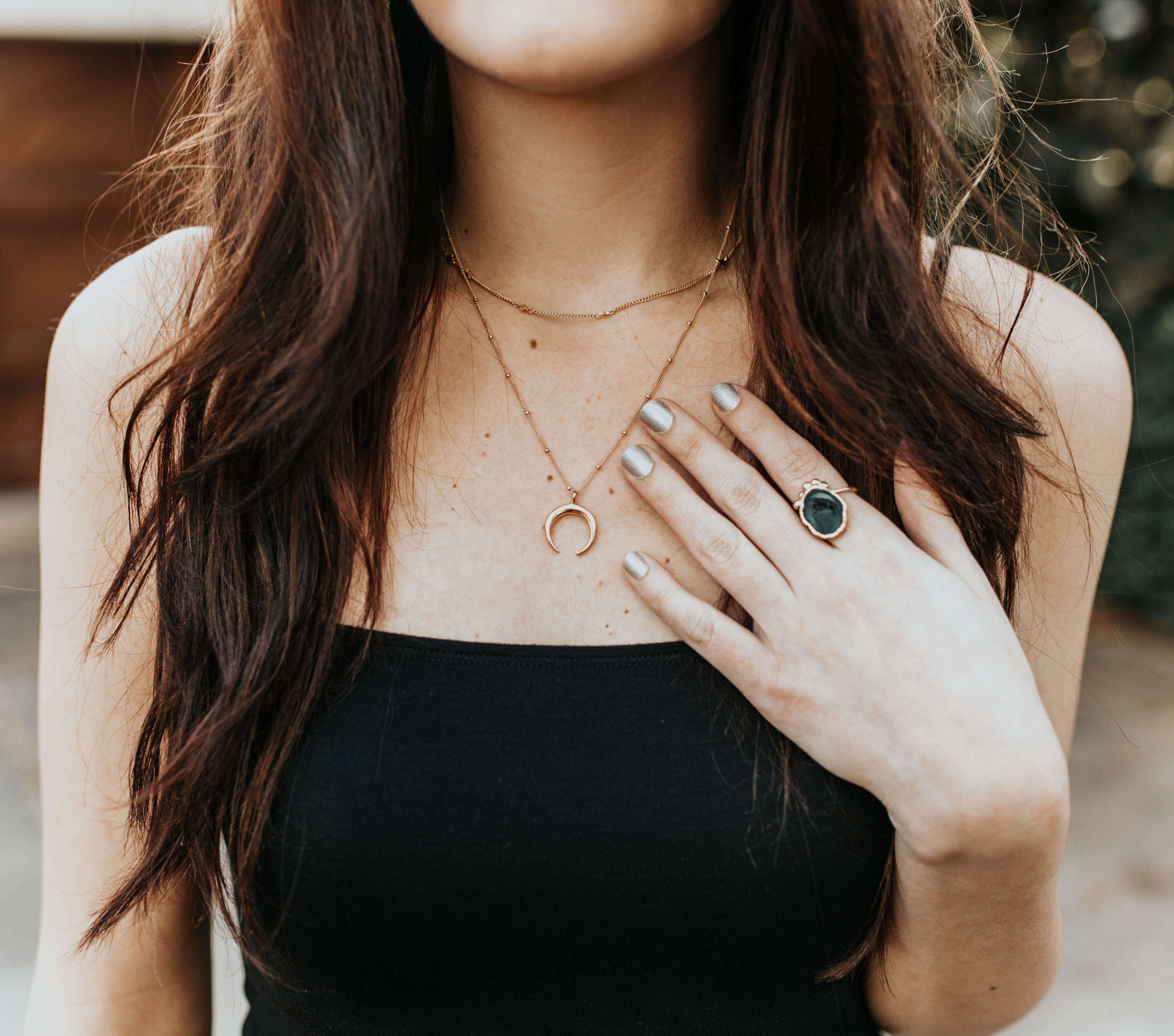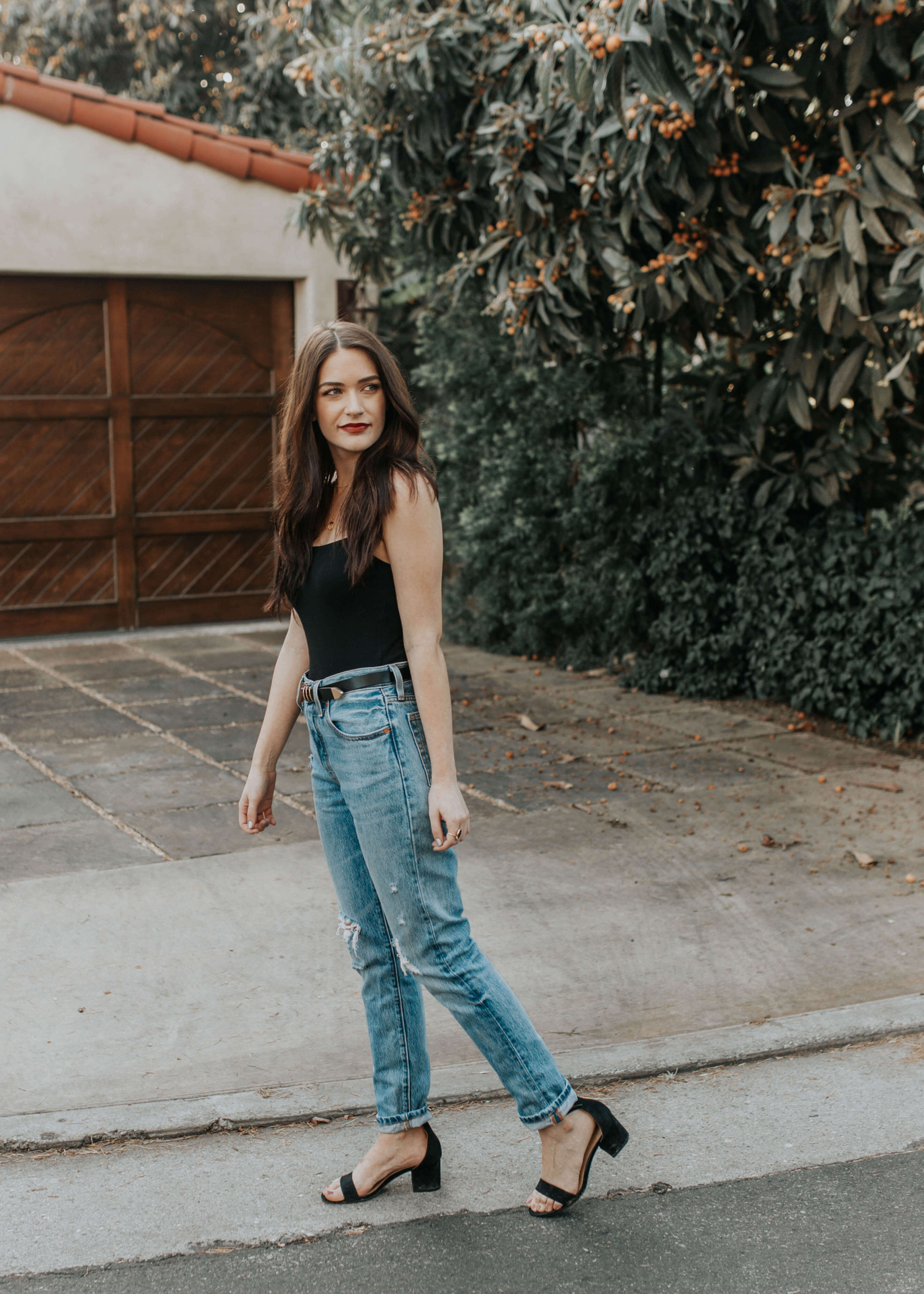 My outfit is more suitable for spring since I went without a jacket. I paired the bodysuit with my Levi 501s in 'Old Hangouts'. I adore these jeans. They're so comfortable and we all know Levi's last forever. A lot of bloggers we follow swear by this pair of denim so Carli and I each picked up a pair. I will say that because they are 100% cotton there is zero stretch to them, so they take some getting used to. On me they fit well everywhere but they're pretty baggy on the waist so I always have to wear a belt, which is fine since I usually prefer one! But I do love the style and quality of these jeans, so it's worth it to not have them fit perfectly.
For the rest of the outfit, I went with strappy black sandals and a belt to dress it up a bit. I would definitely wear this look to happy hour or an early dinner. I absolutely love distressed denim with black accents. It feels casual yet pulled together!
Black Bodysuit: TOPSHOP | Levi's Denim: Shopbop | Black Sandals: Target | Belt: H&M | Necklaces: Etsy & Madewell | Ring: Dani Barbe
Carli's Outfit: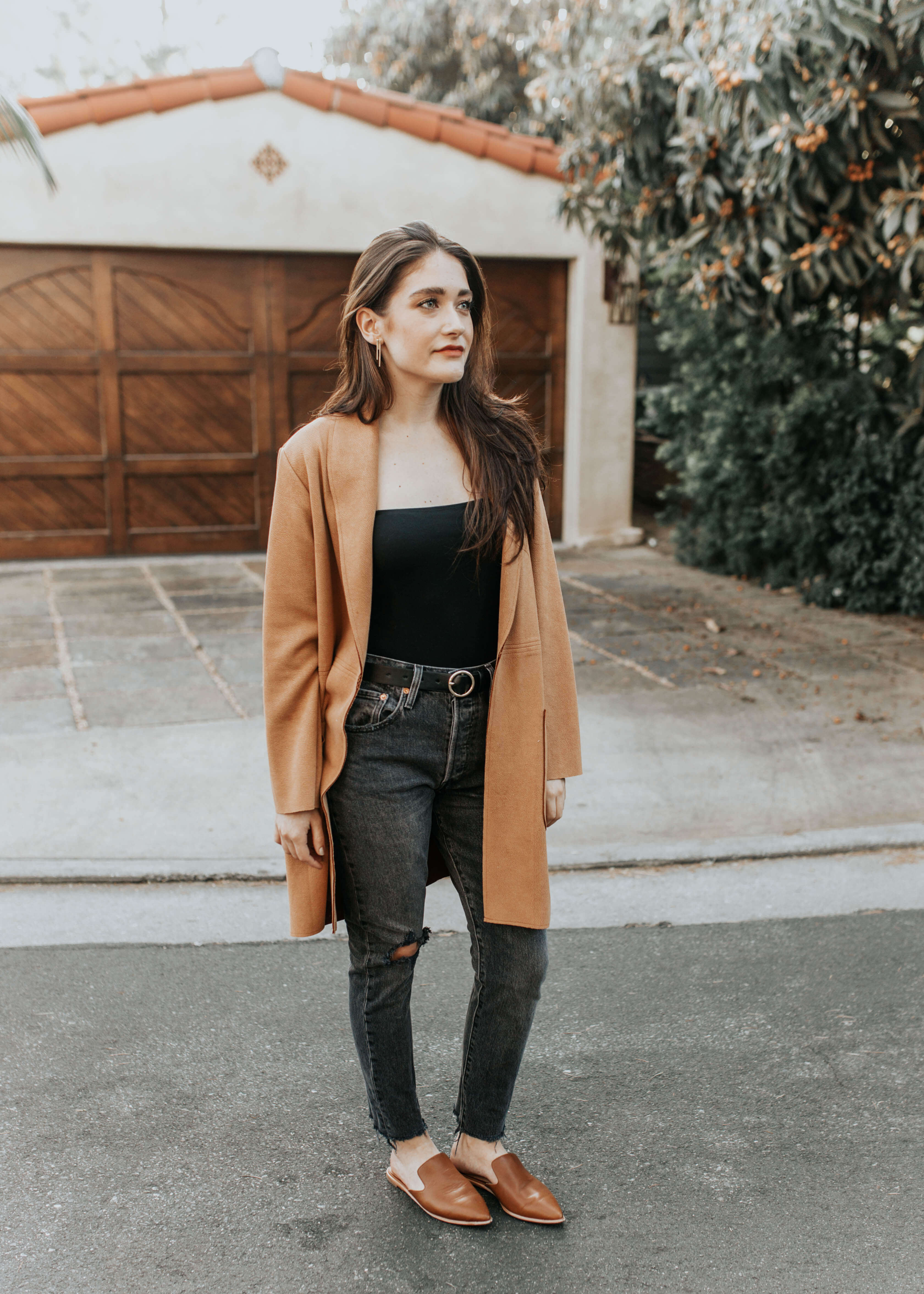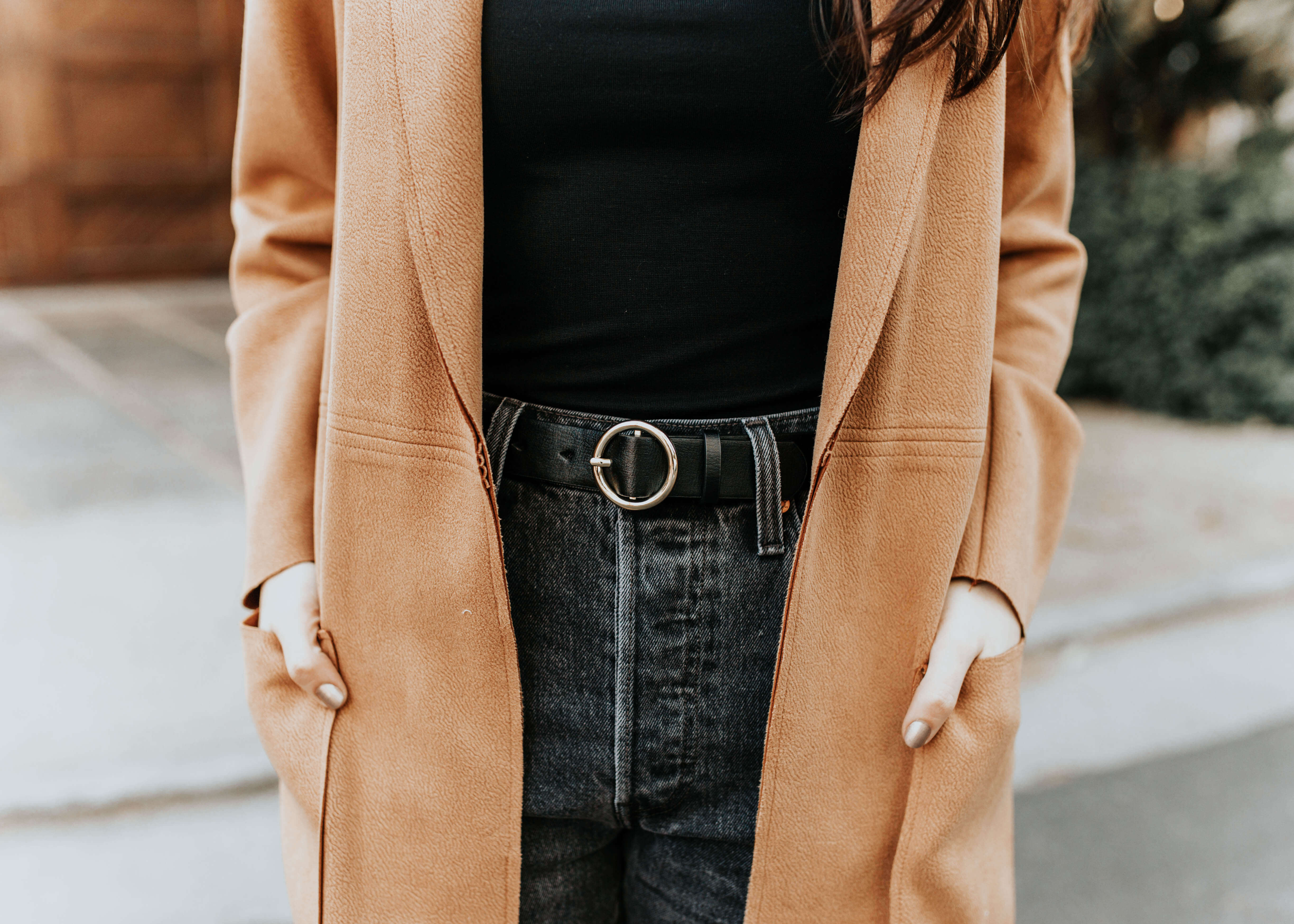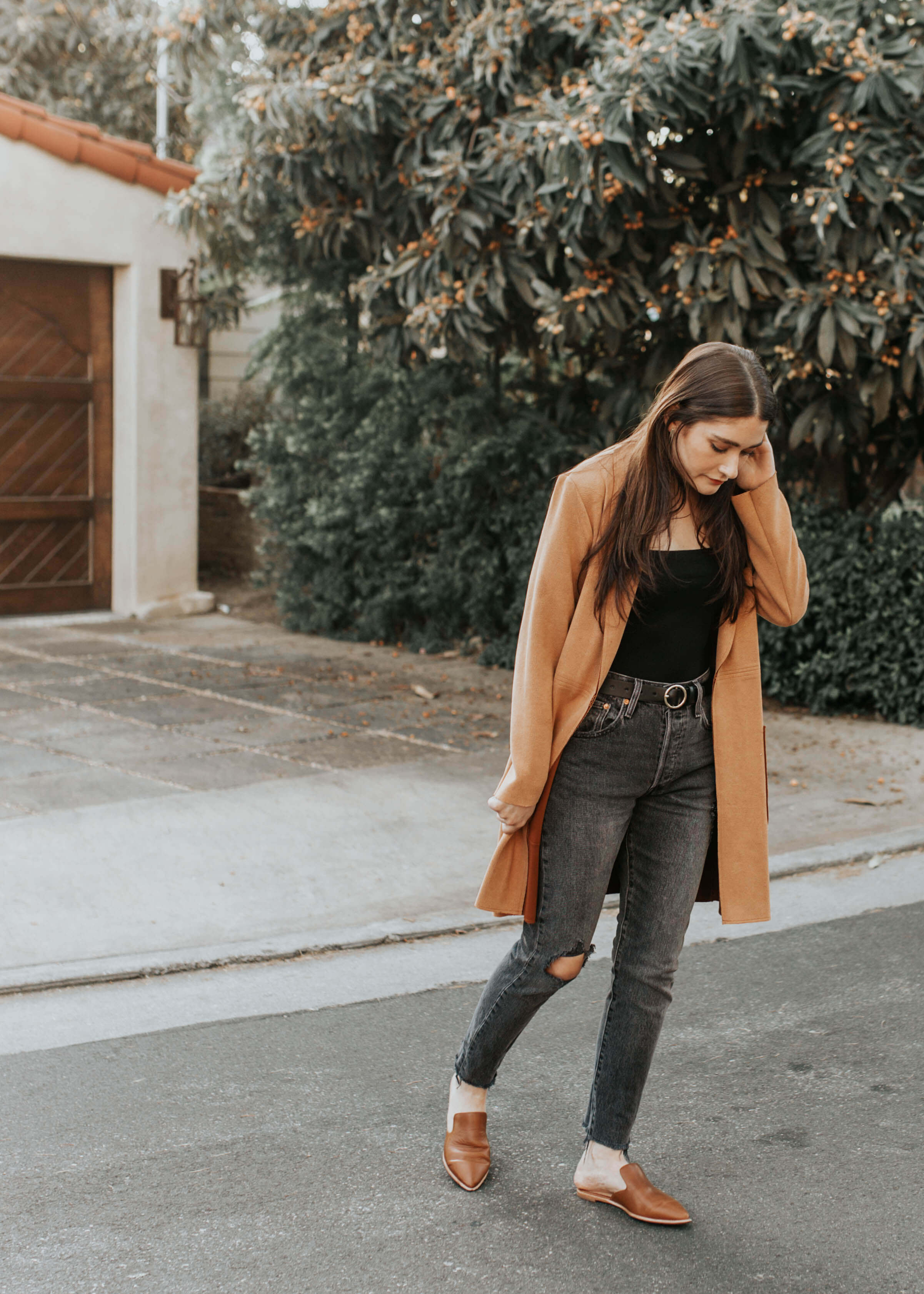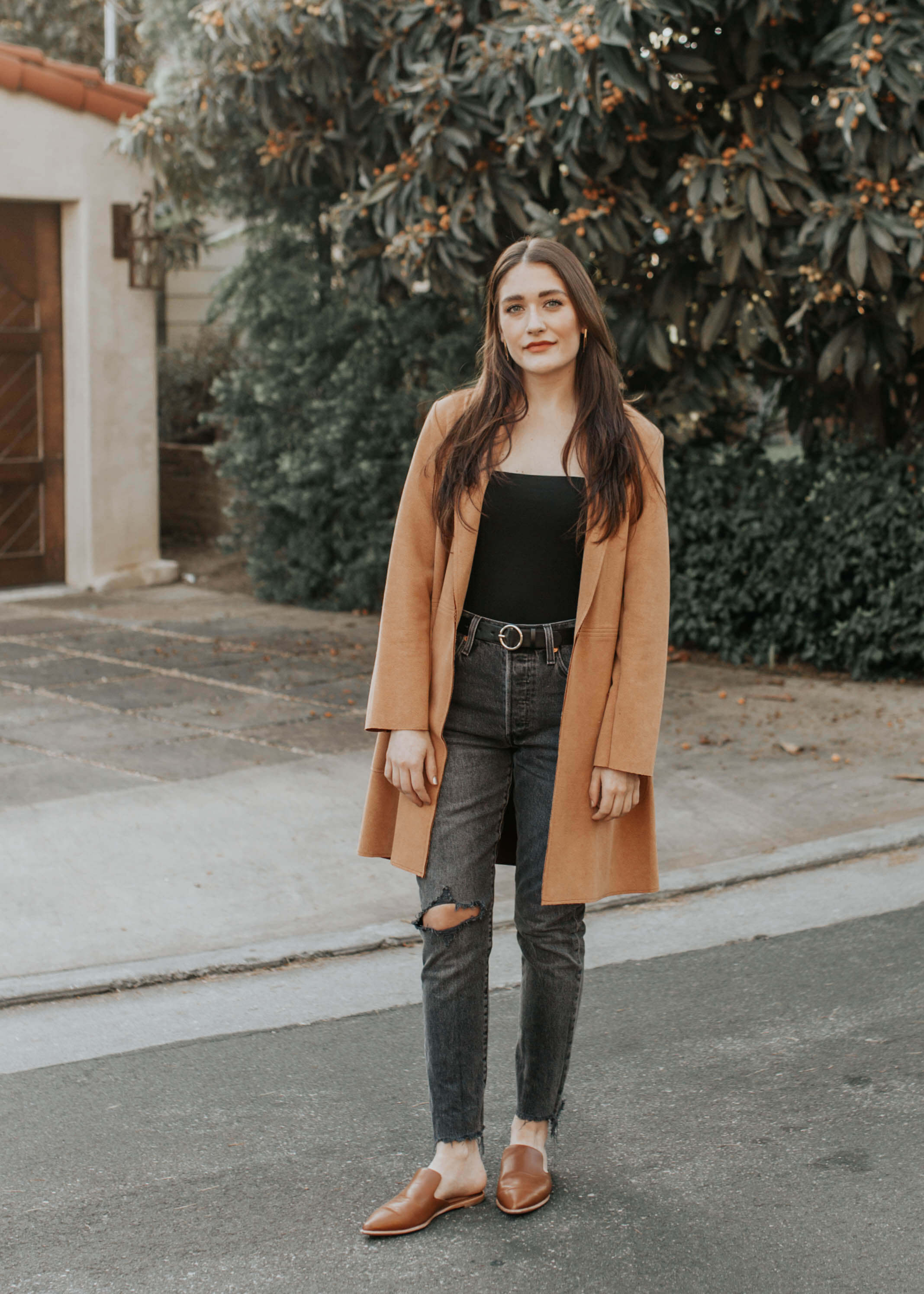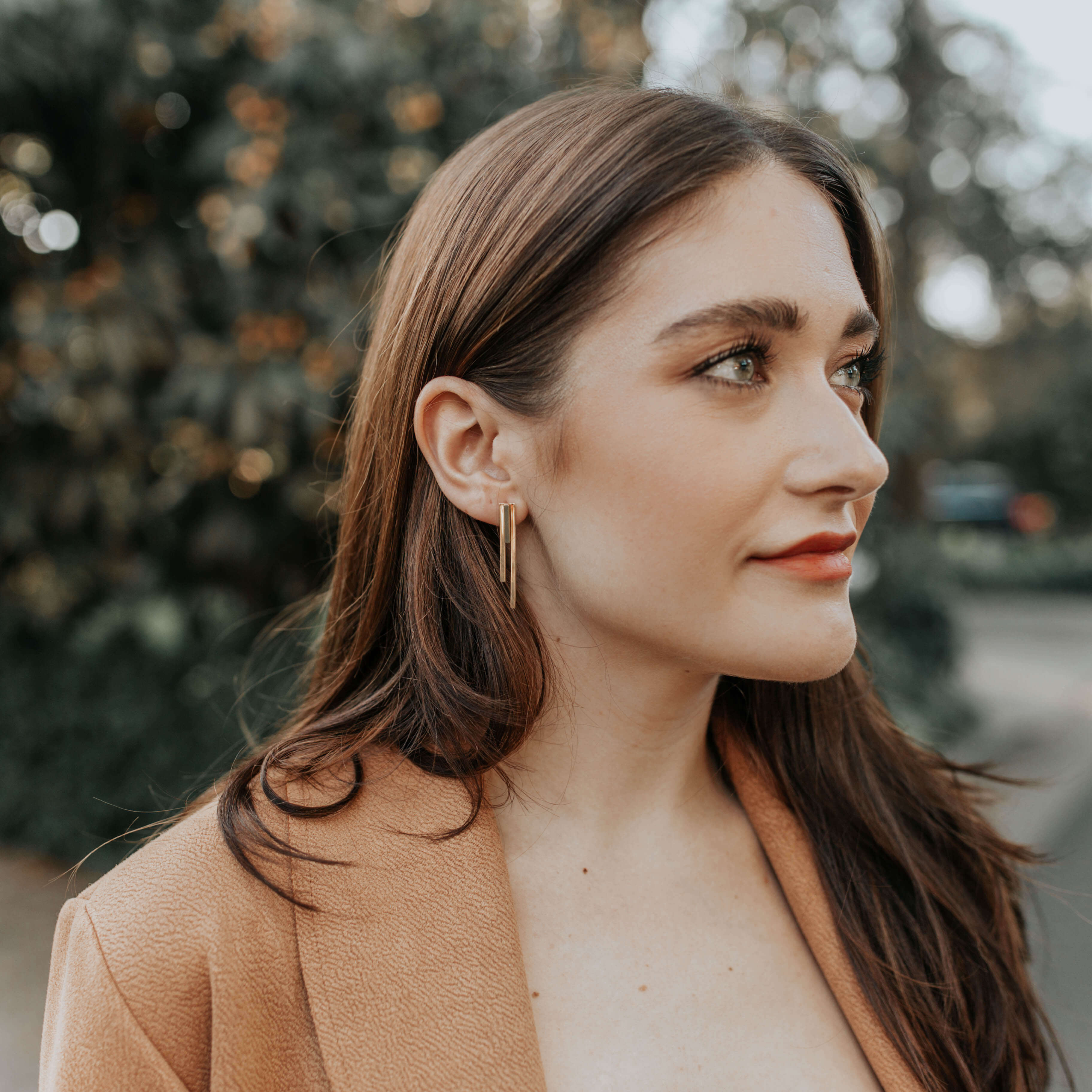 Carli's outfit is geared to those of you that experience a real winter. We know you've seen this Zara suede coat multiple times on the blog (here & here), but we really do wear it all the time! It's so unique yet somehow versatile. Unfortunately, it's not on the Zara website anymore but they often bring popular items back.
She paired her bodysuit with Levi's as well. These are the 501 style as well but they have a little bit of stretch which is nice. They work with the body more, not against it. We love mixing true black tops with distressed black denim. It's an easy way to wear black and black without looking like you're working as part of a stage crew.
For shoes, she went with these adorable mules from Madewell. If you are part of Madewell's rewards program they sent you $25 to use in-store or online, during your birthday month. So it's basically a $25 gift card which is awesome! Carli used her coupon to get these mules. They're somewhere in between tan and brown, so we think they look awesome with black. We really hope the mule trend is here to stay!
Black Bodysuit: TOPSHOP | Levi's Denim: Shopbop | Mules: Madewell | Belt: Nordstrom | Faux Suede Coat: Zara (no longer available) | Earrings: AUrate New York (see more from them here)
Both Outfits: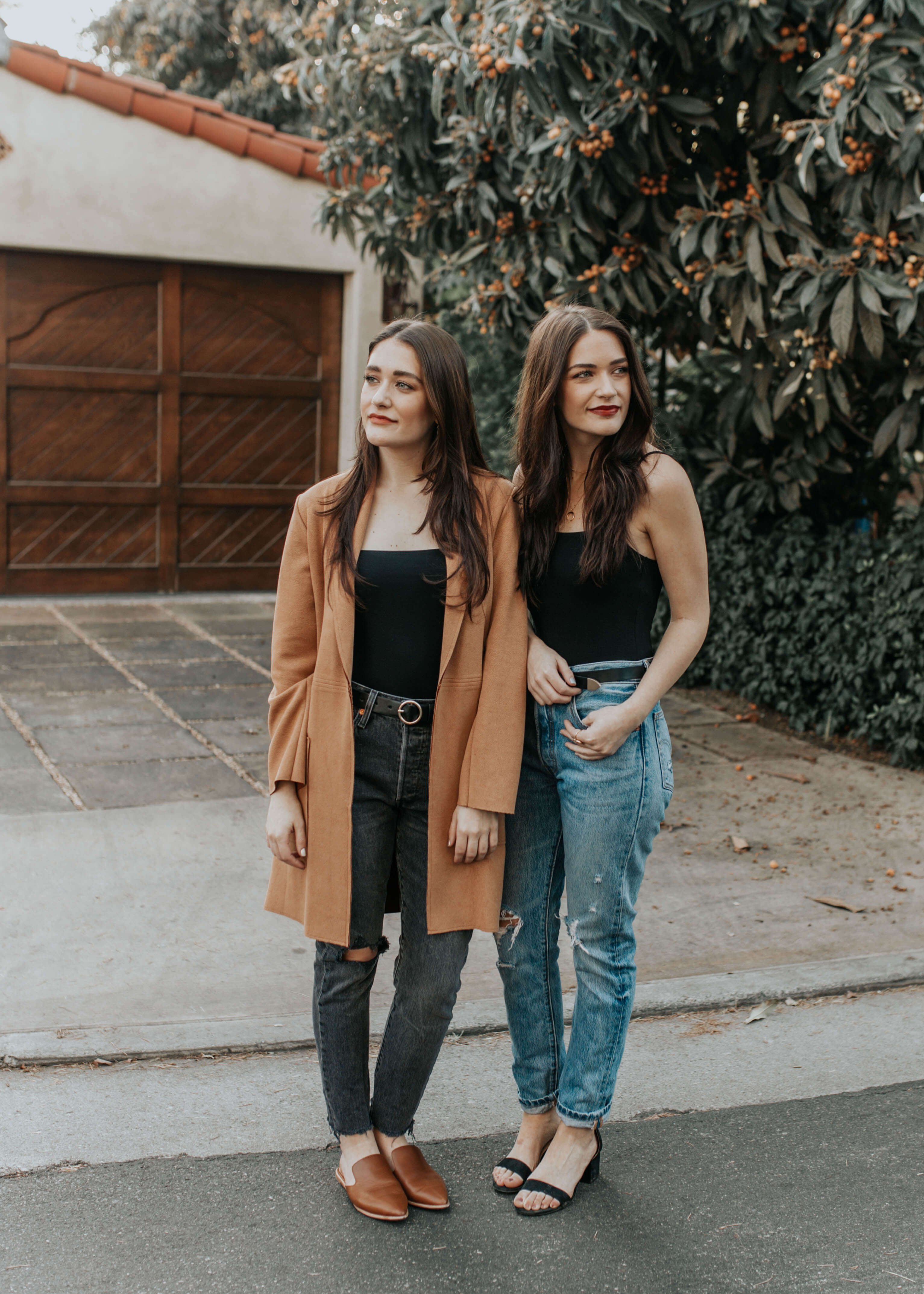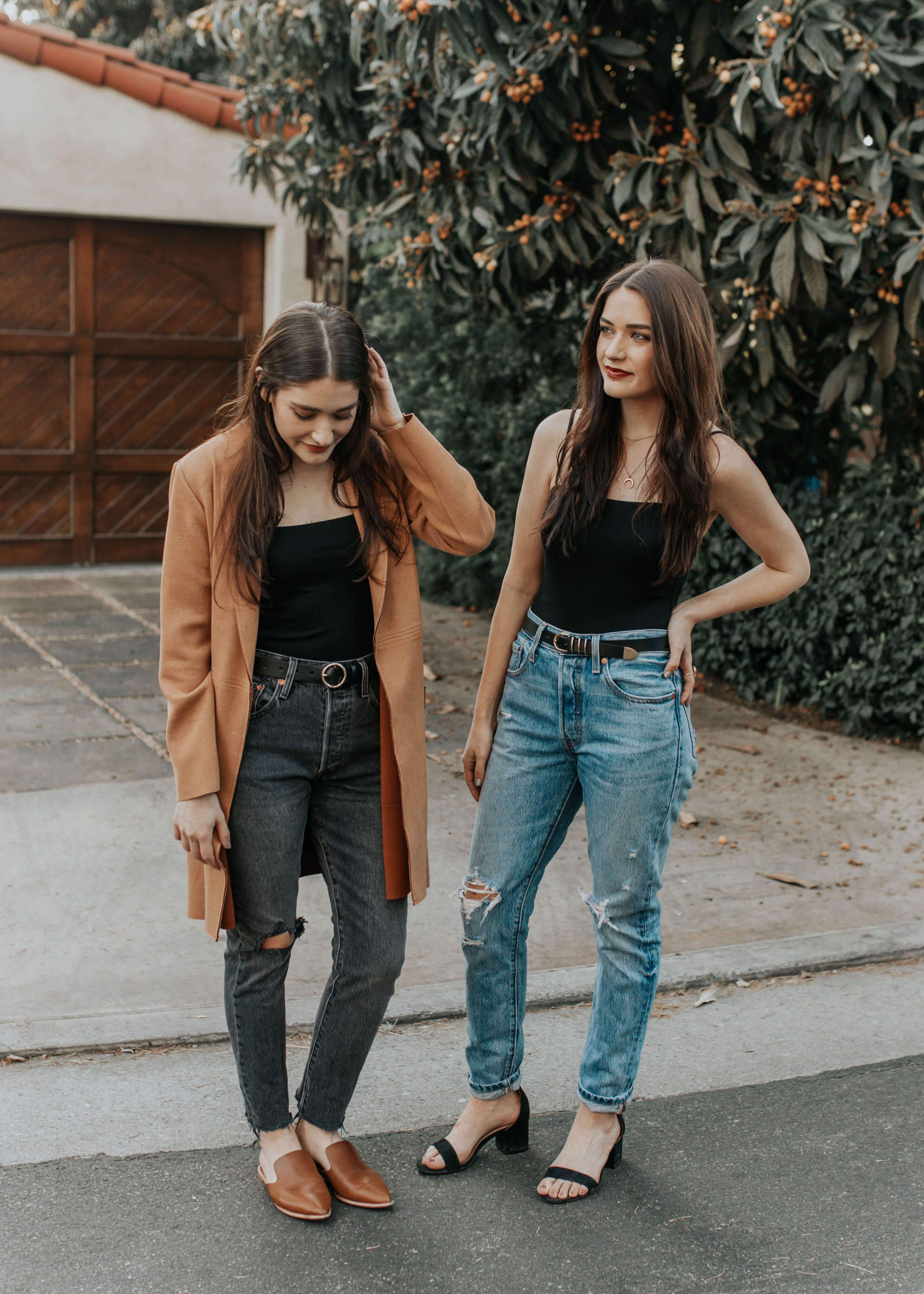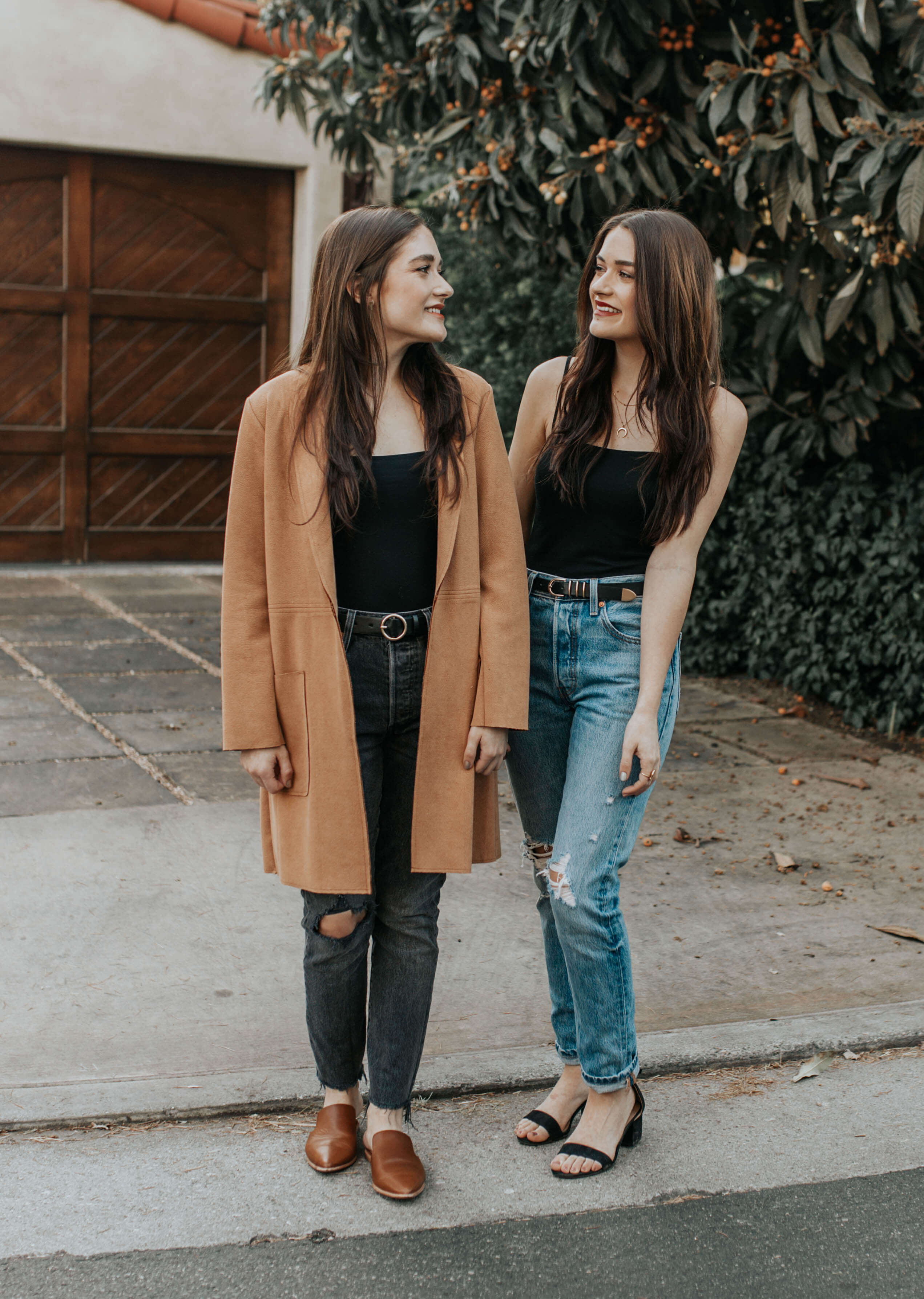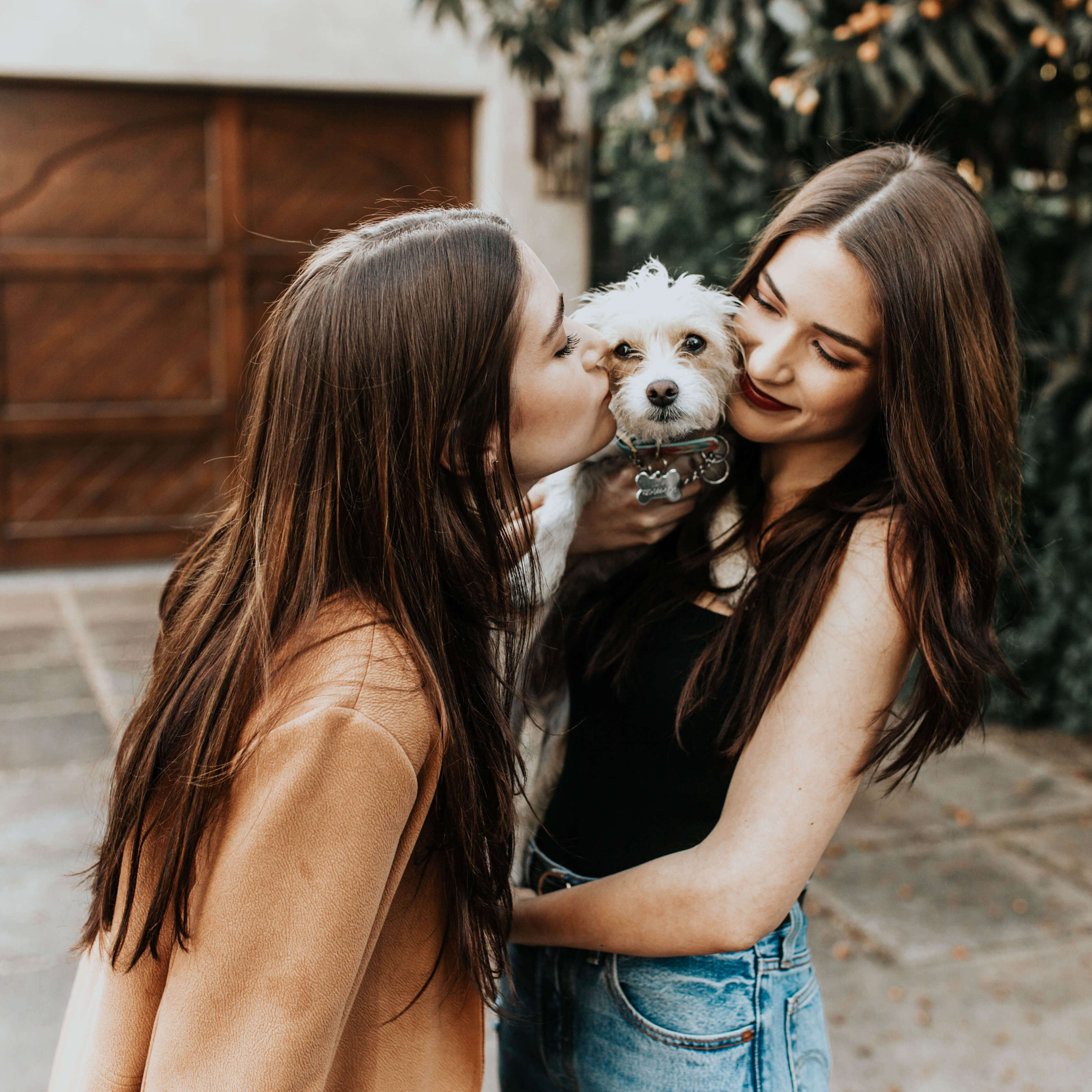 How would you style this black bodysuit?!
xx, Britta