Ah NYC, you have our hearts. This was both of our 5th time to New York City and it just keeps getting better. We've had serious conversations about moving here but have yet to pull the trigger. After this trip, we realized we want to be making very good money before we consider the big move. More on that when we talk about our Airbnb. To be completely honest, we went on this trip just to see Anastasia the Musical. When we heard one of our favorite childhood films was being made into a Broadway musical, we knew we couldn't miss out on the opportunity to see it on Broadway. Sure, it might tour eventually and come to LA, but we wanted to see it in its glory in NYC. I'll go more in-depth about the musical later but spoiler alert: it brought us both to tears.
When we asked our BFs if they'd like to go on this trip with us, they both jumped at the chance. One thing we all share (besides our dog) is a true love for NYC. This was only our second trip altogether and we had such a blast. To see what we did on our 4-day trip, just keep on reading!
PS – if there isn't a picture included in the paragraph about each place, we most likely didn't take one or our iPhone quality photo was just not worth sharing. We actually did a great job bringing our Canon DSLR around the city with us, but the lighting didn't always work out in our favor!
This was James and I's first time staying at an NYC Airbnb. Britta and Tommy had stayed at one on a previous trip but on the Upper East Side, this time, we stayed in Greenwich Village. Being the Friends fans that we are, you can imagine how excited we were to stay in The West Village. The area did not disappoint. I'll go more in-depth on that next, but for now, let me just tell you about our actual place.
We lucked out because it was on the 2nd floor. Honestly, we're all so out of shape I don't think we could have done more stairs. The place was nice but OH SO SMALL. The pictures were a little deceitful but we weren't expecting much space anyways. When you walked in the front door, the living room took up most of the space and the tiny bathroom and non-existent kitchen were to your left. It was an eye-opener at what we could most-realistically afford if we lived in the city at this moment. There was one bedroom attached to the living room and a pull-out couch so that was convenient.
Even though we loved the area, the noise outside made it so hard to sleep. NYC truly is the city that never sleeps. But overall, our Airbnb was sufficient and we're happy we finally got to stay in The Village.
Greenwich Village/The West Village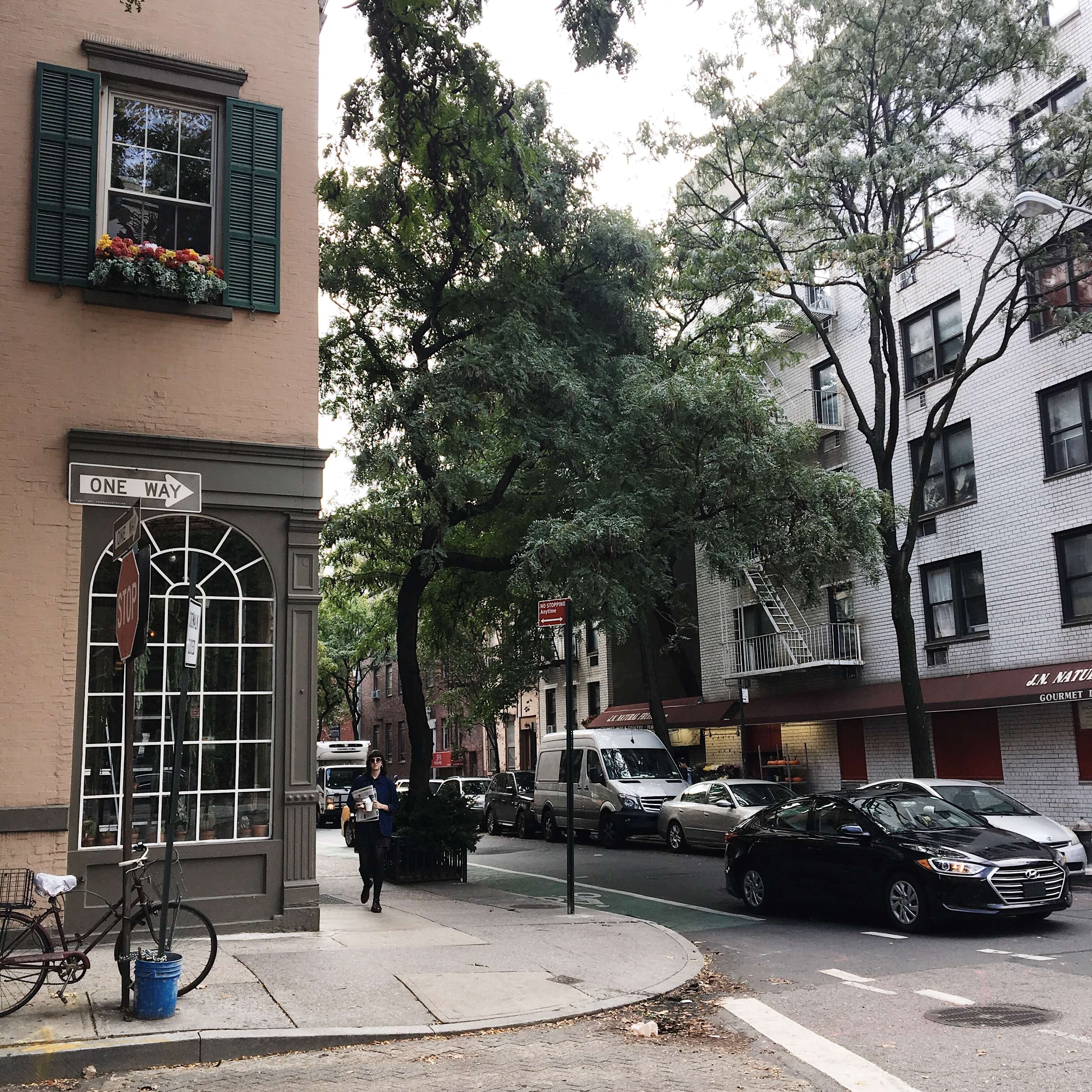 Like I mentioned before, we had never spent much time in Greenwich Village, so we thought it would be fun to stay in that area. Our place was very centrally located, right never to a CVS and plenty of restaurants and shops. We just loved how cute and safe The Village was. So many beautiful homes and cozy restaurants, totally up our ally. I will say, a lot of the restaurants in our neighborhood were a little pricey. Of course, there's a range, but the whole area is definitely more geared towards people that have money to spend. Next time we come, I hope we have more disposable income to shop because there were so many nice stores like Jo Malone, Aesop, Rag & Bone and a lot of others. The area is also so walkable, we only had to uber to different neighborhoods of Manhattan but since The Village isn't large and has everything you need, it's easy to just walk everywhere.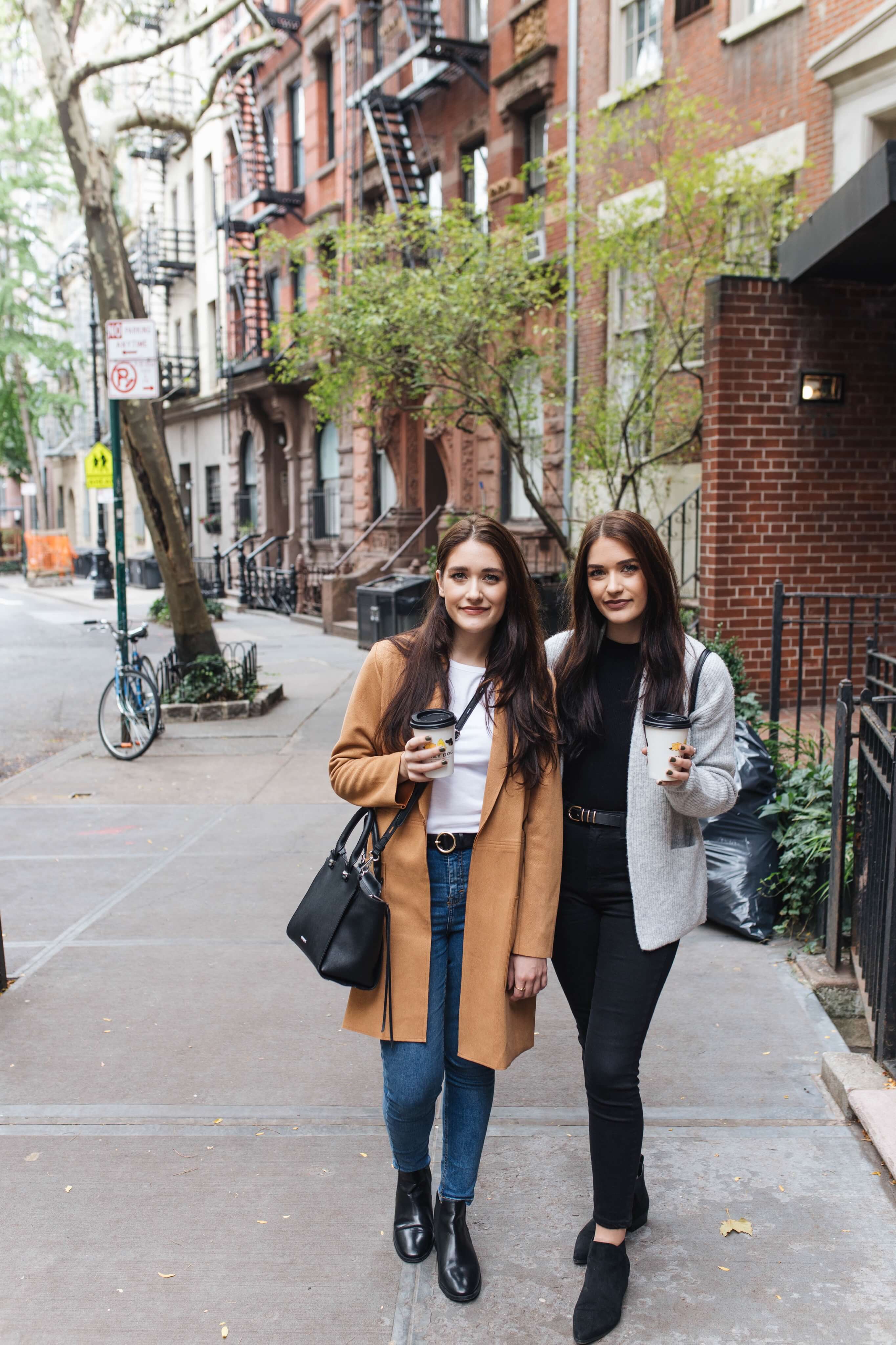 Like I mentioned, the only two downsides were the size of our space and the noise. I think the noise had to do with being located next to a popular club/bar. Other areas of Greenwich Village seemed extremely quiet and peaceful.
The Friends Apartment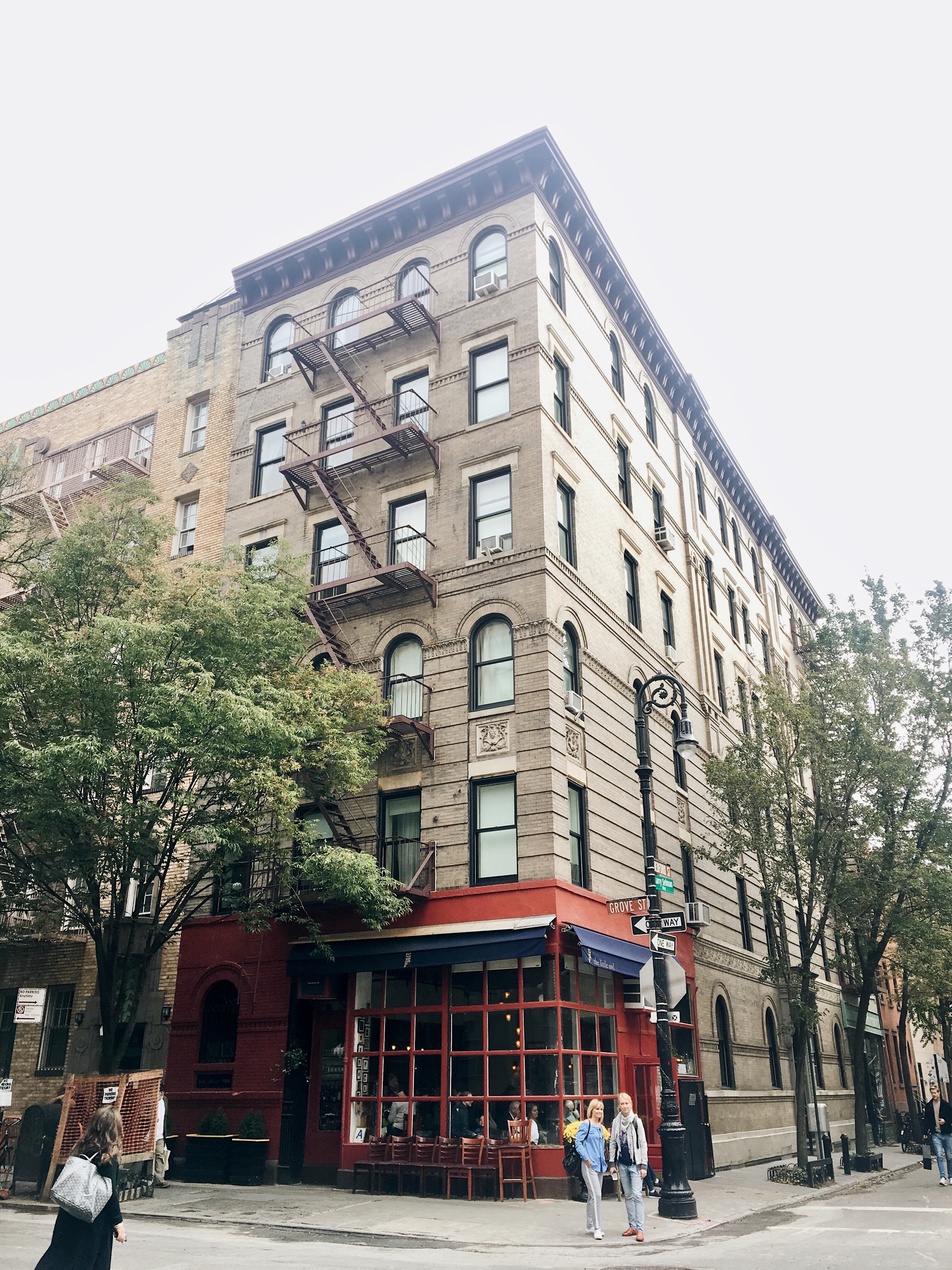 Another plus side to staying in Greenwich Village was being able to finally see The Friends Apartment. You know, the building they took b-roll of to make it seem like that's where Ross, Rachel, Monica, Joey, Phoebe and Chandler. The building was super cute and on Bedford street which is now our favorite street in NYC (too cute, you have to see it). There isn't much to do outside this building beside taking pictures of it but if you're massive fans of the show like we are, you have to see it!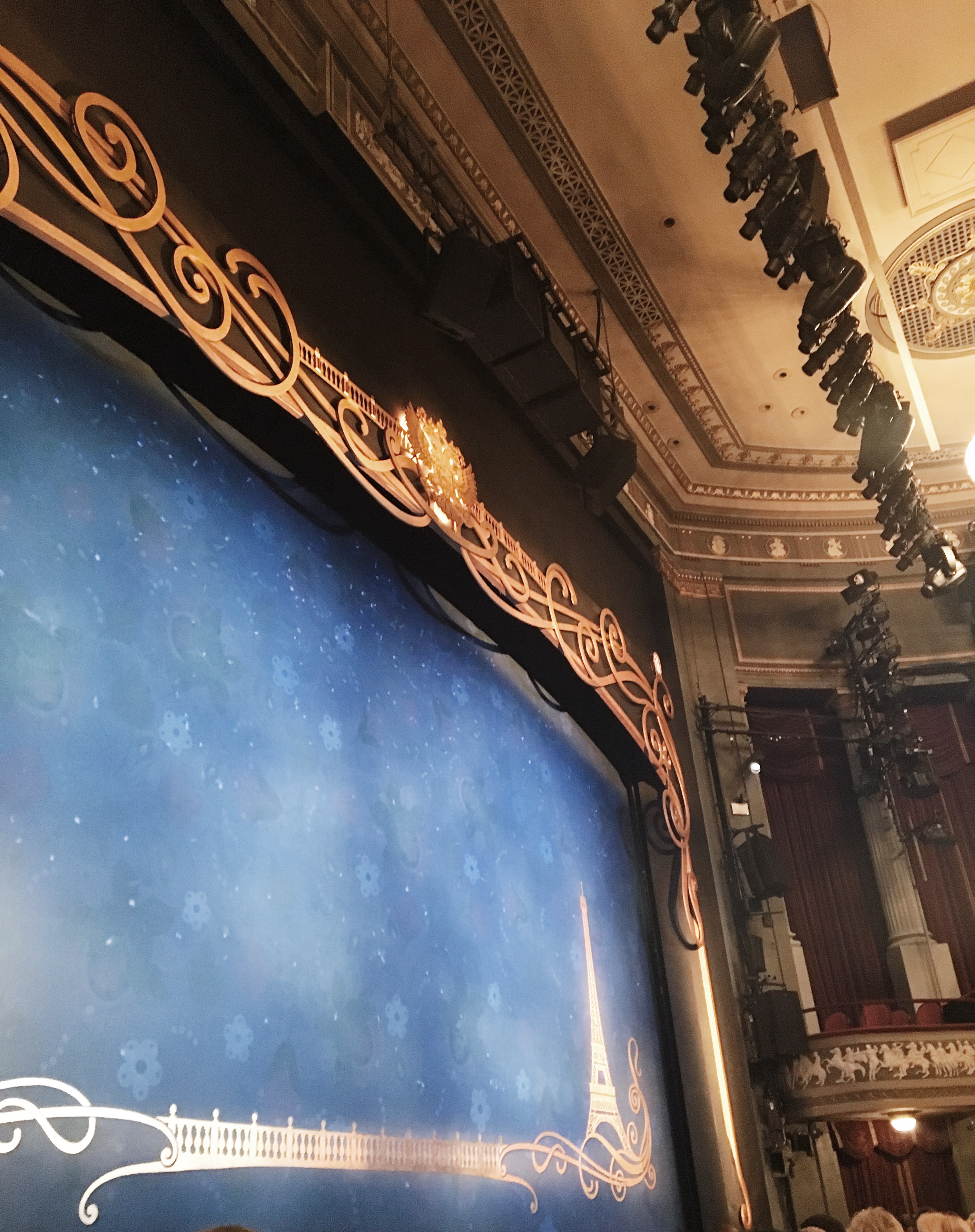 Seeing one of our favorite movies turned into a musical was in short, magical. We spent a lot on this trip and a lot on the show tickets, but we knew it would all be worth it when the show started. We were right. The show was perfect from start to finish. This might sound dramatic, but all the numbers just left us in awe. We were pleasantly surprised by all the new songs they added that weren't in the original film. Our two favorite new songs were Imperial Hayday and Ballet Quartet. They also added a new character, Russian Commander, Gleb, played by Ramin Karimloo. He was so talented, he almost stole the show from the leading lady (but not quite).
The moment that gave us goosebumps and brought us to tears was definitely the final number where the wrapped up the story by singing Once Upon a December. I couldn't contain my emotions and started crying. I looked over at Britta and she was crying too. It was a hard feeling to describe but it was just one of life's magical moments. Like I couldn't believe I was in my favorite city, watching a beloved film come to life right before my eyes. Definitely a pinch-me-is-this-my-life-moment.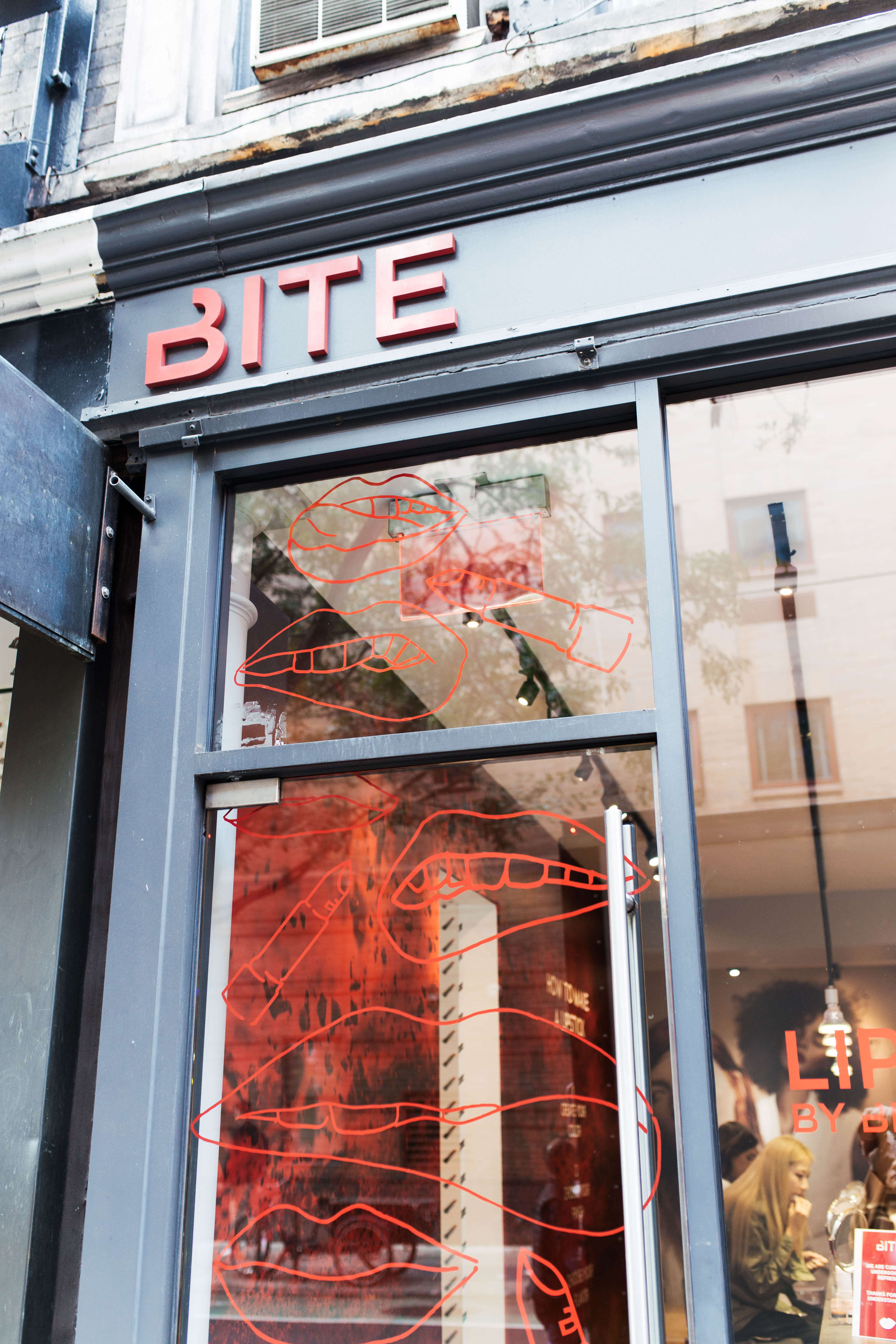 I'm not going to say much about the Bite Beauty Lip Lab here since we wrote a whole post on it. In short: making our own Bite lipsticks at the Lip Lab was one of the trip highlights. If you're a beauty lover, you must go. Alos, if you're in the LA area, they're opening one here soon!
We came here for dinner our first night because it was in our 'hood and we were starving and it looked cute. Britta and I shared the mushroom pasta and a caprese salad. We loved the caprese but the pasta left something to be desired. It was all pretty expensive but the atmosphere was too cute. We suggest just going there for a glass of wine instead of food because the wine was really great and it's always fun to have a nice glass of wine in a dimly lit, quaint restaurant.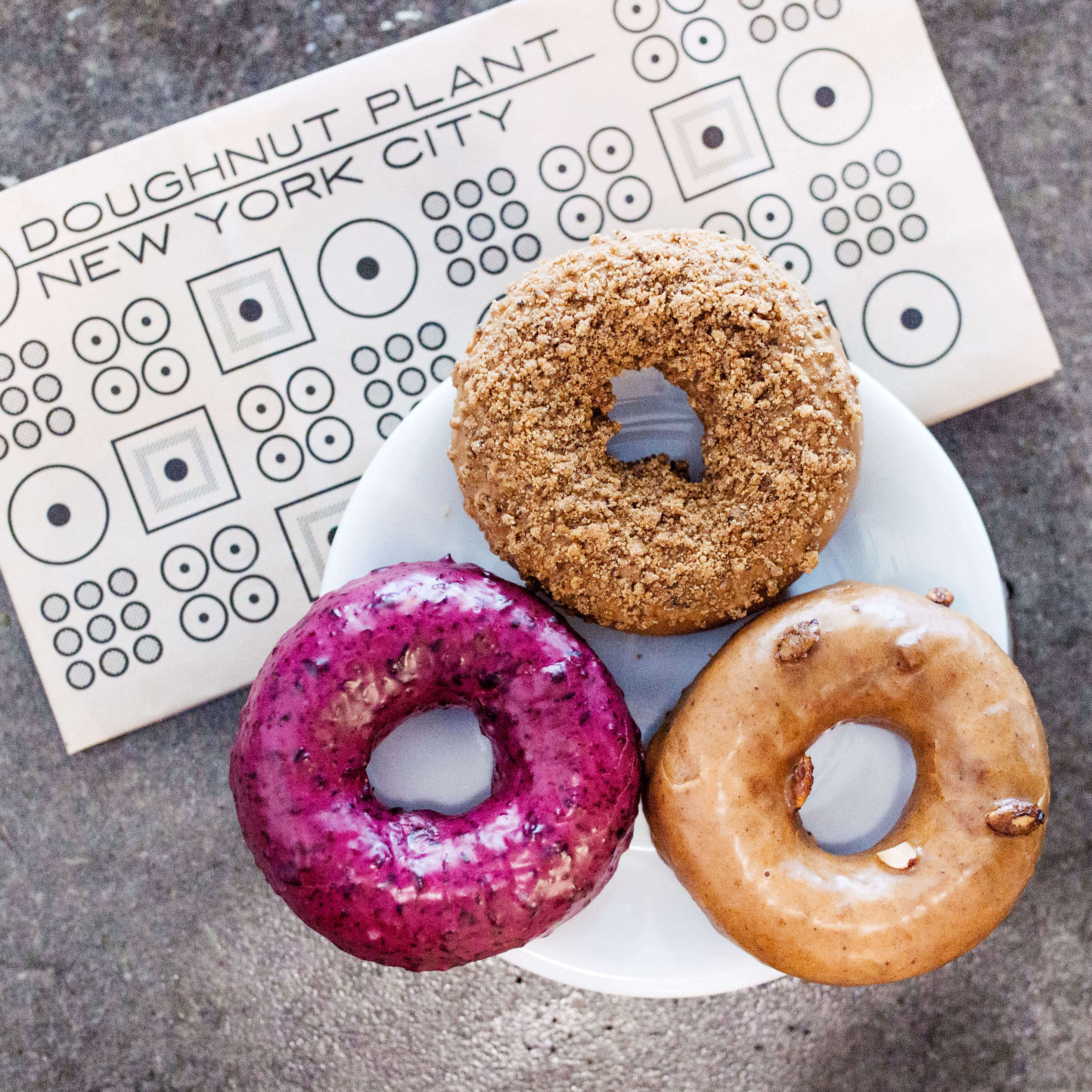 I had been to Doughnut Plant before but this was Britta's first time. I seriously wanted to go every morning but our place wasn't really close to a Doughnut Plant location so we only ended up going once. These are definitely my favorite donuts in NYC and some of the best donuts I've ever had. Out of the 3 options, doughnut plant has, my favorites are the cake donuts. They're soft and a lot of thought has gone into the flavoring. They're also never too sweet which we really love.
This trip we picked up the Coffee Cake Donut and the Pumpkin Cake Donut. Both were great but just like the last time I was there, the Coffee Cake Donut was my favorite.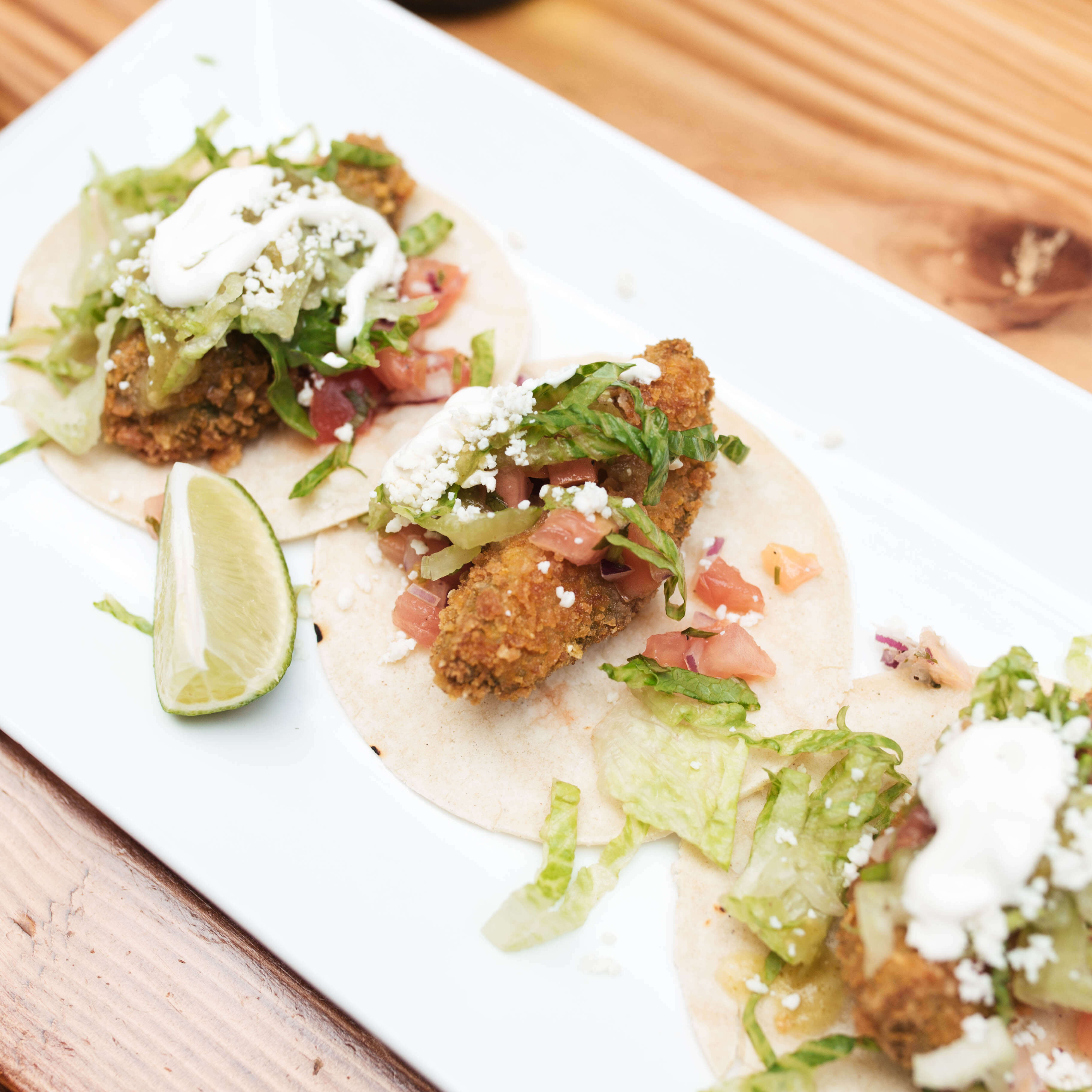 What. A. Gem. We had plans to go to Jame's brother's place in Dumbo for dinner one night so we thought we'd spend some time in that area before heading over to his place. We all love Dumbo so we were excited to walk around. Well, our walk was cut short when we saw a sign for "Happy Hour 4-8". If you've read this blog for any amount of time, you know we live for Happy Hours. Saving money + appetizers + drinks is all we need. The place with the sign was called Westville so of course, we had to go.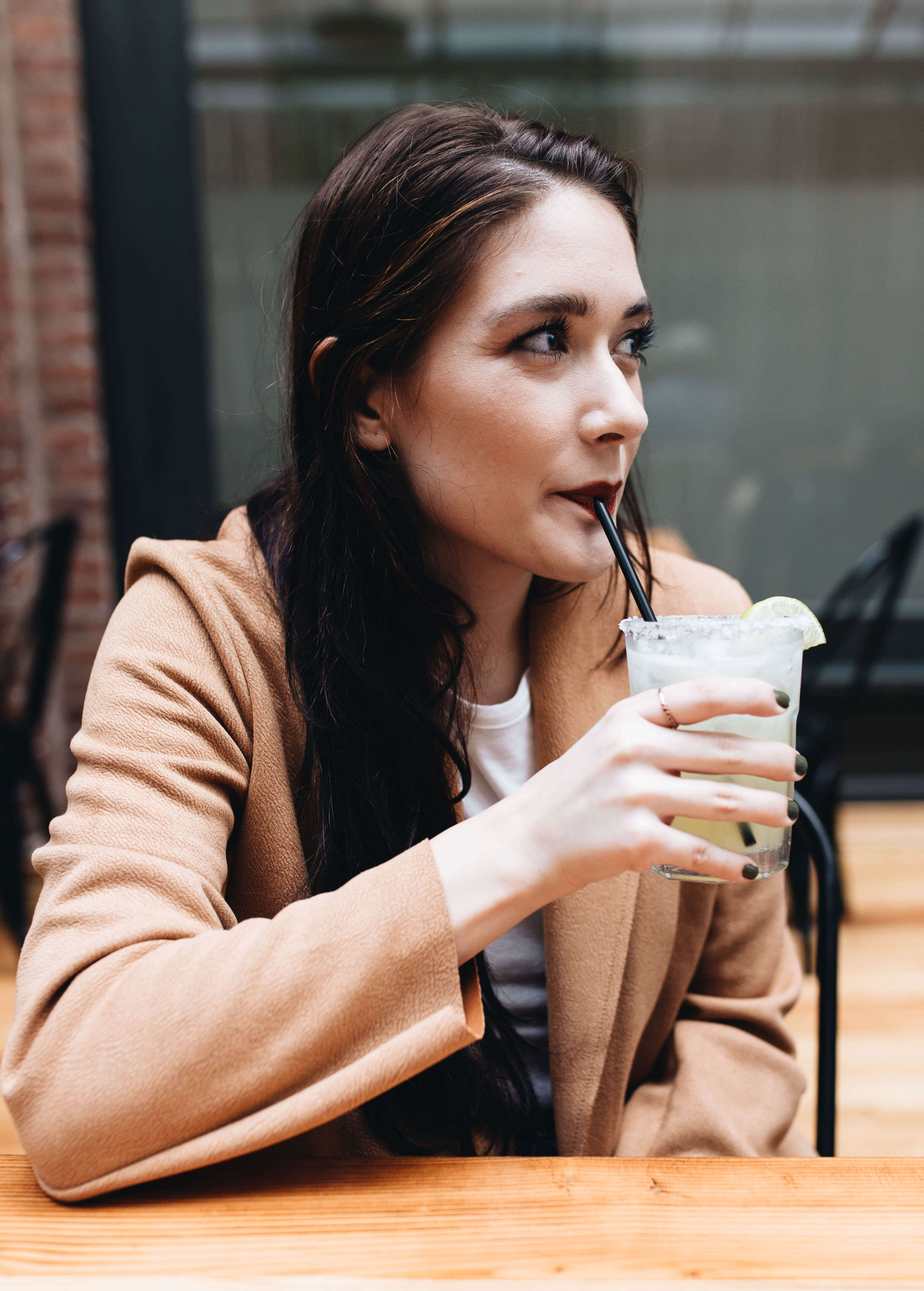 The patio at Westville could rival any place in LA. It was huge and filled with picnic table and overhead lights. We tried to eat outside but it quickly became cold so we had to move to their indoor patio situation. Britta and I each go the fried avocado taco plate and a margarita (eventually 2 margaritas). If you didn't know, we gave up eating meat a few months ago so seeing a vegetarian taco on the menu was amazing. Their whole menu was very vegan and vegetarian-friendly which we found to be uncommon for NYC. The tacos and drinks were amazing! Tommy and James loved their food and beers too. It was one of my favorite places we went to while on this trip and I'd highly recommend it to anyone in the Dumbo area.
Oh and there was actually a second location within blocks of our Airbnb but be warned, that location is SO small we didn't even attempt to go inside. The Brooklyn location is definitely the way to go.
DUMBO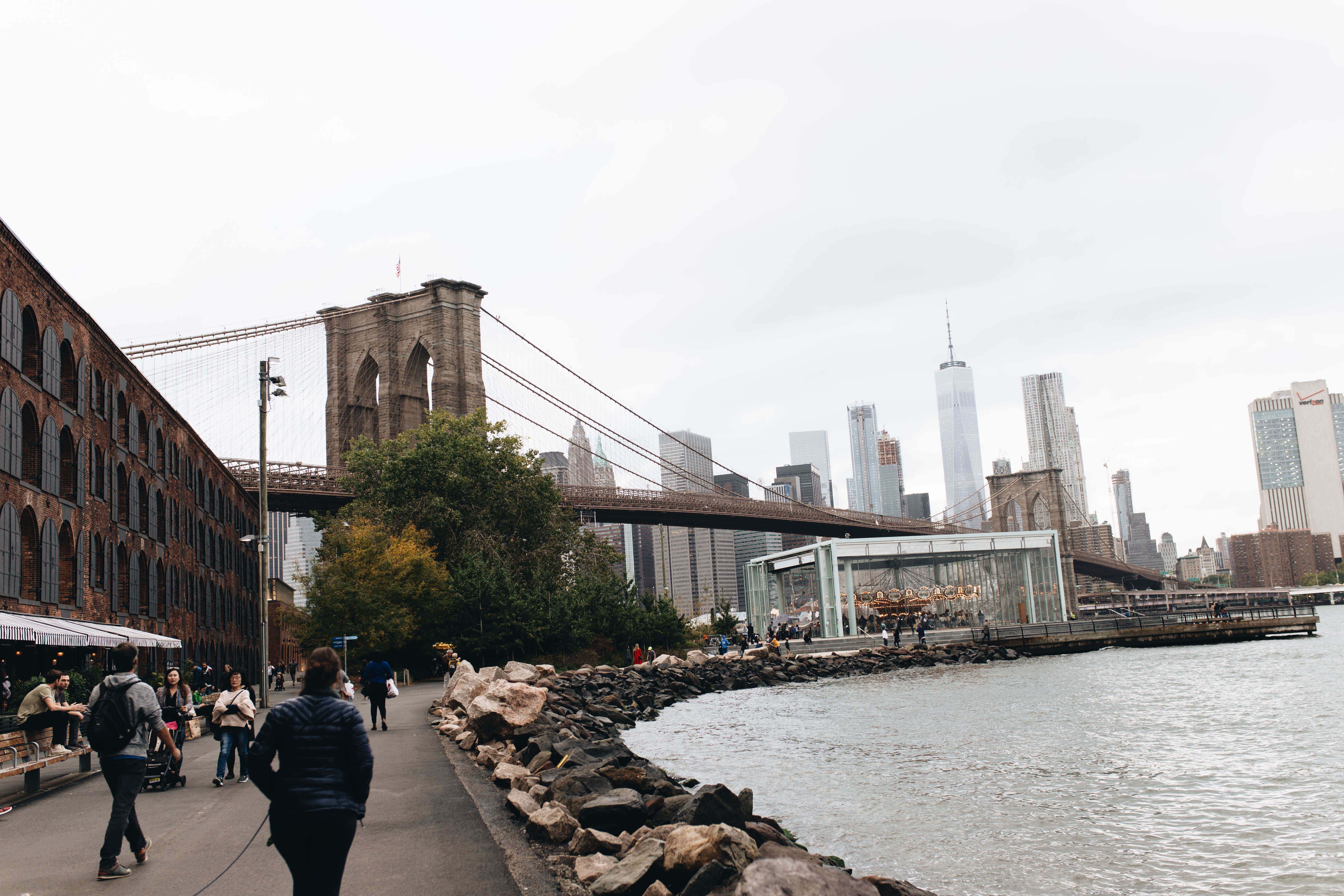 Like I mentioned, we love the Dumbo neighborhood of Brooklyn which stands for "Down Under the Manhattan Bridge Overpass". If you haven't been, it's a quaint, clean, history-rich neighborhood complete with renovated old buildings and cobblestone streets. We would all move to this area in a heartbeat. This is the neighboorhood that you see all over Instagram with the Brooklyn Bridge in the background.
OUr main reason for going here was to have dinner with Jame's brother and his family (s/o to them because they were the best hosts!). We had a chance to walk around the neighborhood and admire the water and views. There's anew renovated building right by the water which houses West Elm's headquarters and it's as cute as you can imagein.. We all just stood right by the water for awhile just taking int he views of the bridge. It was picture-perfect. We also stopped to One Girl Cookies right before they closed so we didn't get any photos but we highly recommend it! Especially the pumpkin whoopie pies.
We headed to Upright Brew House our first night in the city for a late-night drink and some apps. We immediately found seating by the window and the bartender was super attentive and helpful. We each got a drink and ordered some truffle fries and the nachos (which had vegetarian chili on them!). Both of the food items were great and just what we were looking for at the time. The great conversation, food and drinks we had there is one of my favorite memories from the trip. We even thought about going back the following night, highly recommend!
James and I actually went to this place (different NYC location) on our last trip to the city two years ago. We loved it then and we loved it this time too. After Britta and I went to the Bite Lip Lab, we were starving and suggested the boys meet us for some breakfast at The Grey Dog which was halfway in between the Lip Lab and our Airbnb.
From what we gather, this place is definitely Michigan bar/restaurant which James loved since he's from The Mitten. There are Michigan sports teams memorabilia everywhere and the whole place just gives off a cozy vibe. They have a full breakfast, lunch and dinner menu so you really can't go wrong. Britta and I shared a breakfast sandwich and home fries that was great! We also each got their hazelnut coffee which was AMAZING. Best coffee we had on the whole trip. You have to go to this place when you're in NYC, I'm sure all the locations are great!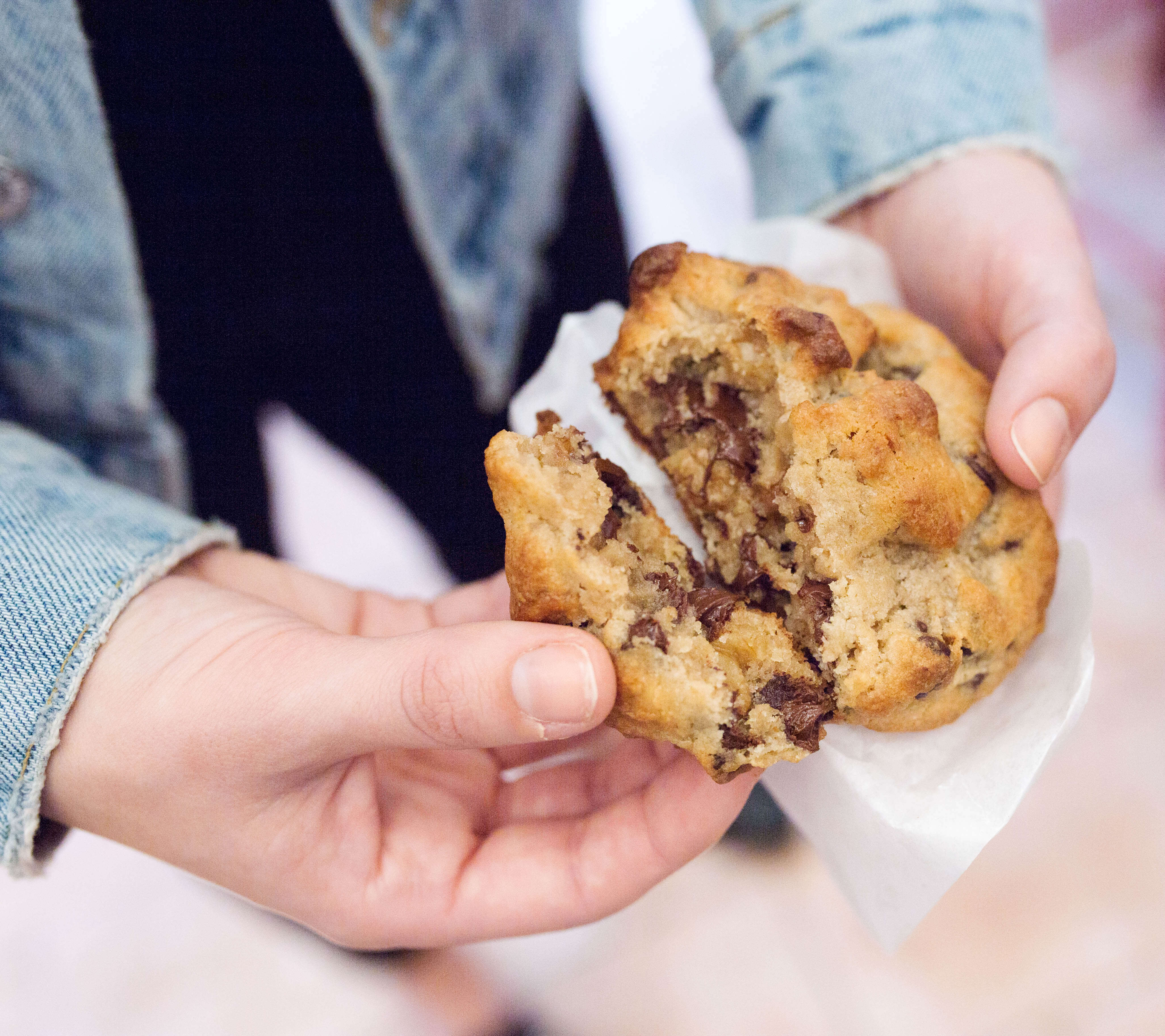 After going to Levain Bakery two years ago, we both immediately regretted it because their chocolate chip walnut cookies are the best we've ever had an so unattainable back in LA. As self-proclaimed cookie connoisseurs, we've had countless cookies from bakeries all over the country. So saying that these cookies are the best we've ever had (with Milk Jar Cookies being a close second) is saying a lot. We truly haven't tried anything else from Levains since they're mostly known for their chocolate chip walnut cookies. Until this trip, we've only been to the bakeries original location which is super small and crowded. They recently opened up a new location just a few block from the original and it's so much better! It's bigger and way less crowded, we highly recommend going to the new location instead of the original.
Our last day of the trip was a Sunday so of course, we had to find a place to watch some football. We were walking around the Upper West Side and spotted the Amsterdam Ale House and thought it would be perfect for some game watching. The place wasn't that large but it was strategically packed with TVs and seating. All 4 of us enjoyed a beer and had a great time watching the games. We had already had lunch so we didn't eat here but the food looked delicious and prices weren't too crazy. If you're looking for a bar to watch some football, this place is it!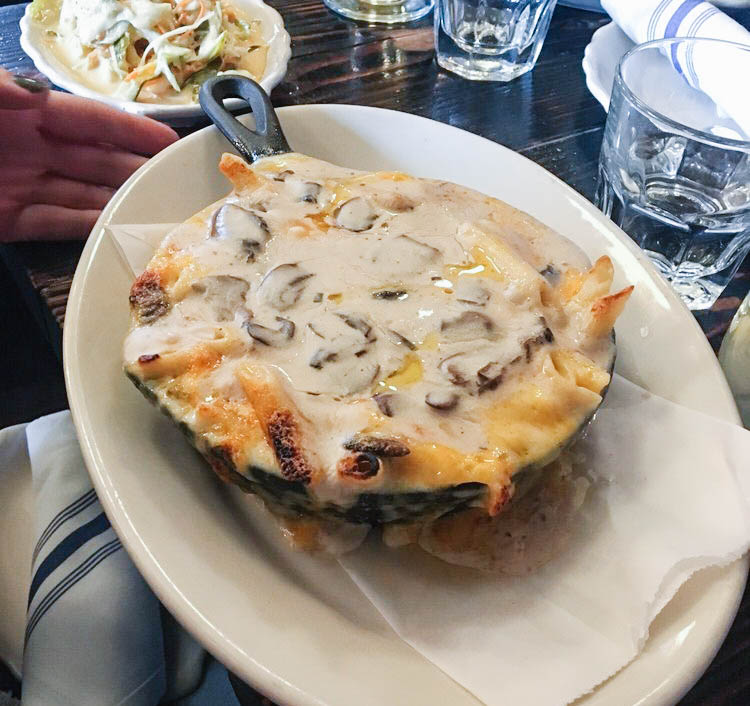 The night before our last day of the trip, I saw a Buzzfeed article on the 27 Cheesiest Things You Can Eat in NYC. This place called Jacob's Pickles had two items on the list: poutine and mac n' cheese. Of course we had to work our schedule around eating here on our last day. We went for lunch on a Sunday at around 2pm and it was crazy busy. They told us it would be a 25-minute wait so we had a drink at the bar next door while we waited. The wait only ended up being about 8 minutes which was awesome. They sat us at a long table where we were inches away from other people. It was extremely loud and a little uncomfortable. Thankfully, we asked our server if we could sit at a table that was a little secluded that had opened up and he was gracious enough to let us move. They told us no at first and it was against their policy to move people so we were really grateful when they let us.
After we got our seating situation, we ordered the Mushroom Mac N Cheese which we didn't see on their menu but it was all over their Yelp page. It's their standard Mac with their mushroom gravy on top. Let me tell you, it was the best thing we've ever had, no exaggeration. We also got the Pickle Slaw which was like normal coleslaw with shredded pickles in it (so good). And last but not least, we ordered some of the Big Dill Kosher Cukes because we couldn't leave a place with pickles in the name without ordering some. The pickles were super sour. I was a fan, Britta was not. The boys shared the Hot Chicken Biscuit Sandwich which they said was absolutely incredible. We're all huge fans of this place and will be going back on every trip to NYC. 10/10 stars for sure.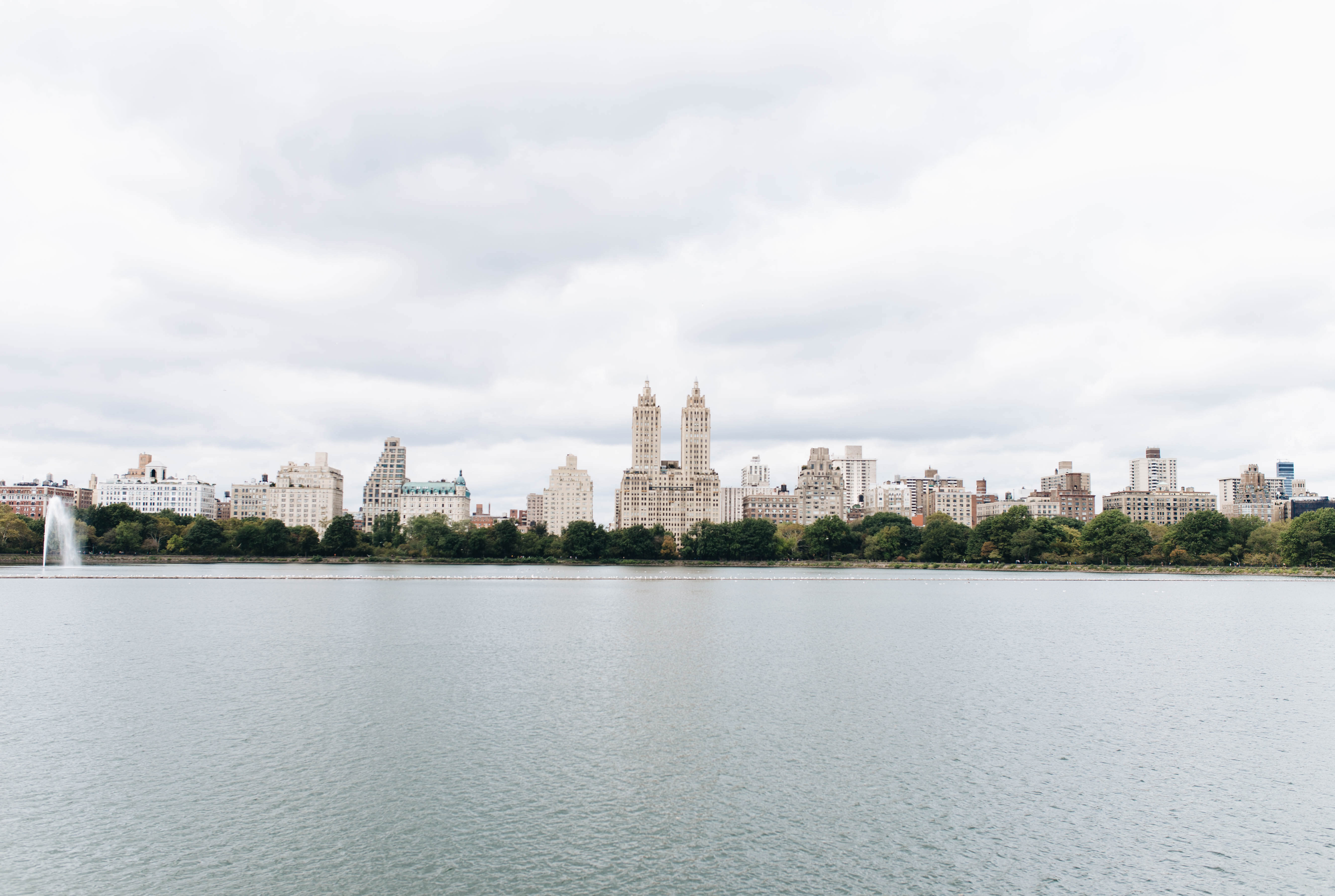 Central Park might be our favorite place in NYC. It's free, so peaceful, beautiful and there's so much to see! We've walked in multiple areas of the park before but this was my first time walking around the reservoir within the park. We walked around the reservoir twice on our last day in the city, once during the day and once right when the sun was setting. It was so breathtaking and the air was crisp – another perfect moment on our trip. There truly is no bad part of the park, but if you want to go to a specific area to save time, I highly recommend the reservoir.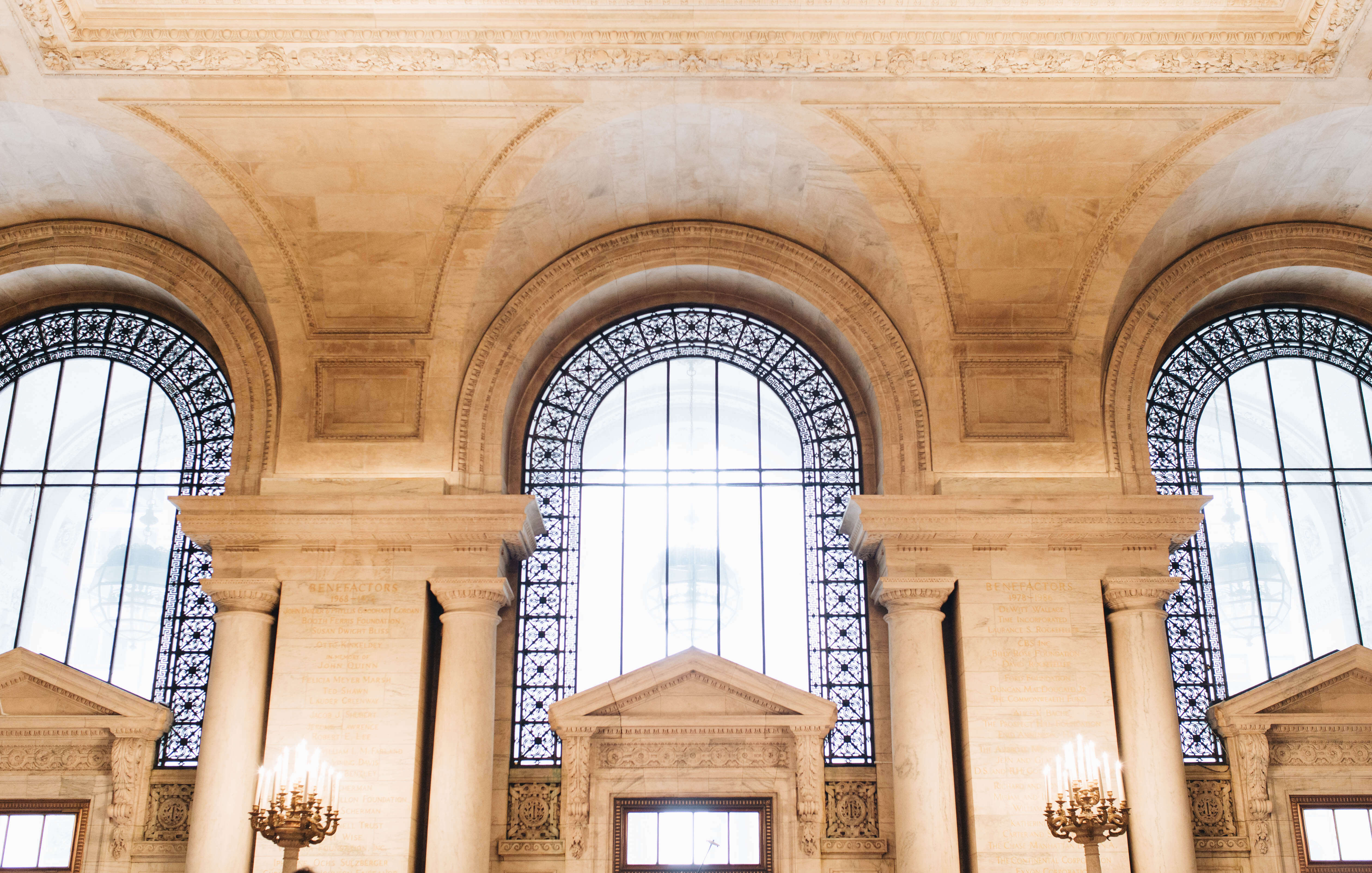 We've spent so much time in Midtown on past NYC trips, we really didn't want to go to the tourist-packed area. But, we couldn't miss the opportunity to see two of our favorite places: the New York City Public Library and Bryant Park. If you haven't been, Bryant Park is right behind the library so you can kill two birds with one stone. The library was as gorgeous as ever but since we've been before, we just walked around the ground floor to take some photos.
Bryant Park was actually a bit of a disappointment since they were setting up the ice rink which takes up a lot of space in the park. We still had a nice time taking pictures and sitting in the park but I wish the rink wouldn't have been going up.
Brooklyn Bridge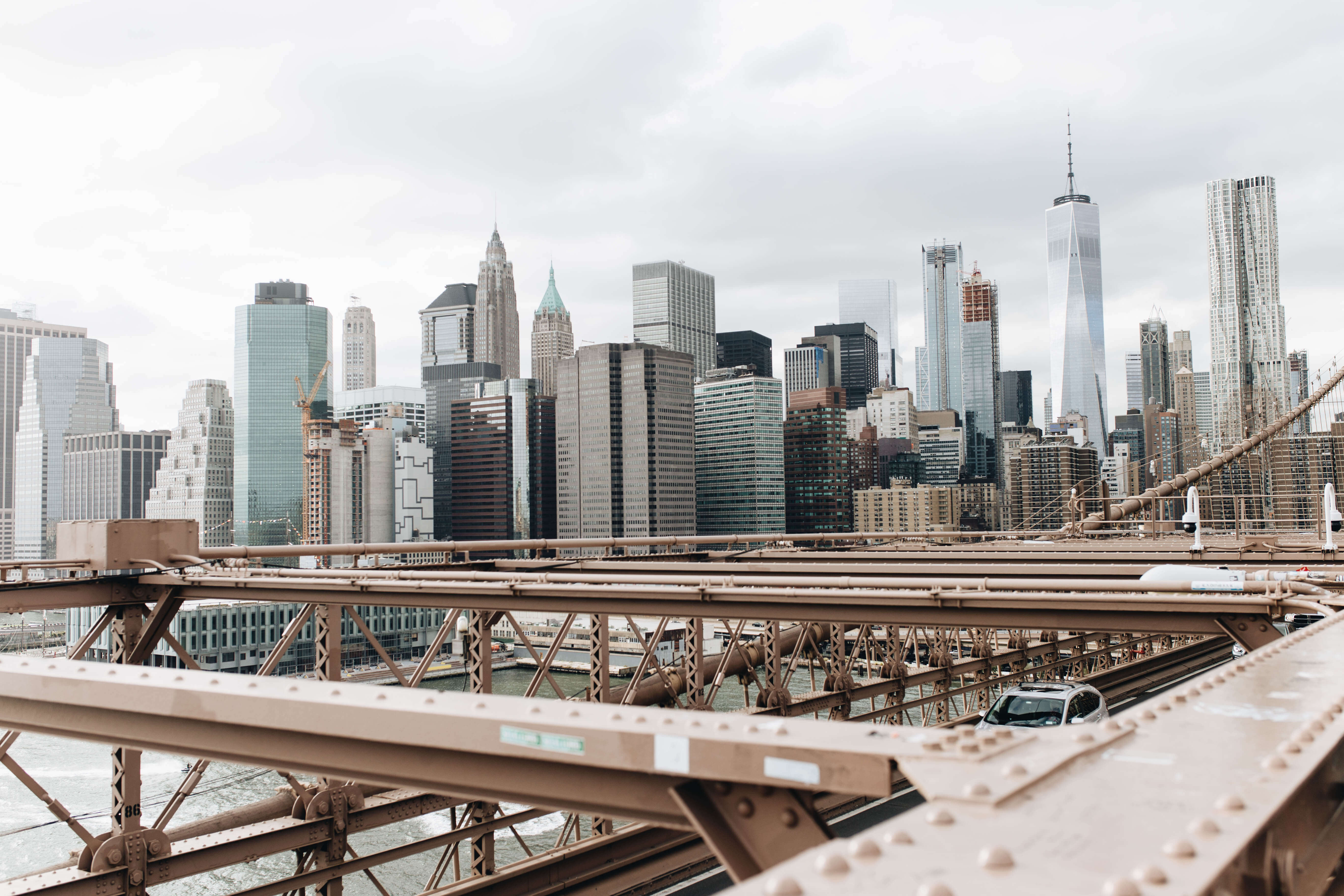 James and I had walked the Brooklyn bridge two years ago on Thanksgiving night and loved it. We had Thanksgiving dinner at his brother's place in Brooklyn and decided to walk the bridge back to the Financial District where our hotel was. There was barely anyone else on the bridge and the whole city was lit up. It wasn't even that cold for being late November! We seriously had the best time so we wanted to do it again with Britta and Tommy. This time, we decided to go during the day and that may have been a mistake.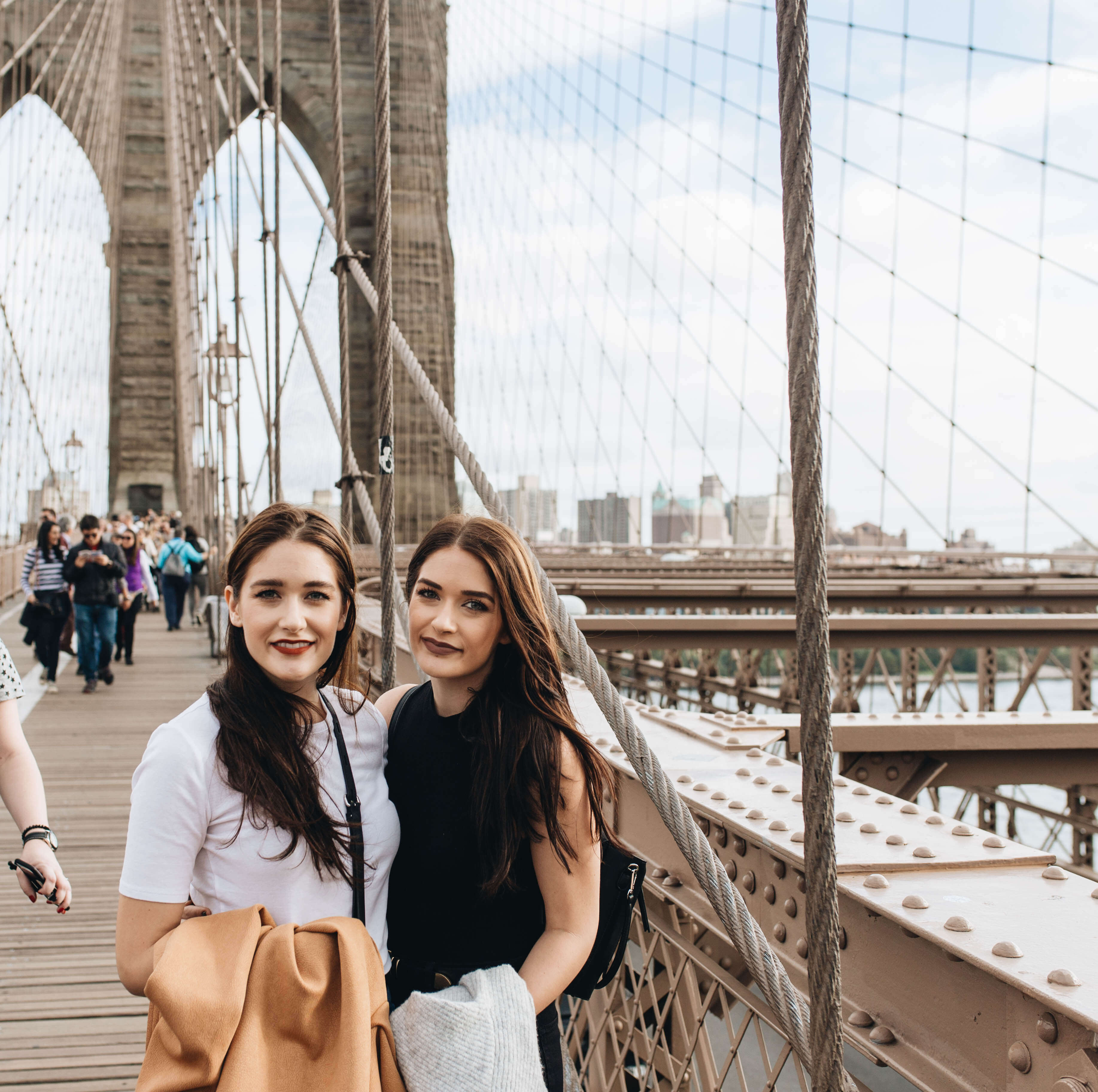 Walking the bridge was still a great experience, it was nice out and you could see everything. But the downside to doing it during the day (on a weekend) was all of the people walking alongside you. I couldn't believe how many people were walking the bridge the same time as us. We couldn't really get one good picture of us since it was really hard to stop walking for a photo op. I still think walking the bridge is a must but I would rather do it at night.
Overall, our trip was amazing and we clearly can't recommend taking trips to NYC enough. We would love to go once a year, so we're hoping we can make that happen.
xx Carli