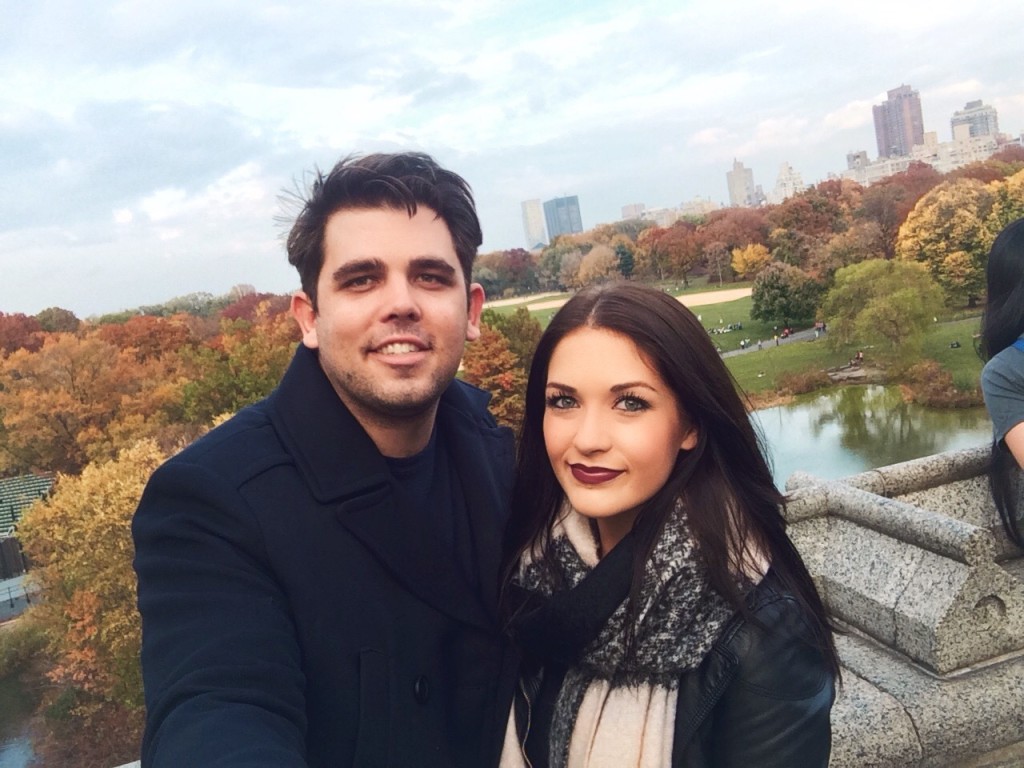 My boyfriend & I went to New York City for our two year anniversary. It's my absolute favorite place and he hadn't been since he was 10 years old, so we were both really excited to experience the city together. I'll hit on some of the normal touristy things we did, and I'll also give you my packing necessities, and some travel tips. There are some things I couldn't have survived without (selfie stick), and some things that saved us a lot of money! So read on!
Note: Most of these pictures are just taken with my ancient iPhone (sorry for the quality) 
---
Central Park
Central Park is definitely my favorite part of NYC. The foliage was out of control and the park is just perfection. I'm pretty sure the CP is the size of a small town. There is so much to see! I personally love the reservoir and Belvedere Castle. On an unrelated topic make sure you're good with GPS because it seems as though one could easily get lost here. Not that WE did…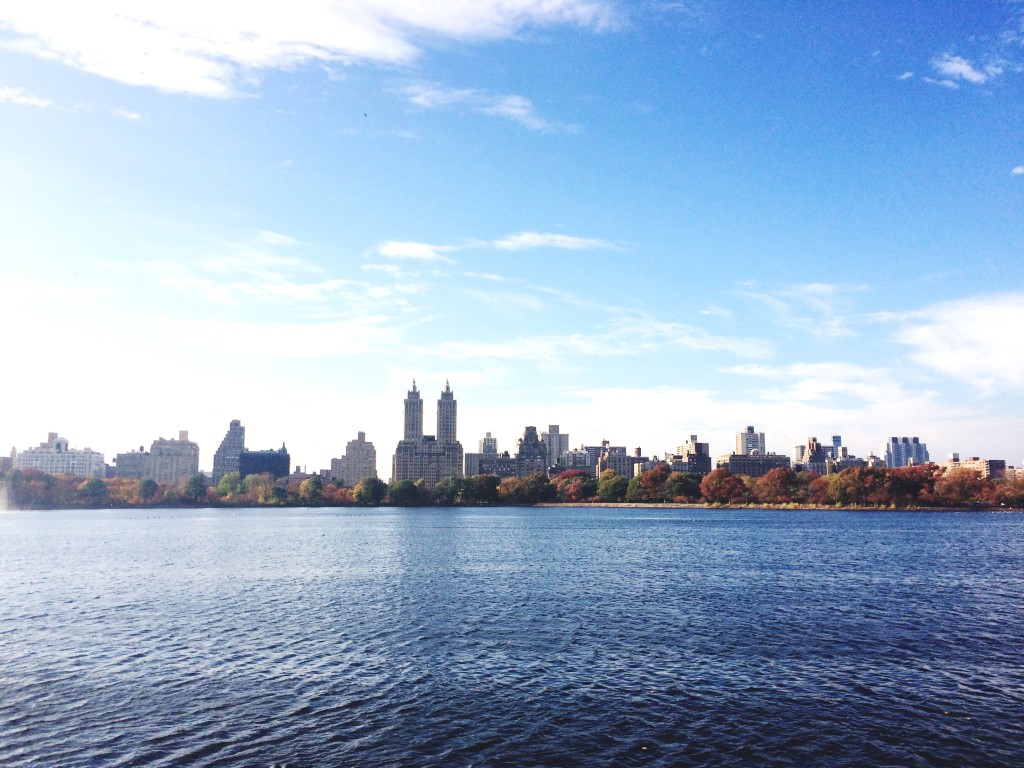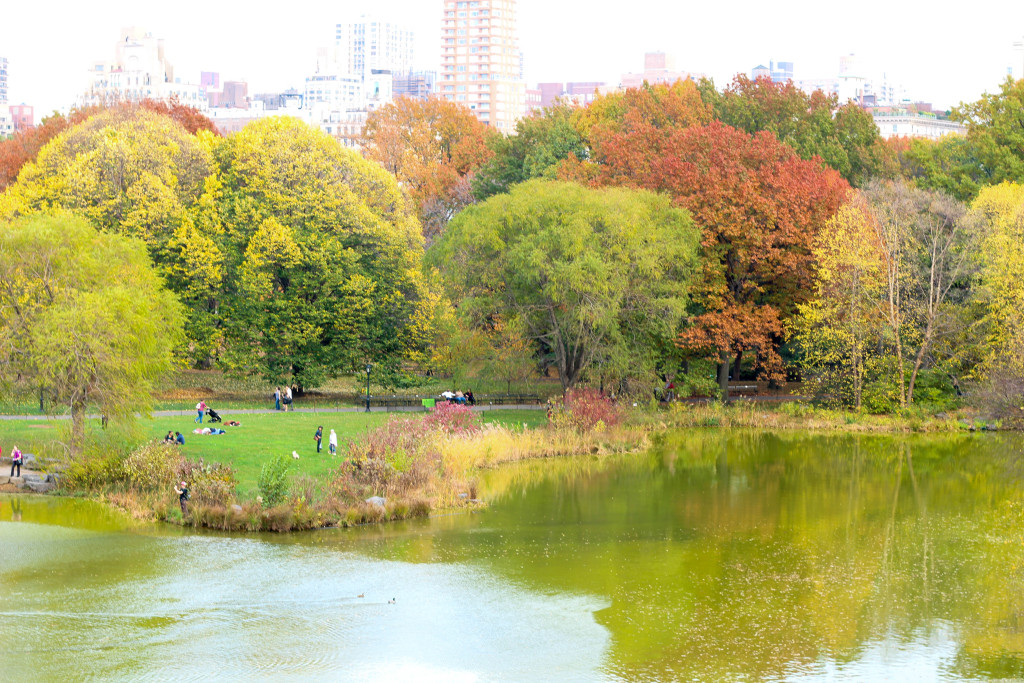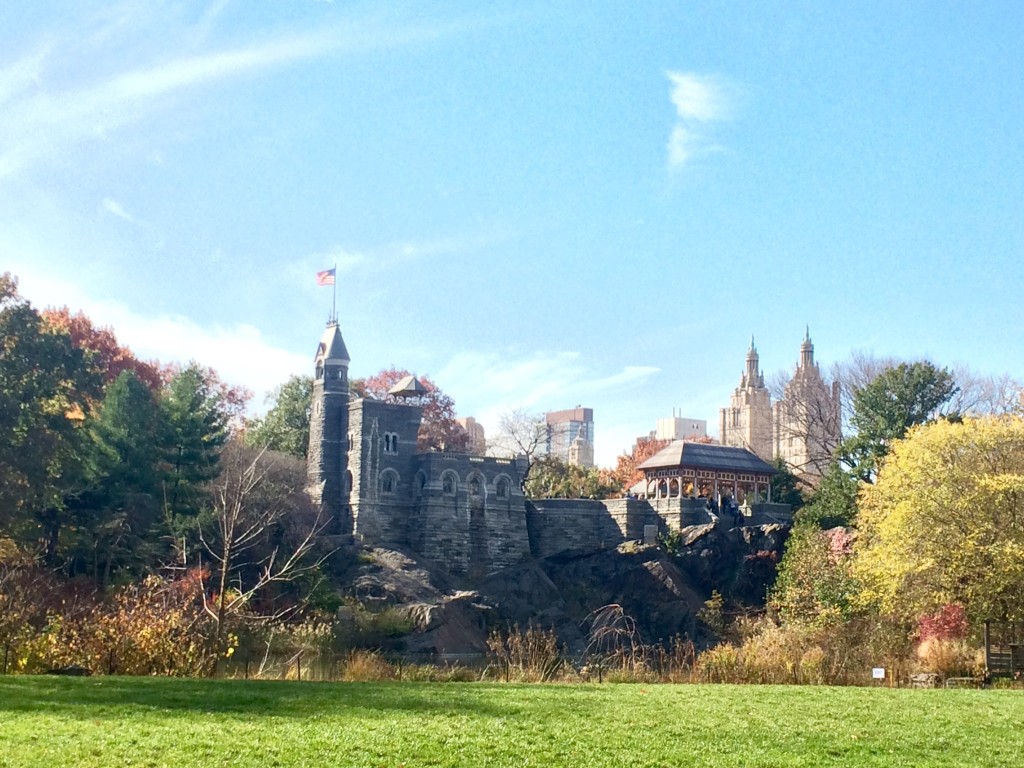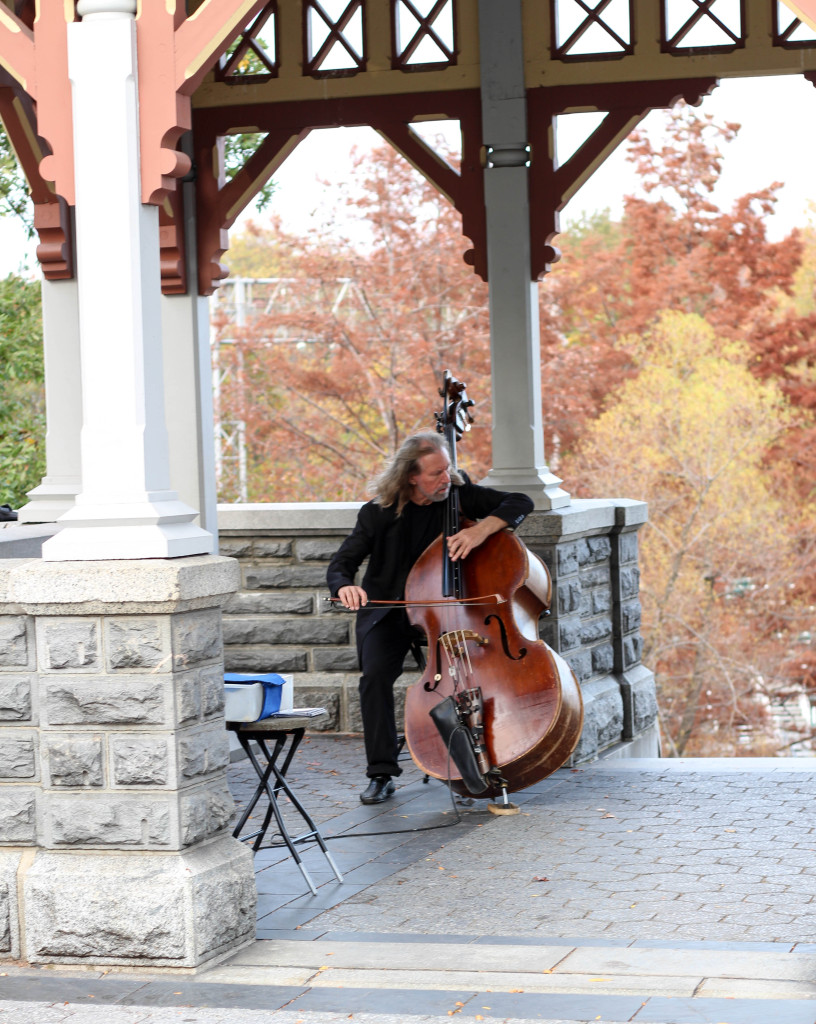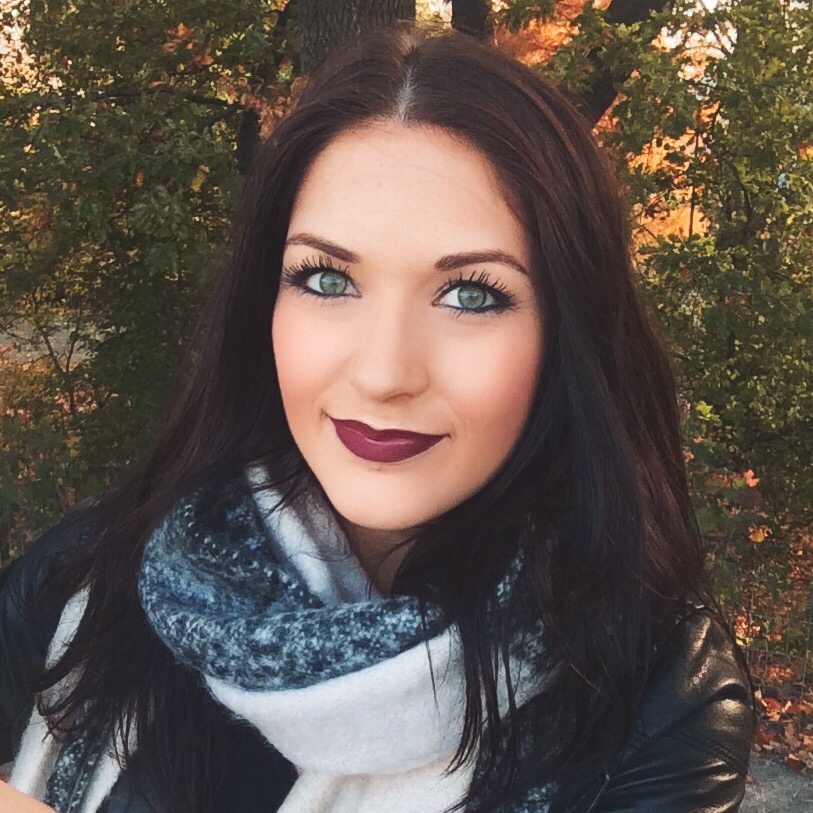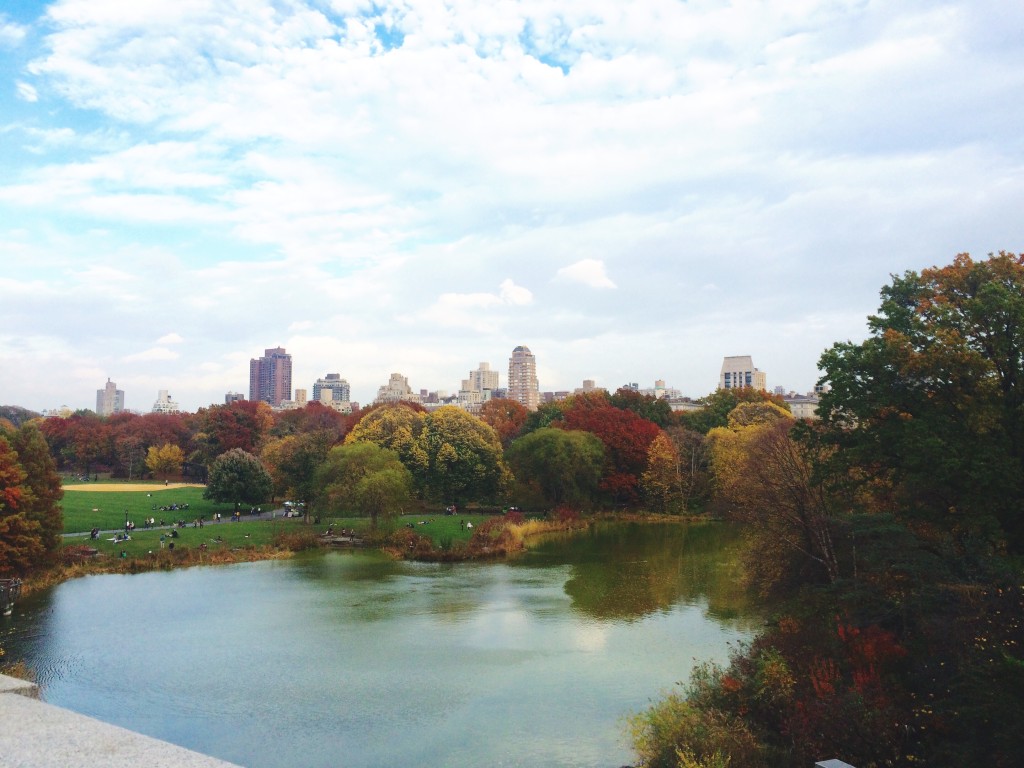 Our "we're in New York City let's look like real New Yorkers" outfits: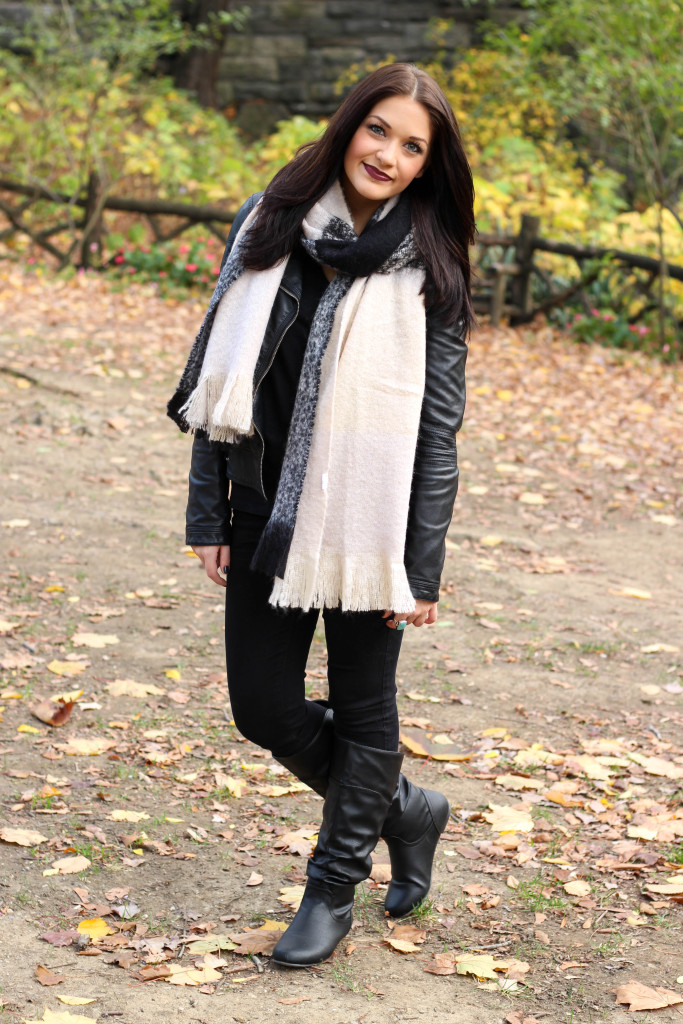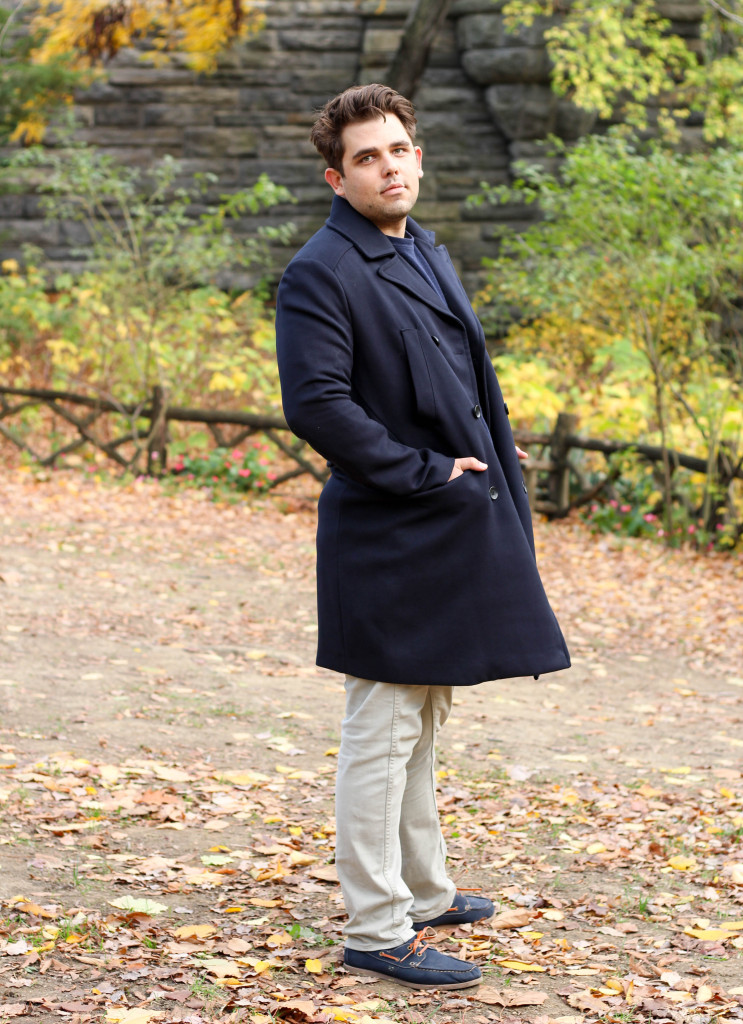 Buildings surrounding Central Park: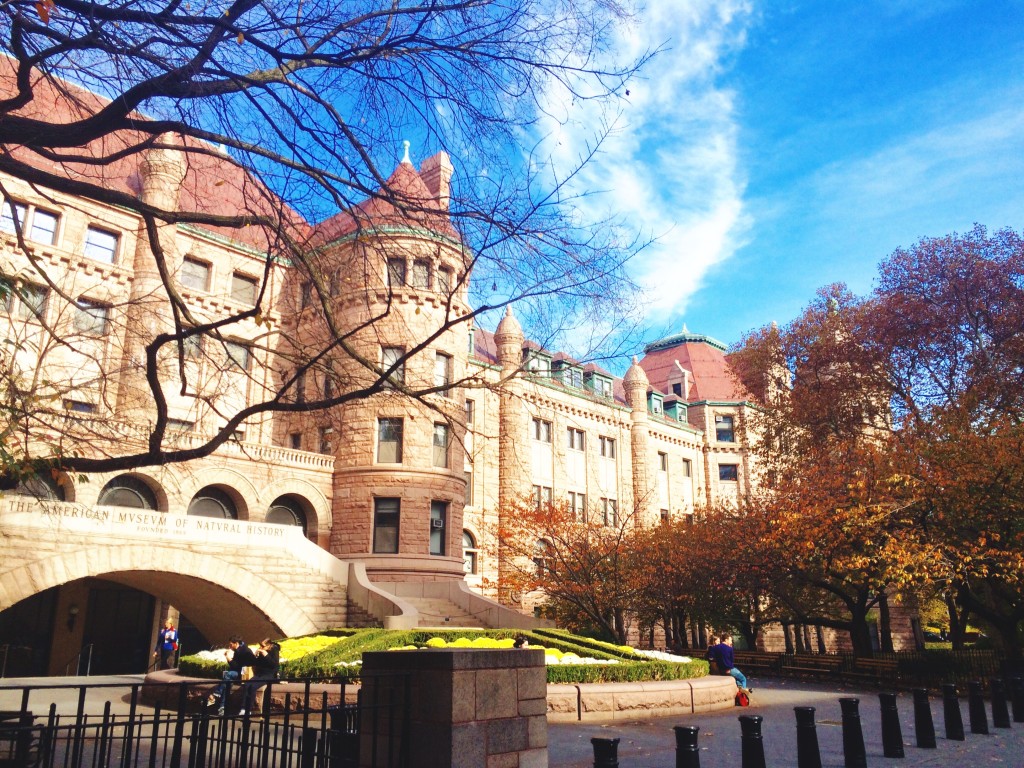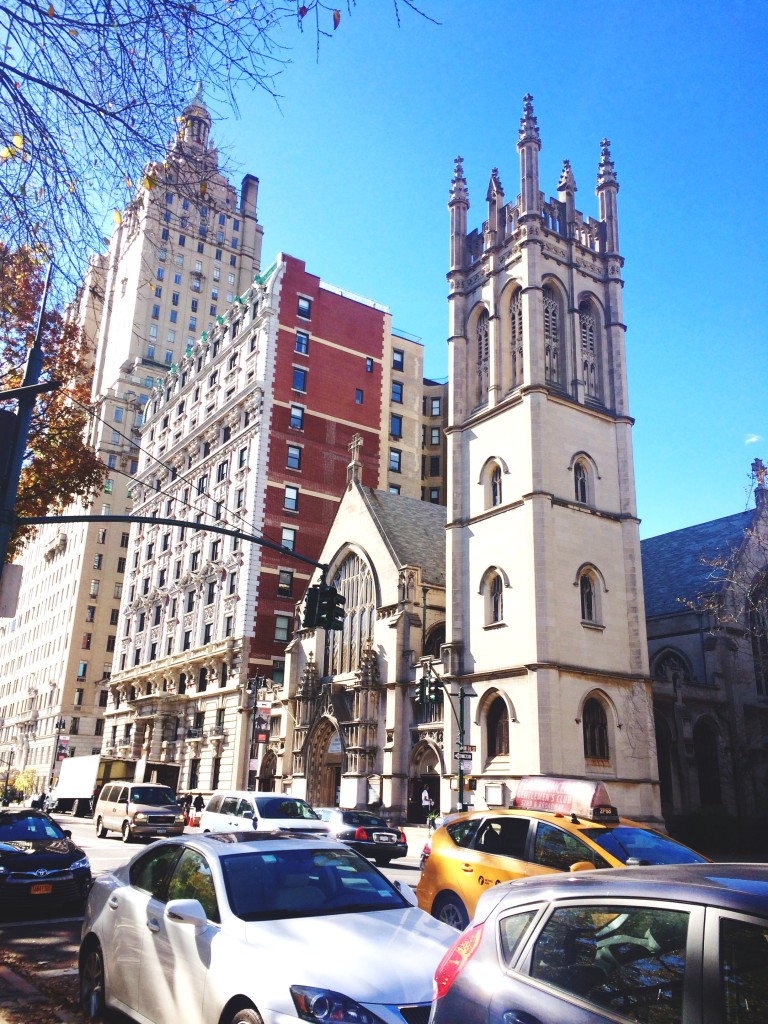 ---
The Plaza Hotel
The Plaza is one of those places that you feel weird about even looking at if you don't own a Bentley and eat caviar on the reg (since I assume that's what rich people do). But nevertheless we had to take a peak inside this gem of an establishment. We even went to the The Plaza Food Hall for lunch. I got a grilled cheese, fancy style (three cheeses on a brioche type bread) and my bf got a lobster roll. We split a mini cherry cheesecake for dessert. There are probably 20+ different food kiosks. All fancy, all fantastic looking.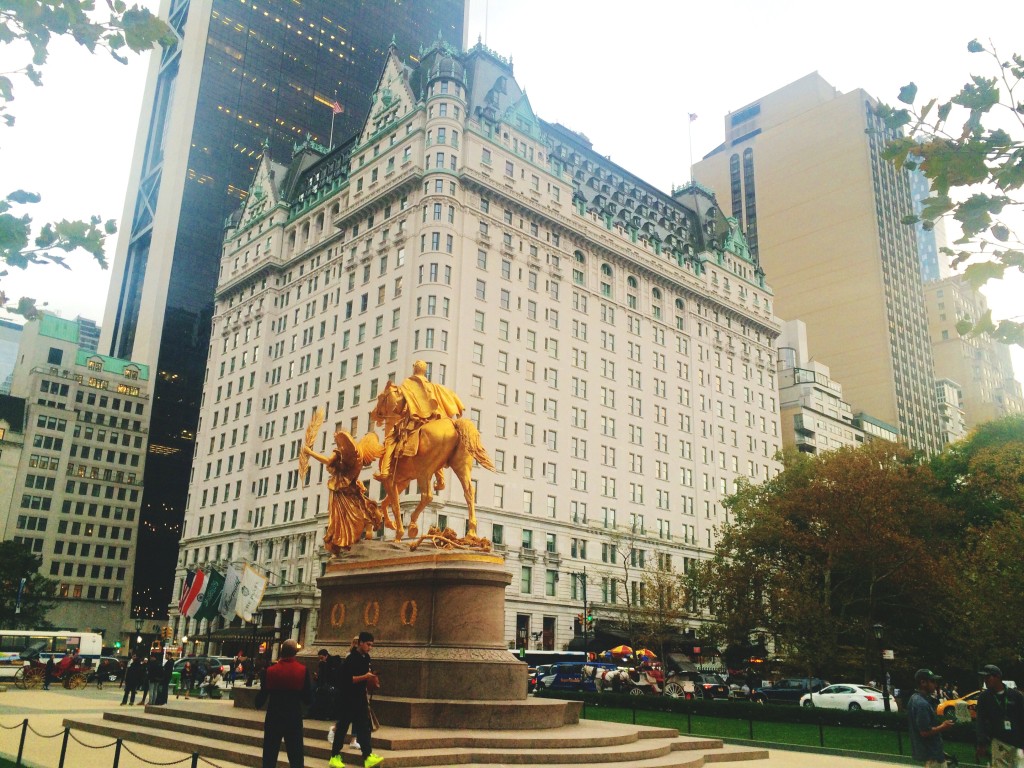 ---
Grand Central Terminal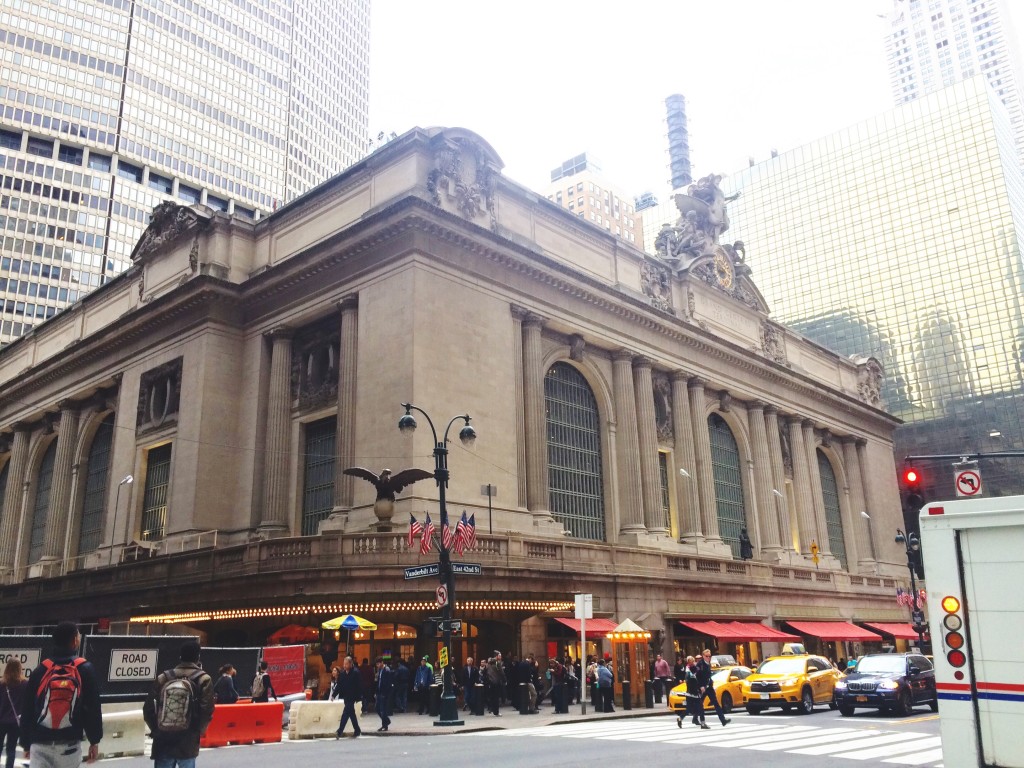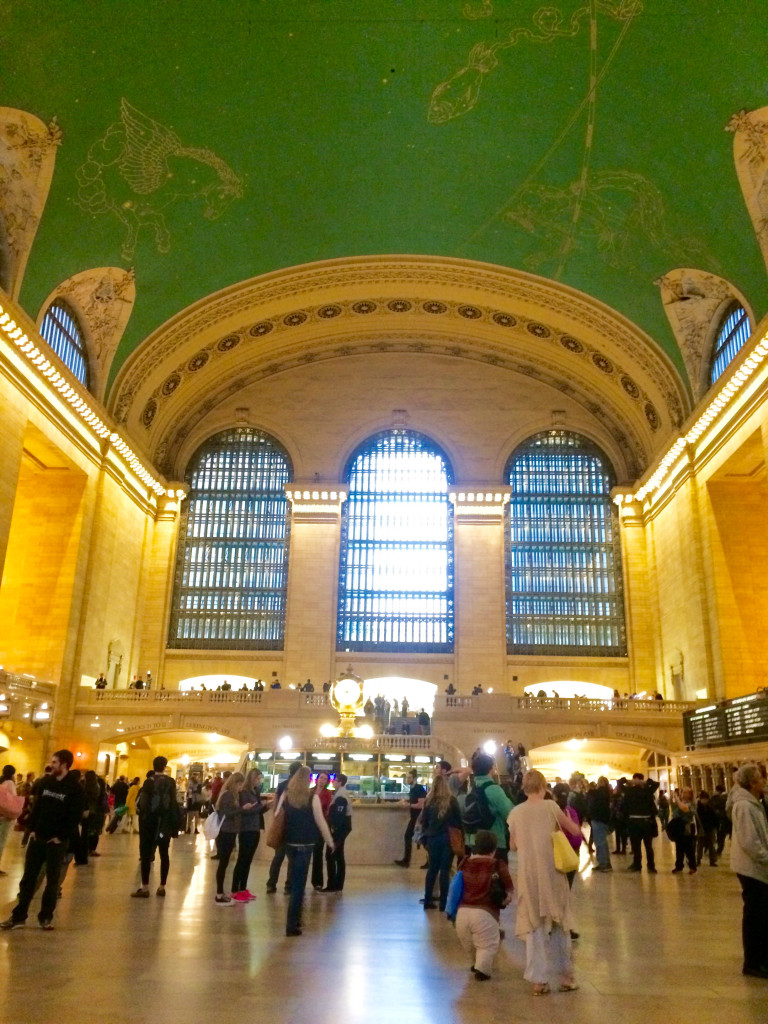 Within the glorious Grand Central Terminal there stands Whispering Walls. These walls allow you and a S.O/friend/stranger to speak to each other through walls that are about 10 meters apart. YES. It's magical. To use the whispering walls you first find the Oyster Bar Restaurant. There is an intersection right outside the restaurant (i.e. four corners). If you are looking at the opening of the Oyster Bar Restaurant one of you needs to stand in the corner on the left side of the entrance, and the other person needs to stand in the corner diagonally across. Speak right into the corner and the other person will hear you loud and clear. It was so much fun for me to show my boyfriend this NYC gem. The look on his face was priceless.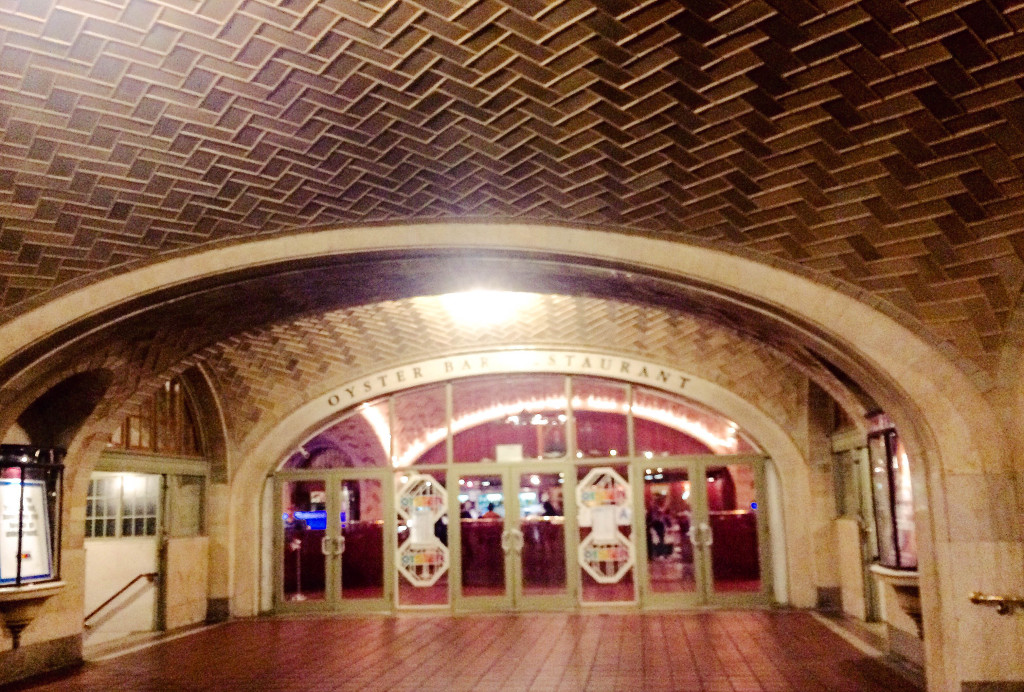 ---
New York City Public Library
I have a hard time believing that this place was ever a "normal" library. It's hard to picture someone going to this ginormous, glamorous building just to check out a book. But if that's the case then I wish I lived in a time when that was a possibility. This place is truly incredible and the windows are something out of Beauty & the Beast. I hope to someday channel my inner Carrie Bradshaw and get married here (even though we all know how that movie ended).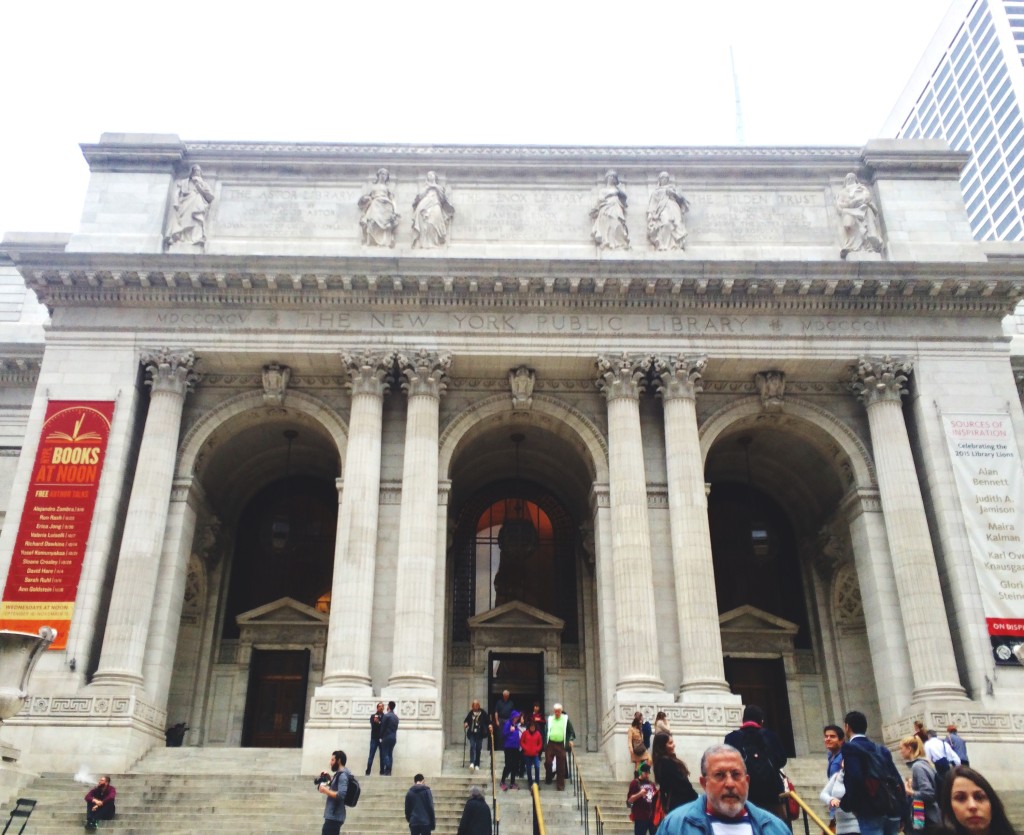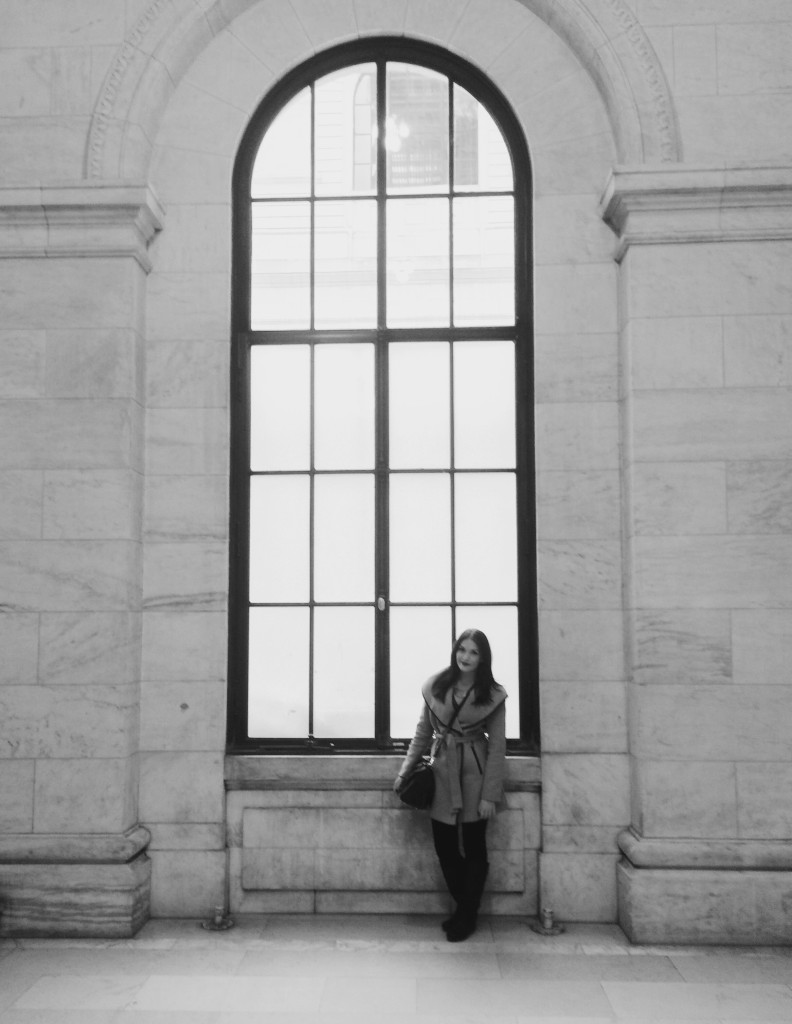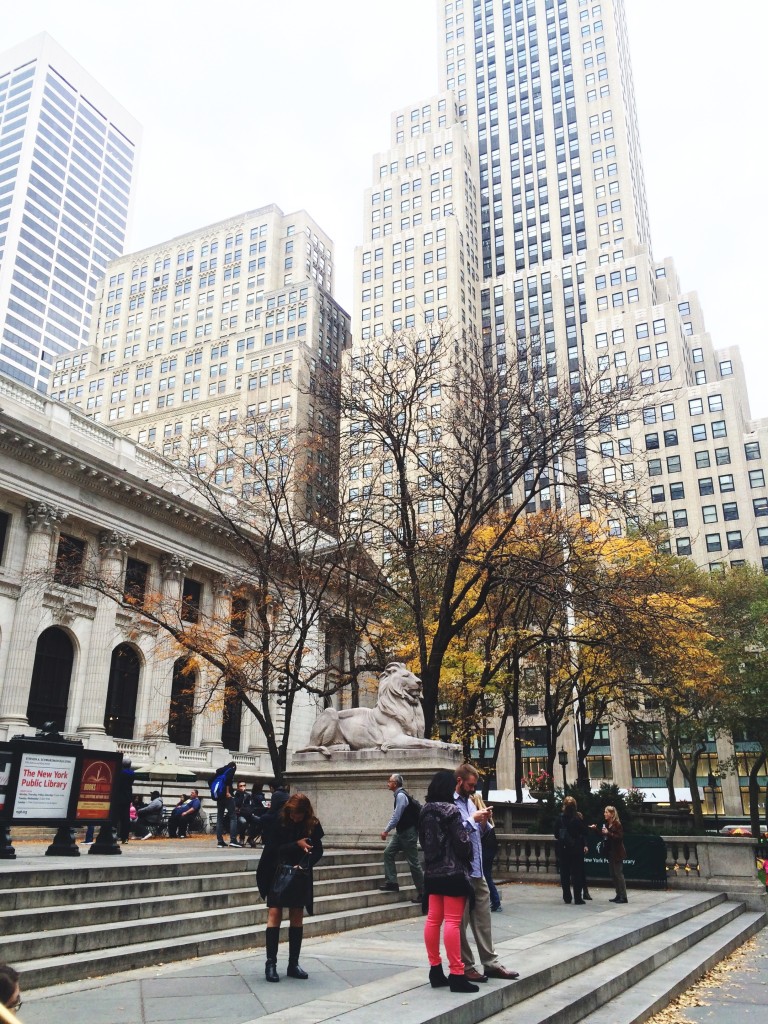 ---
Rockefeller Center
Another one of my favorite spots in the city is definitely Rockefeller Center. It's less crowded and quieter than Times Square and there is still a lot to do. I was thrilled to find out that The Rink at Rockefeller was open AND the Christmas tree was up! Not lit, but I'm not complaining. We went skating at 10:30am on a Saturday and it wasn't packed at all. Carli and I used to figure skate when we were younger, so it's always fun to get back on the ice!
We also took The Tour at NBC Studios which I highly recommend. It just opened about a month ago after being closed for renovations for two years. Since we went on a Sunday we were able to see the SNL set (gave me goosebumps) and the Tonight Show set.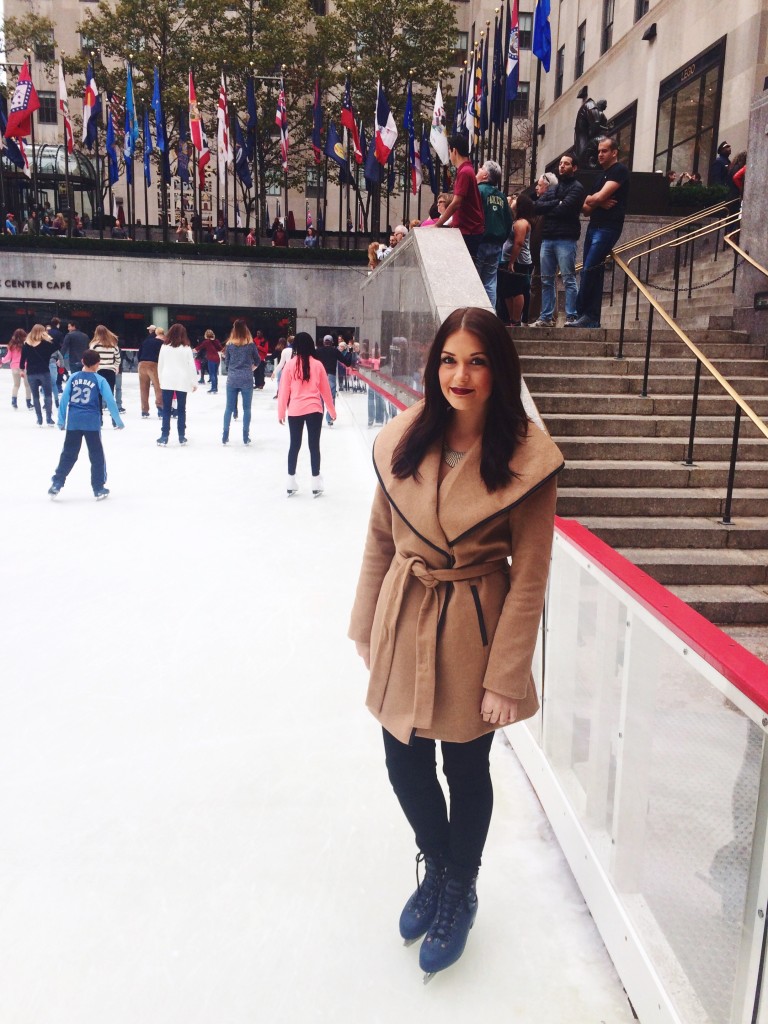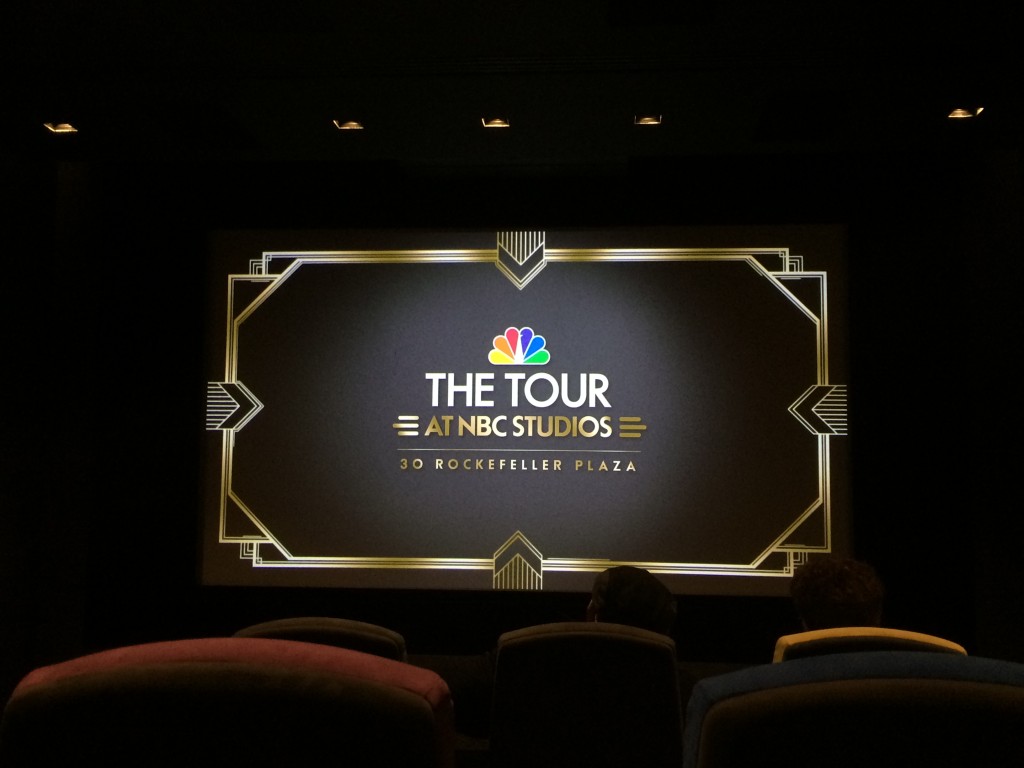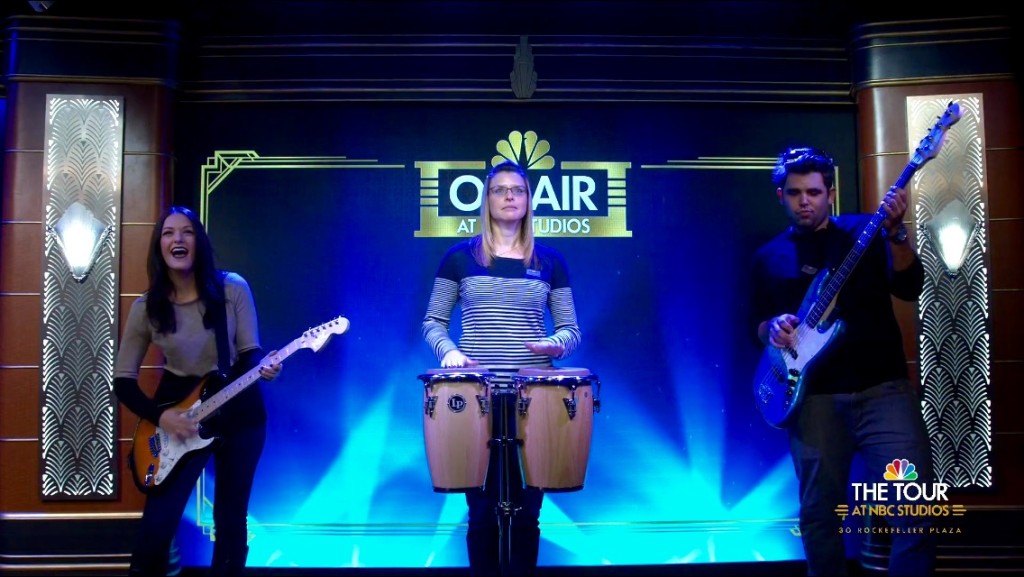 ---
Times Square
I have to be honest, Times Square is probably my least favorite part about New York City. It's jam packed with people, which means it's super loud. We went briefly to look around, since that's really all you can do there because it's impossible to move/walk without running into people. It's also where all the broadway shows are. We went to see Finding Neverland, starring Matthew Morrison from Glee. We didn't read up on the musical that much, since we wanted to be surprised. The show was incredible. It basically made me cry 4+ times and left me in awe. I highly recommend it!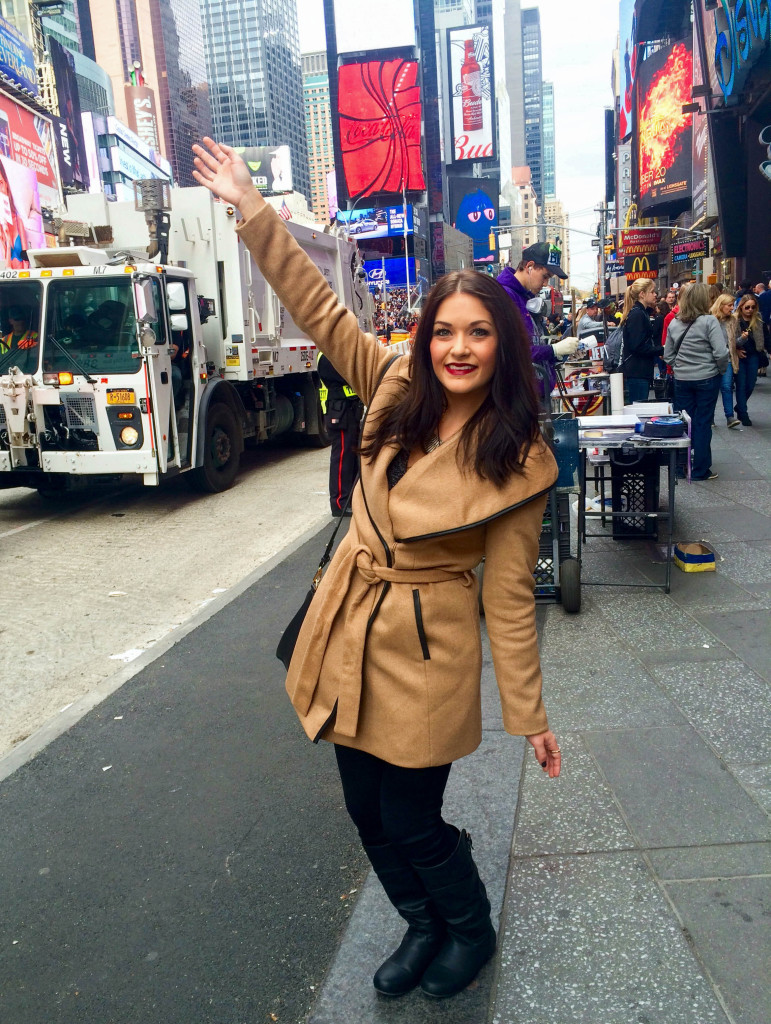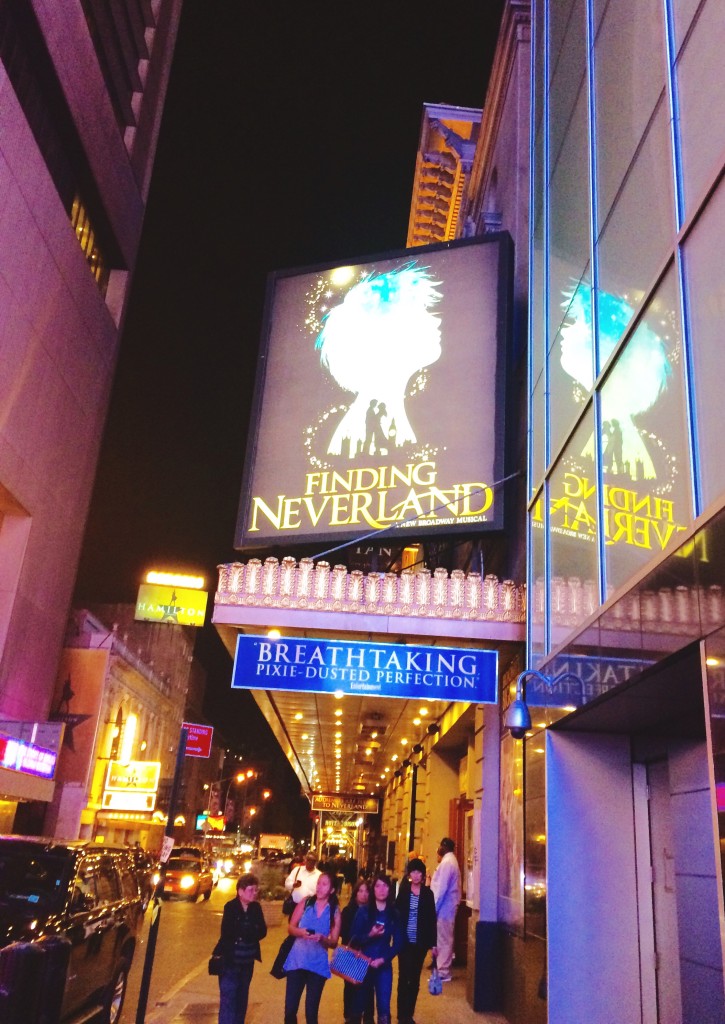 ---
Where to Eat
Before we went on this trip I had a Google doc full of places I wanted to eat at. We were able to go to maybe 25% of them. NYC is probably the food capital of the United States. So many of my favorite bakeries originated here, and pizza is my favorite food, so to me NYC has it all.
Levain Bakery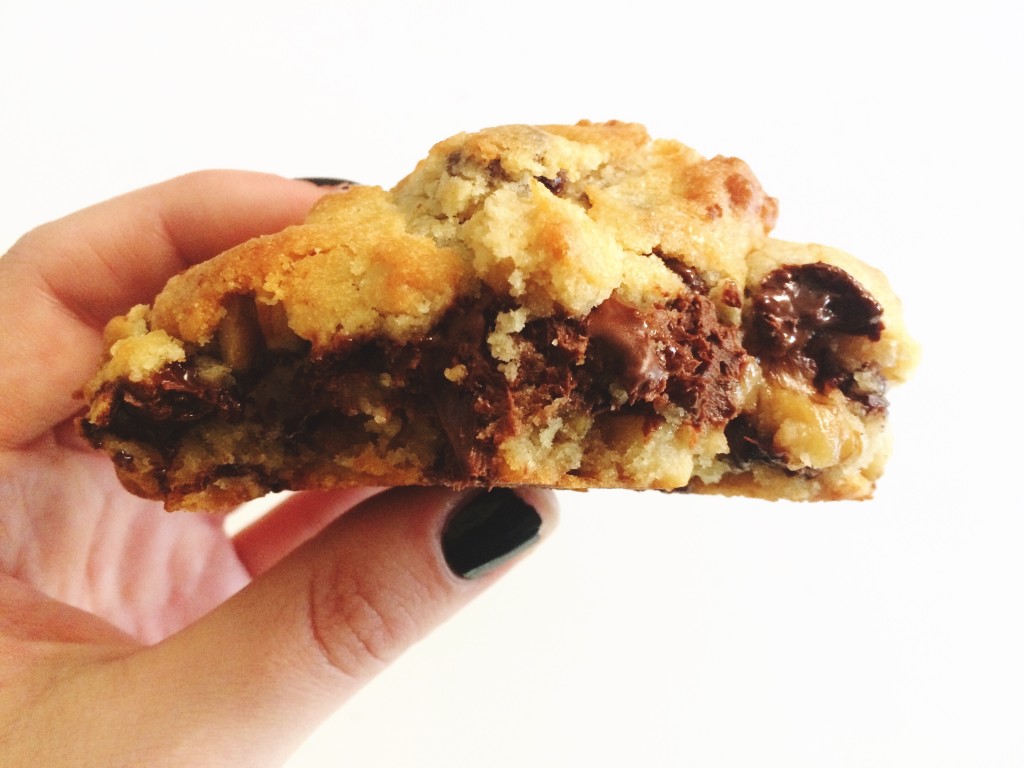 Levain Bakery is know for their cookies. Somehow gooey on the inside and crunchy on the outside. I've watched YouTube videos about how these gems are made. That's how obsessed I am with cookies. The shop itself is super small and cute, like most bakeries in the city. I got a classic chocolate chip & walnut cookie for $4. You might that that's a hefty price but this cookie probably weighed a pound. And it lived up to my expectations. So many chocolate chunks, so much gooeyness, so much happiness.
Shake Shack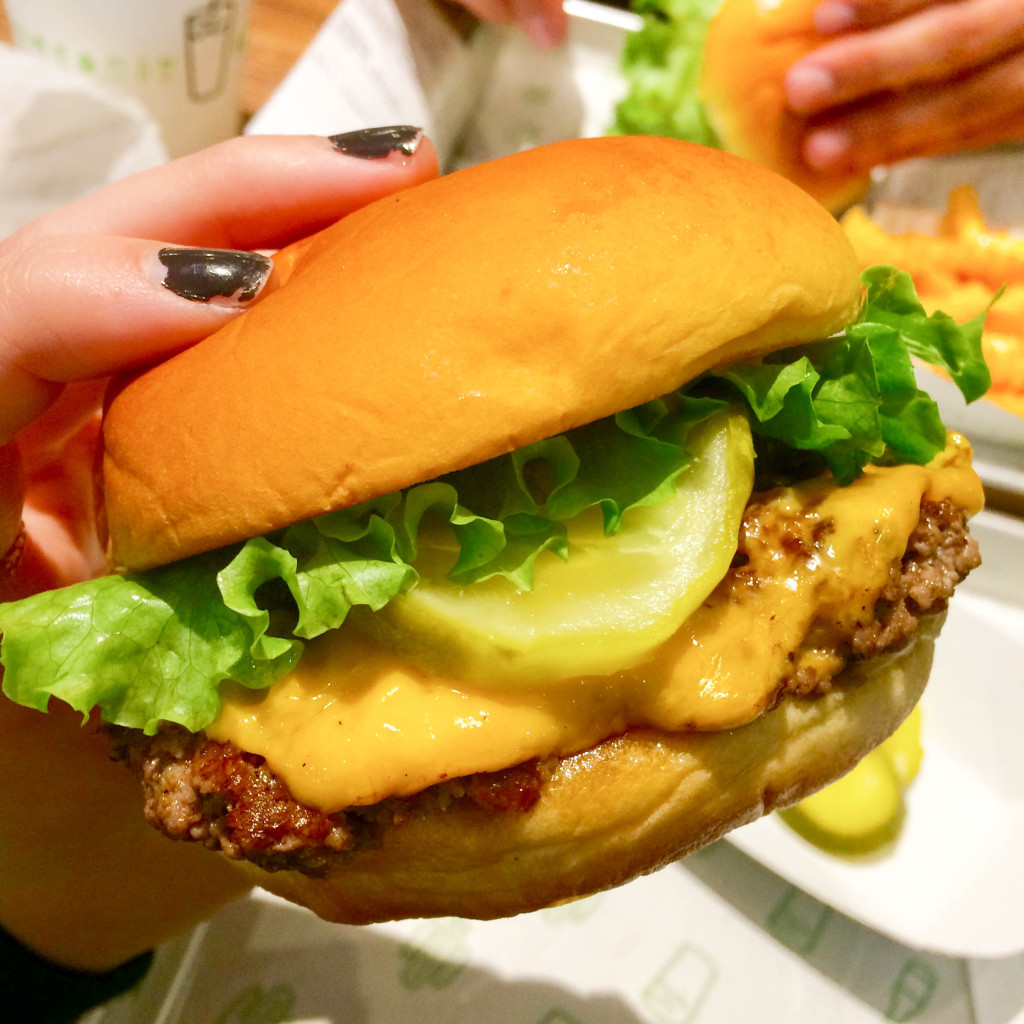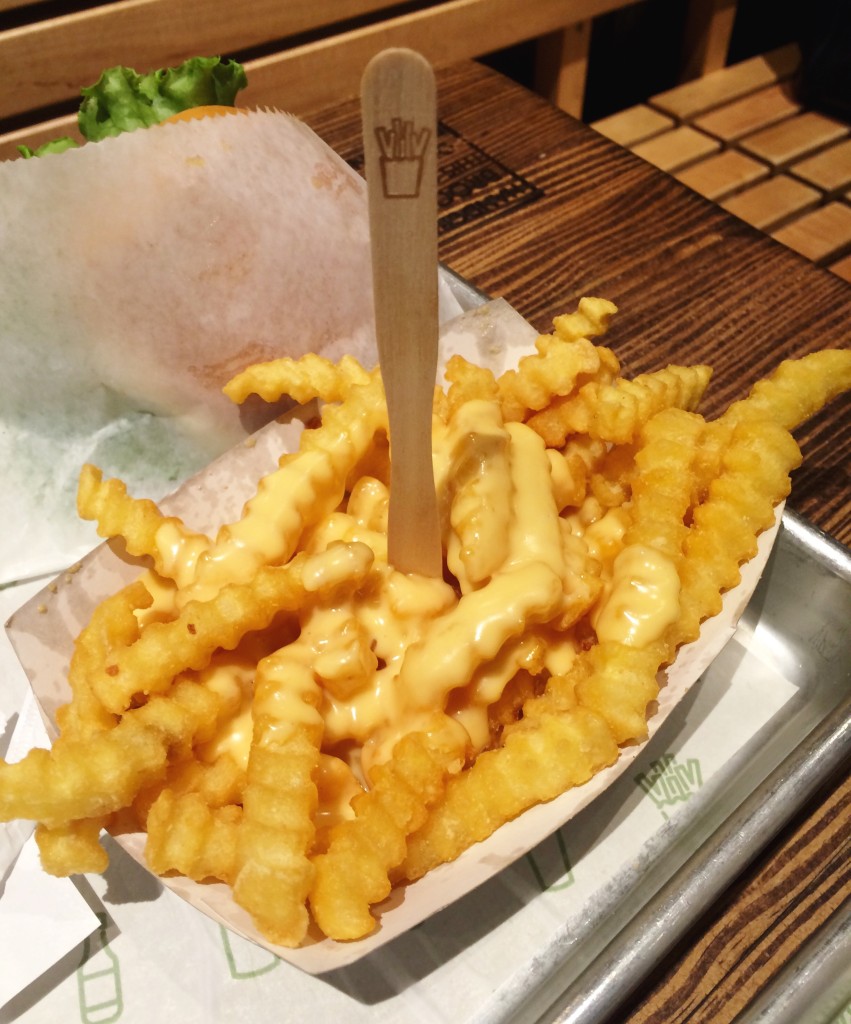 You all know I'm not much of a meat eater and much prefer Sprinkles Cupcakes to In-N-Out for a meal. BUT when you're walking a lot and burning so many calories a cheeseburger starts to sound reallll good. Insert Shake Shack. I have been here before and in my opinion it's the best place to get a cheeseburger. Those that originated in So Cal might give In-N-Out this title (my boyfriend included). I will say that Shake Shack is a lot pricier but the quality is also way better. And CHEESE FRIES. I don't see In-N-Out offering cheese sauce on their fries. They also sell frozen custard which reminds me of Wisconsin and makes my heart pretty happy. We went here twice and I cannot wait until they open a location in LA next year!
Baked by Melissa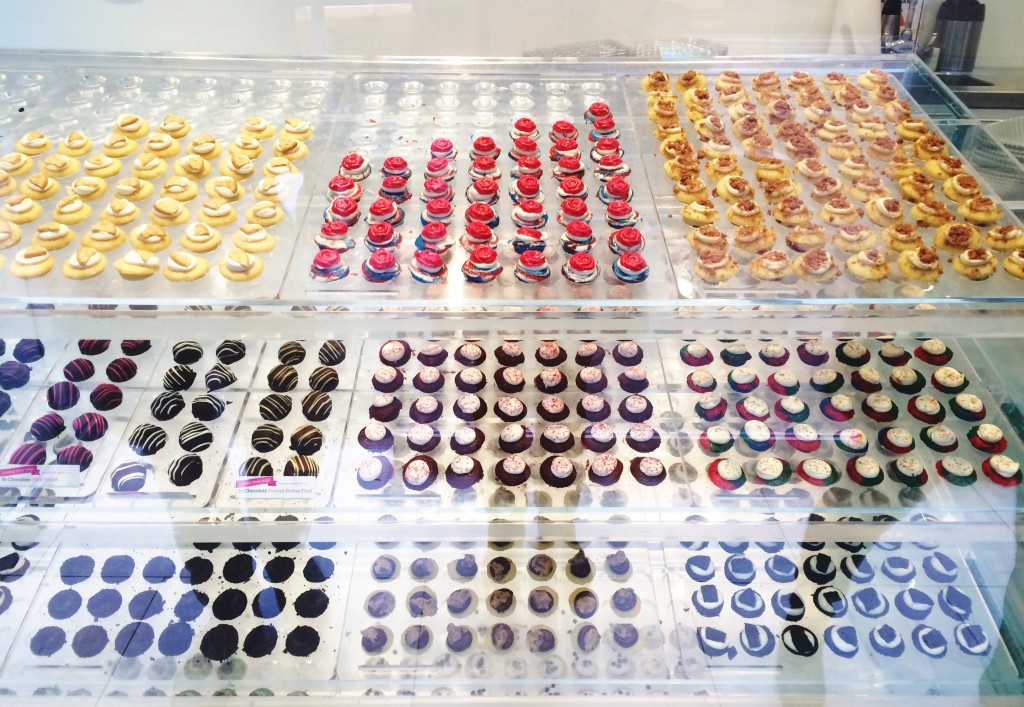 Baked by Melissa is another chain in NYC. They specialize in bite sized cupcakes. Bite size is even smaller than mini if you were confused. These babies run at $1 a piece, which sounds like a lot for something you can literally eat in one second. My bf and I got a box of 5 for $5.50. They have so many flavors it was almost impossible to choose! I must say I was impressed by the presentation of these cupcakes. Each cupcake is flawlessly decorated which doesn't seem easy when you're working with a small surface. This made me understand why they cost as much as two Jack in the Box tacos (now that puts it into perspective doesn't it). My favorite flavors that we got were the Vanilla Cookies & Cream, Peanut Butter & Jelly, and Mint Cookie.
Junior's Cheesecake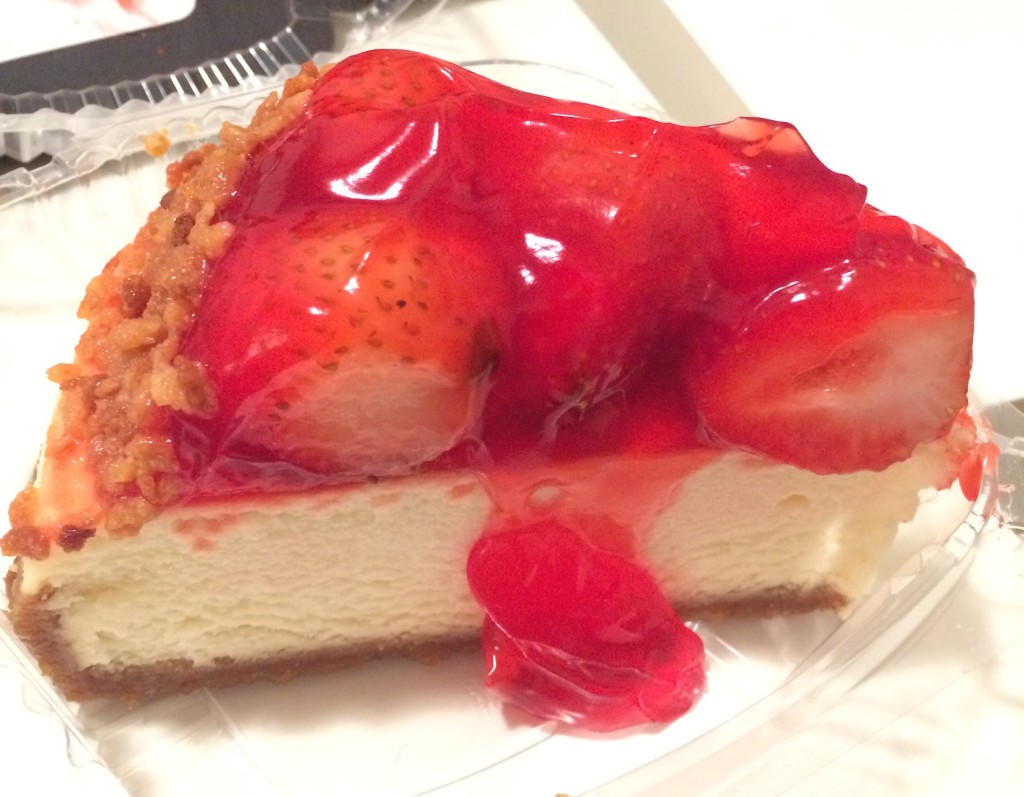 If you don't follow me on Instagram, here's a back story. Last year my boyfriend got me a cheesecake from Junior's Cheesecake for our anniversary. Yes, he had it shipped all the way from NYC. Here's proof. When we got home from six flags he told me my present was in the fridge. I didn't really think twice about this because he knows how much food means to me. When I saw that orange and white box staring back at me I picked it up and started to weep. Not an exaggeration, it actually made me cry.
So this year we obviously had to continue the tradition and eat Junior's cheesecake. We stood in line for about 30 minutes after Finding Neverland. It was way past my bed time and you already know how I feel about Times Square (see above), but it was well worth it. I got this piece of Strawberry and Tommy got the Original Cheesecake.
---
Other Things To Do
This was my third time in New York City so there are some things that I've done before that weren't as important to me this time around. Here is a quick list:
---
Packing List
Portable Phone Charger– In an unfamiliar place we tend to use our phones twice as much, constantly referring to Google maps, Yelp, and Uber. My portable phone charger was truly a life saver. I charged it up before I left for NYC and the charge lasted the whole trip! It charges your phone super fast and the slim shape makes it easy to keep in your purse.
Selfie Stick– You can hate on this all you want but I'm now obsessed. This selfie stick was only $8 on Amazon so I thought, why not? I wanted some pictures of my boyfriend and I and a selfie stick was really our only solution. We got some great pics in Central Park with this bad boy. This one is so easy to use because you don't need bluetooth. You literally just plug the cord into your headphone jack and snap away!
Hand Sanitizer– While NYC is a lovely place, it's also  dirty. A lot of times there were no public bathrooms when we needed them, and every so often it felt nice to sanitize my hands.
Snacks– We walked A LOT, and walking makes you hungry. We had so much to fit into four days that it was hard for us to take the time to stop for food, unless it was planned (I'm a planner if you haven't noticed). I packed some protein bars (KIND bars are my personal favorite) in my purse to give us sustained energy.
---
Travel Tips
Airbnb– We have heard nothing but great things about Airbnb and the rumors are true my friends. We found a super cute place on the Upper East side for only $150/night! Since it's a studio it comes equip with a kitchen, which is something you won't find at a normal hotel. We also felt like it really added to our experience. We got to be real new yorkers for a weekend! I don't have cable at home so it was also nice to catch up on some shows during downtime 🙂
Pack flat shoes– I can't stress this one enough. You WILL walk a lot in NYC, even if you decide to take the subway or Uber. I packed three pair of boots and only ended up wearing the flat pair. My feet were still sore but not nearly as sore as if I had worn heeled boots (can't even imagine).
Take UberPool– Before this trip I had never used UberPool, only UberX. Upon our arrival we knew that a ride to our AirBnb would be expensive, and wanted to cut the cost down as much as possible. UberPool is 25% less than an UberX and the rate that you're quoted before you even confirm your ride, is the rate you pay. We took it to and from the airport and even though there is a chance that you will share the ride we lucked out and didn't have to share either, because there was no room for more luggage.
Groupon– When planning our trip I knew we would want to see a Broadway show. We thought that the best way to save money would be to wait in like at the TKTS Ticketbooth. But about a week before we left I found discount tickets to Finding Neverland on Groupon! Since most Broadway shows are in small, old theaters there really aren't any "bad" seats, so always get the cheapest tickets you can! We found some awesome restaurant deals on Groupon too.
Bring a crossbody bag– My current satchel bag came with a crossbody strap so I attached it for the trip. Thank God I did. I kept so many things in my bag each day, and it would have been so heavy to carry by hand. It's also safer to keep your bag tightly around your body.
Walk as much as you can– We really tried to walk everywhere we went. If you're brave then by all means take the subway. But I am claustrophobic AF and there is no way I was getting on that thing. I also love walking around, taking it all in, and getting some fresh air. The first day my boyfriend and I probably walked 10 miles (getting lost in Central Park was most to blame). I had so much adrenaline that it didn't even really phase me, until day three when I could barely move. Every day we tried to walk at LEAST halfway, and if we couldn't make it we would take a cab for the last mile or so. This saves you a ton of money in the long run. And exercise is great when you're stuffing your face with cheesecake and pizza (fav foods for sure).
---
XO, Britta