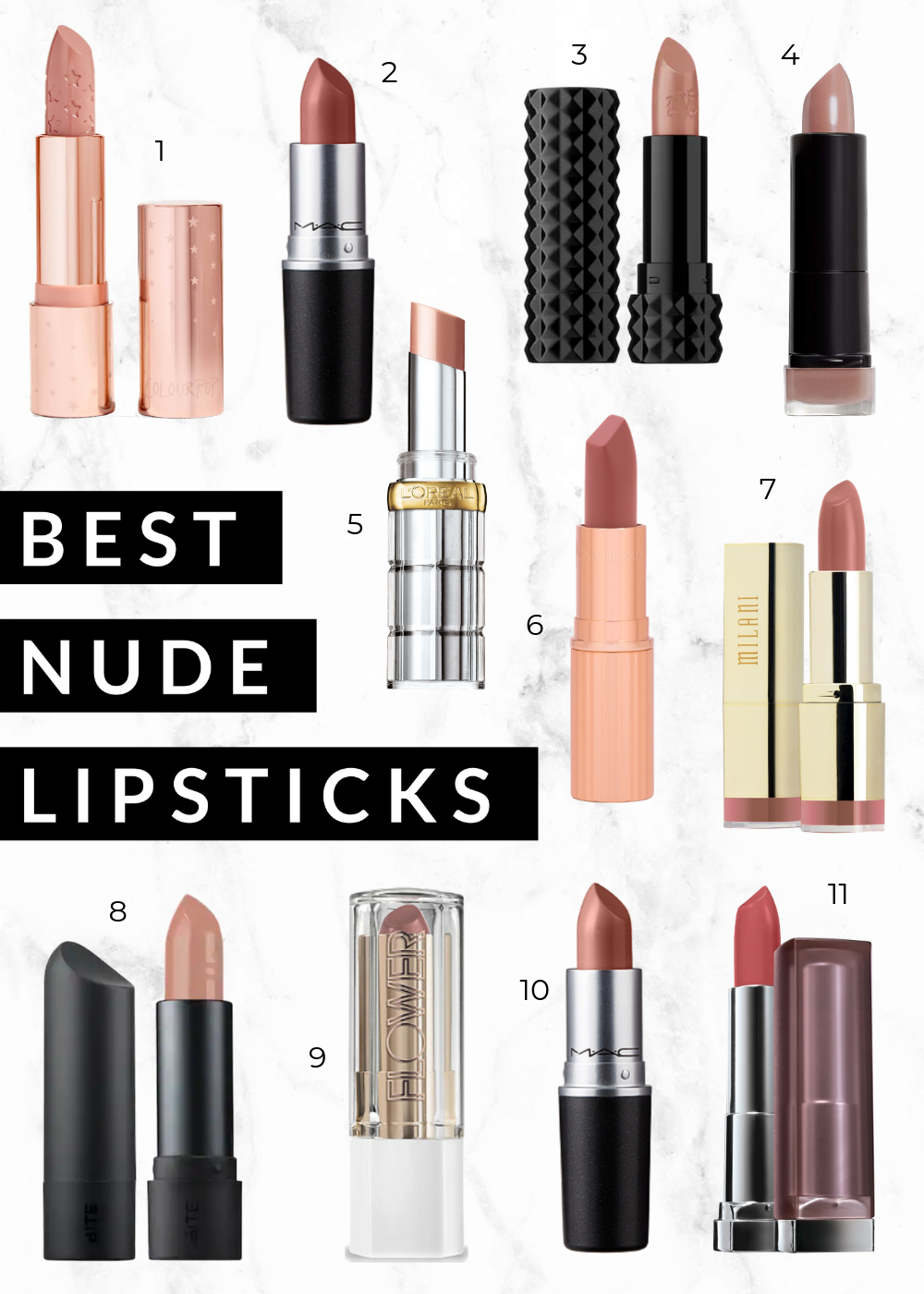 I've been wanting to write this post for so long because I feel like there aren't enough classic nude bullet lipsticks on the market, so I want this list to be a helpful guide for you.
If you're like us, lipsticks were your gateway into the wonderful world of makeup and it holds a special place in your heart. I will admit that when liquid lipsticks first hit stores Carli and I were on board. Long lasting, pigmented lip color was our jam at the time. But as we get older (and our lip lines start to show more), we're all about a good, creamy bullet lipstick. No, they're not the longest lasting lip product, but they're the most comfortable and we're all about comfort. Most of the lipsticks on our 'best of' list are "matte", but we want to clarify that none of them are overly drying.
This list is compiled of flattering nudes, in a range of finishes and prices. We do have lighter skin but we think these shades aren't too warm or too cool, so they have the potential to look amazing on anyone.
1 | ColourPop What's Your Sign– This is a new favorite for us. It's part of Kathleen Lights collab with Colourpop from this year, but we have been hooked on the ColourPop creme luxe lipstick formula since their inception. They're so emollient and moisturizing while still being pigments and long-lasting. This shade is the perfect light neutral nude.
2 | MAC Whirl– I know this lipstick has a cult following so I won't say too much but it's my all-time favorite MAC lipstick. It's a deeper nude, kind of a rosy brown, but I find it suitable for everyday wear!
3 | Kat Von D Bow N Arrow– KVD first released this shade in liquid lipstick form and I truly hate the KVD liquid lipstick formula but I wore this shade almost every day for a year. THAT'S how much I love Bow N Arrow. When they finally released it in lipstick form I nearly cried. This is my ideal nude shade and I don't own anything else like it. I feel like it's on the cool side without looking harsh.
4 | CoverGirl Tempting Toffee– CoverGirl released their lipsticks last year and they were a standout product for us, especially the cream formula as it's not drying in the slightest. We wanted to mention 'Tempting Toffee' because it's on the sheer side, so you can wear one layer for a light wash of color or build it up.
5 | L'Oreal Glossy Fawn– I actually forgot how much I loved this lipstick until watching Allie's Best of Beauty video where she mentioned it. This formula is SO luxurious. It feels like a gloss in stick formula and goes on fairly sheer. 'Glossy Fawn' is my favorite lipstick to wear on "no makeup, makeup" days.
6 | Charlotte Tilbury Pillow Talk– This is probably the most talked about lipstick of 2018 and for good reason. If pinky nudes are your jam, Pillow Talk is for you. Carli swears by this shade. The formula on these is one of the more matte ones we own but they last really nicely on the lips!
7 | Milani Matte Naked– The Milani lipsticks aren't talked about enough. The formula is comparable to high-end and they're only $5! I wore the shade 'Matte Naked' for like the first two years we lived in LA. It's a great everyday shade that's not too pinky.
8 | Bite Beauty Honeycomb– We adore the Bite Beauty Amouse Bouche lipsticks. They're so juicy and pigmented and surprisingly long-lasting. Unfortunately, their range doesn't have that many true nudes, but Honeycomb is a great beige nude. It does pull slightly pinky on us but it can look different on everyone!
9 | Flower Beauty Spiced Petal– The Flower Beauty lipsticks are another great drugstore find! They have a great range but Spiced Petal is our favorite shade. It's a true spicy nude, almost like a terracotta.
10 | MAC Velvet Teddy– Velvet Teddy is arguably MAC's most popular nude. It's on the lighter side so if you're deeper than us it may look peachy on you, but if you're pale this will be your go-to nude lip!
11 | Maybelline Nude Nuance– We knew we had to include a Maybelline nude because again, they make a great drugstore formula. Nude Nuance is a deep nude on us but the tones are so flattering and it's a very unique shade!
What's your favorite nude lipstick?
xx, Britta